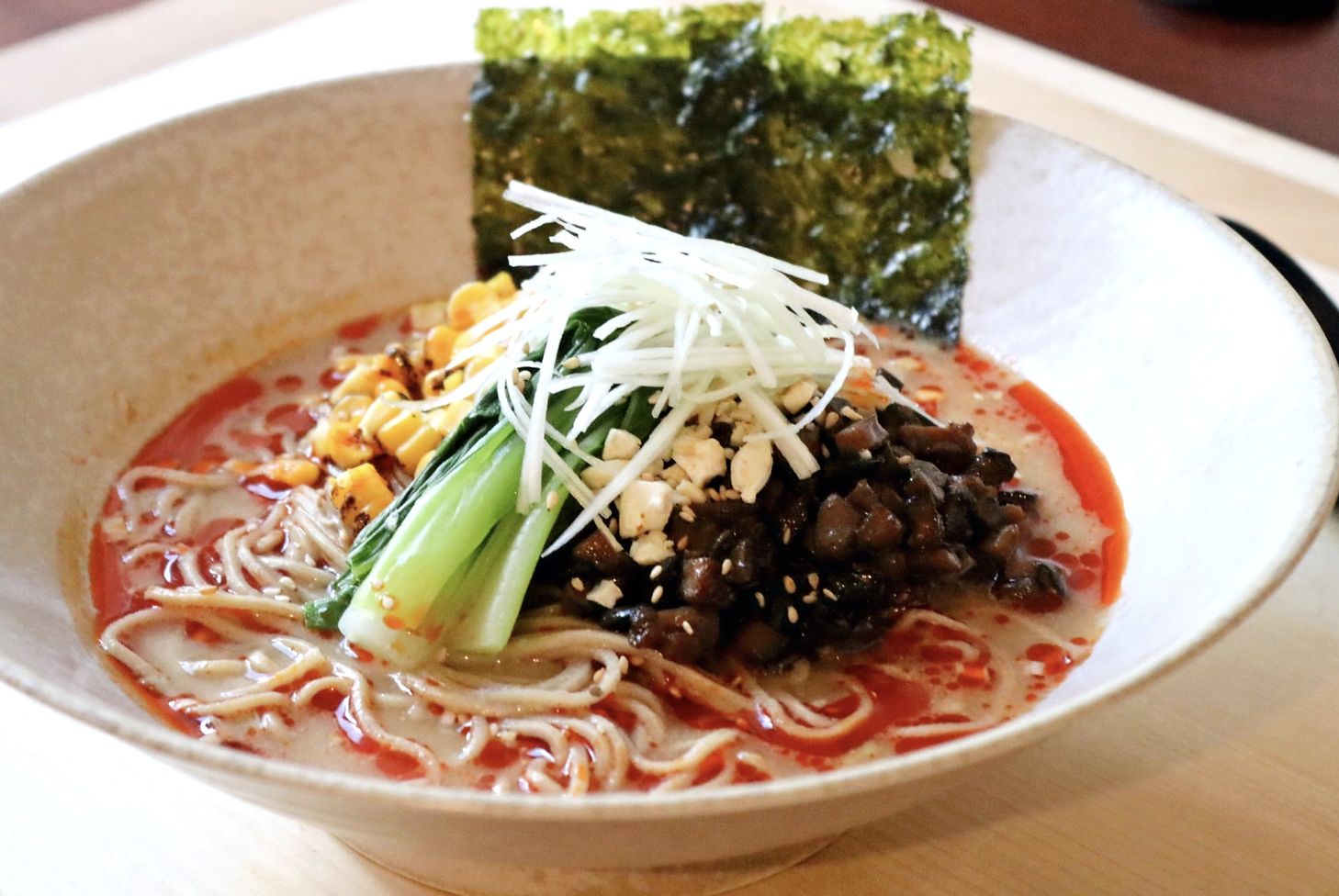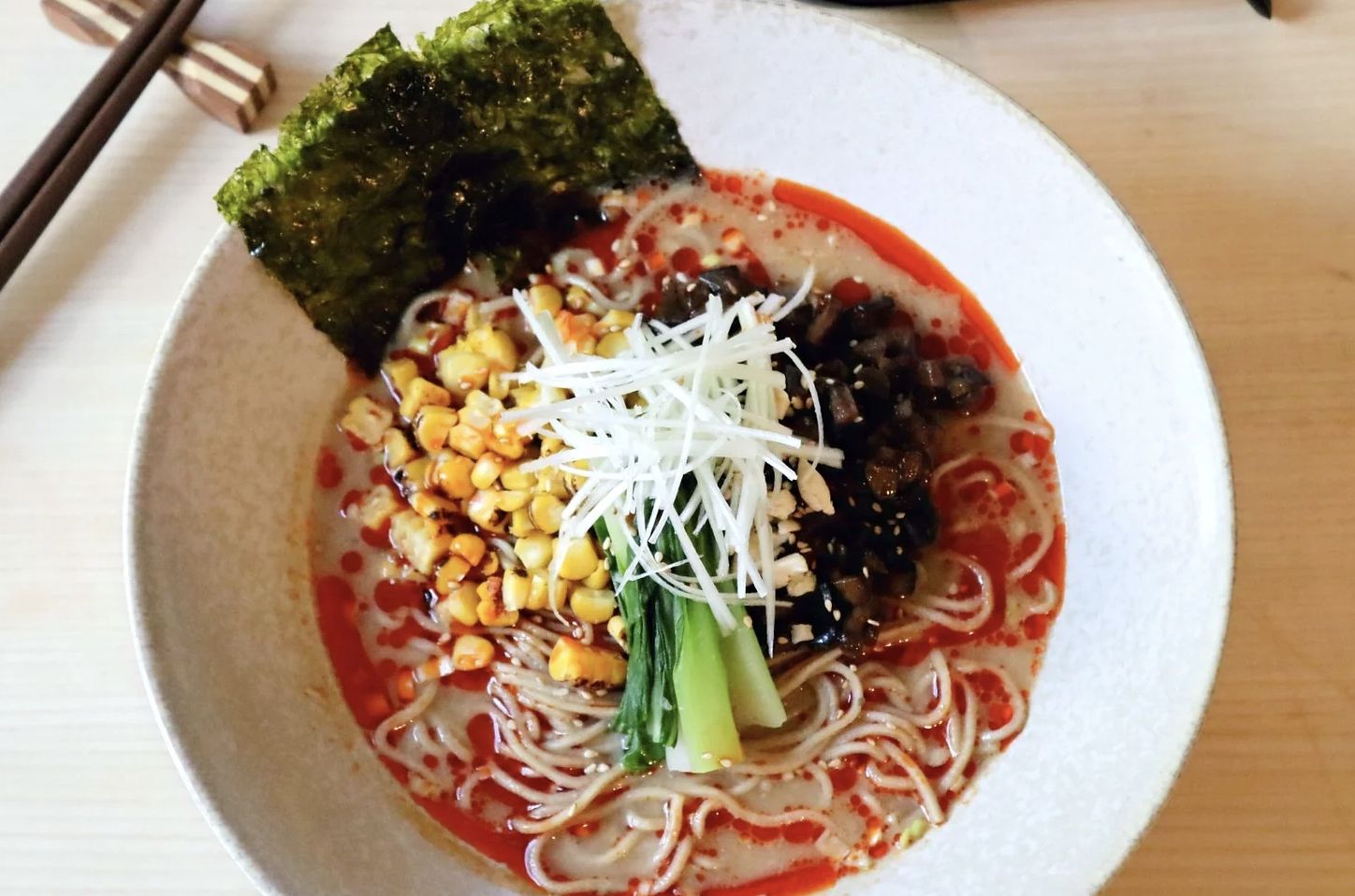 Tatanmen is ramen that is essentially the Japanese take on the Chinese Dan Dan Mian. In terms of this ramens key characteristics we are looking to make a slightly spicy, creamy sesame based ramen. Usually the broth is made up with either chicken or pork bones, however, for this recipe I wanted to make a Vegan version. To do this I made up a vegetable broth with lots of umami and I cut that stock with cashew milk to replicate that creamy texture. Overall the bowl had good balance and tons of umami from the broth, tare and toppings. As I want to keep this bowl as authentic as possible time is always a thing, therefore, I will spit this recipe into day 1 and day 2 as certain elements need time to rest. With that said let's get straight into it!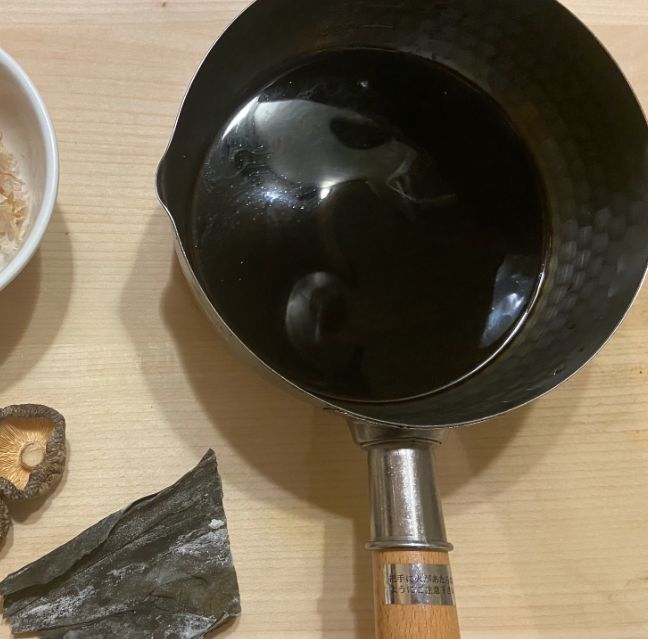 1. Before we begin this recipe if making fresh alkaline noodles these should also be made the night before as they also need at least a day to rest. You can find the link on how to make these in the ingredients list above. Saying that it's perfectly fine to also used dried store brought ramen noodles for this recipe also.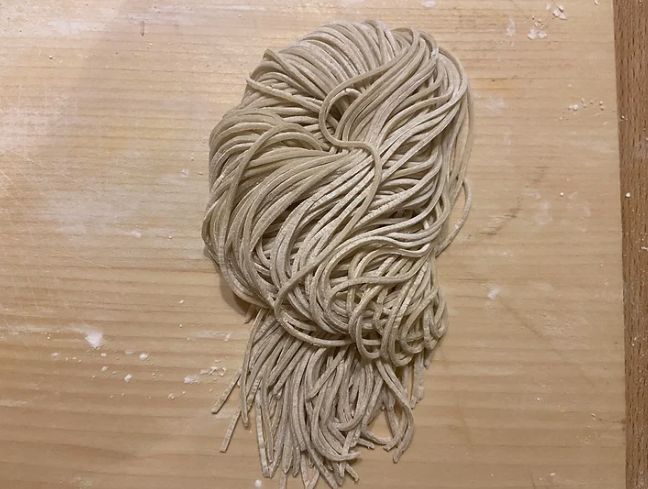 2. now to make the tare, this will give the salty umami element to the broth and needs at least a day to rest and mature also. This tare uses 3 different types of soy, however, you can use a basic kikkoman if sourcing these various soys are hard to find. To make this basic tare, in a small saucepan begin by adding 125ml of kikkoman, 75mls yamasa soy, 20mls tamari soy, 20mls mirin, 20mls sake, a pinch of salt, 2 dried shiitakes and 5g of kombu. Place onto a medium heat then using a thermometer bring the tare up to 82°c. When at temperature allow to simmer for 2 minutes then remove from the heat.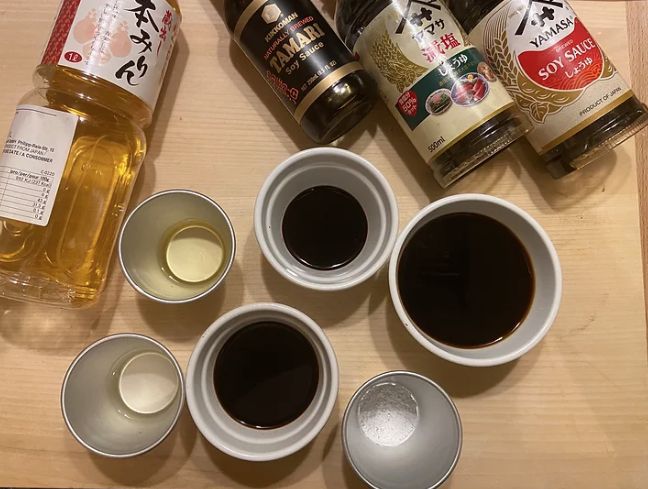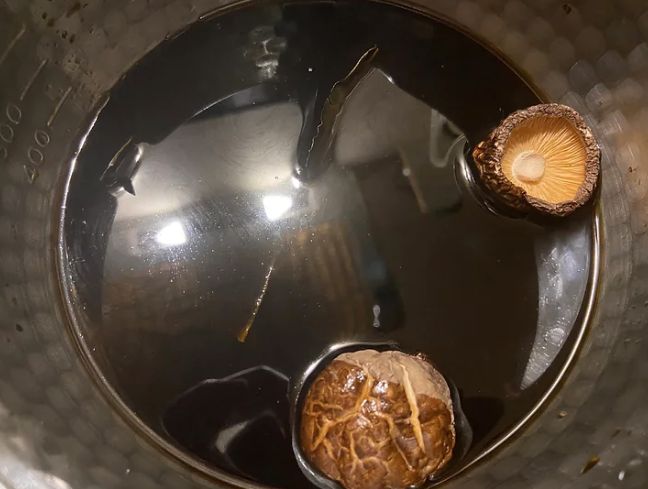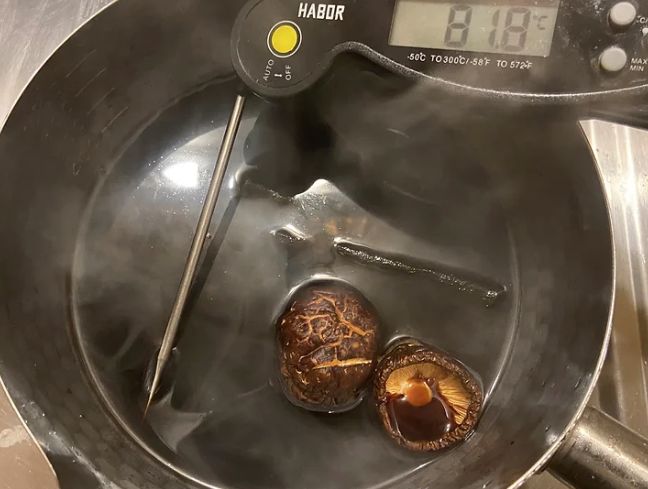 3. Now removed from the heat allow the tare to cool to room temperature. When cool cover with clingfilm and allow this to mature at room temperature overnight. The following day simply pass the tare through a fine sieve and then the tare is ready to be used. The longer the tare is kept the more intense the umami will become.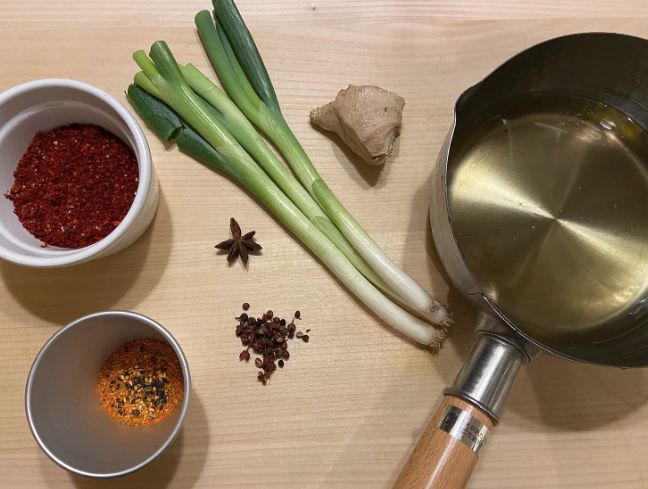 4. Now onto making the Rayu or chilli oil, this will give the ramen a touch of heat and an extra level of flavour when combined with the sesame paste at the end. Start by placing a small saucepan with 200mls of rapeseed oil onto a medium to high heat. To the oil we now want to add 3 roughly chopped spring onions, 10g sliced ginger, 1 star anise and 1 tsp Sichuan peppercorns and start to fry/infuse. Next in a separate heatproof bowl add 2 heaped tbsp of korean red pepper flakes and 1 tbsp of Japanese schichimi pepper. Add approx 1 tbsp of cold water to the chilli flakes and mix well (this will prevent the chilli flakes from burning).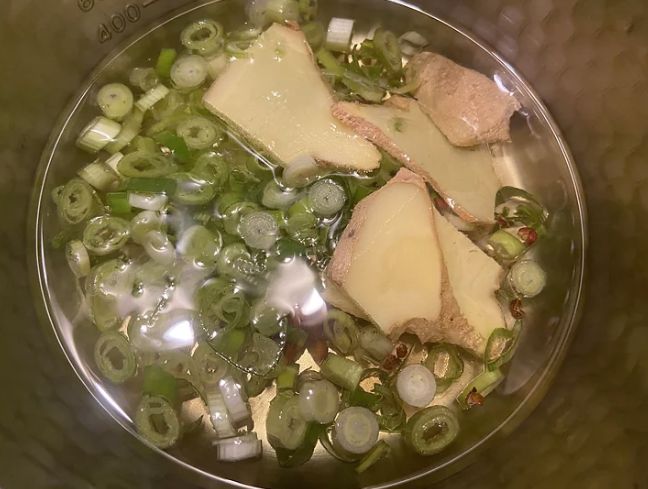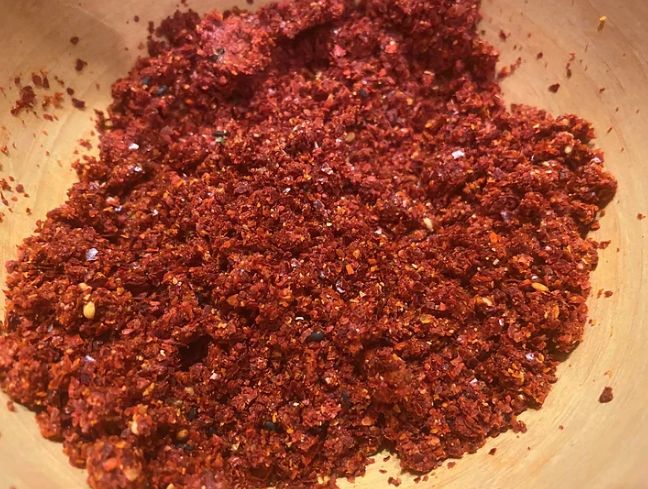 5. Back to the oil, now the oil is infusing we literally want to take the aromats up to the point where they are nearly burnt. When the spring onions become a deep dark golden brown, carefully pass the hot oil through a fine sieve onto the chilli flakes. Mix well then its optional if you pass the chilli oil through a fine sieve again to make a fine oil. Finish the Rayu by seasoning with a pinch of salt and sugar then allow to cool and store at room temperature.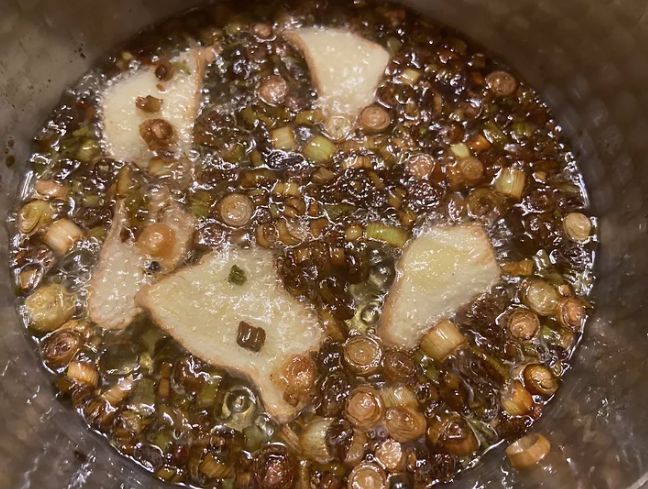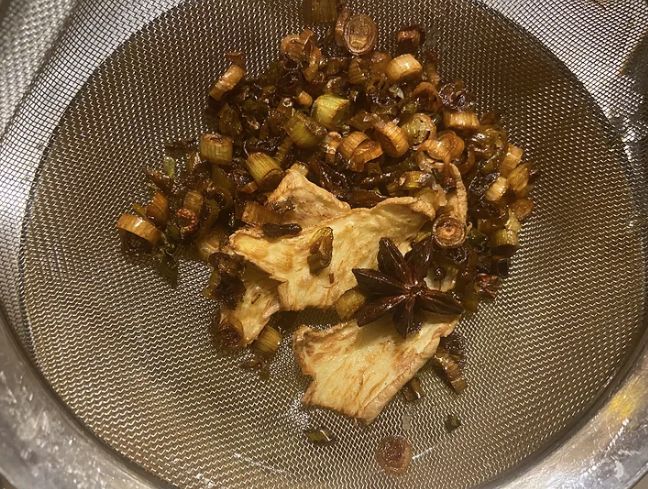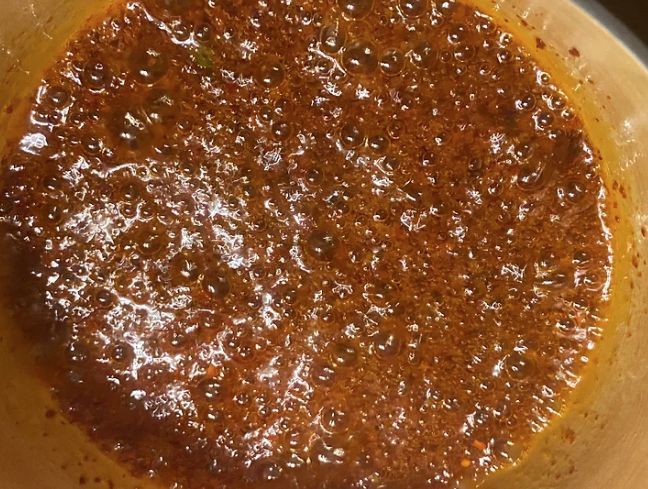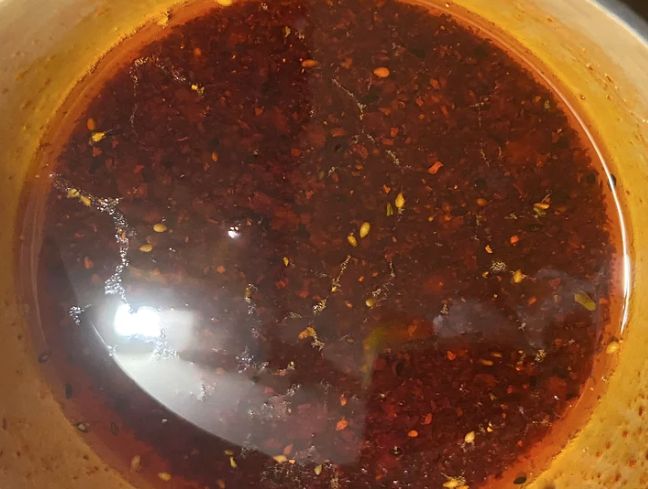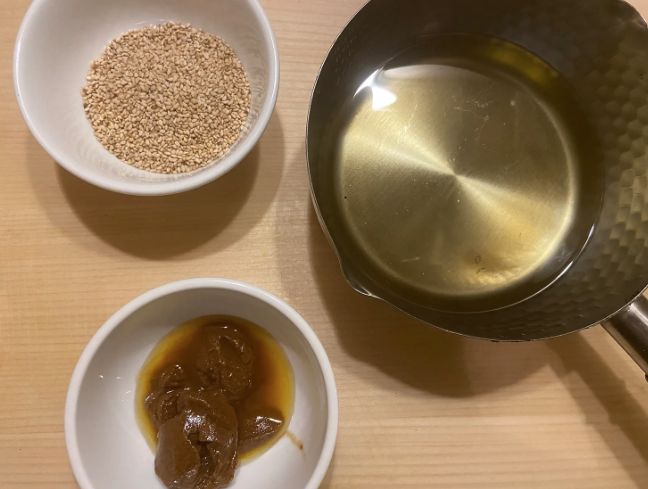 6. To make day 2 that touch more easier we can also make up the Chimajan sesame paste that will play a major role in our finished ramen. Start by adding 2 heaping tbsp of toasted sesame seeds to a pestle and mortar then begin to pound until fine. Next add 2 tbsp of sesame paste or tahini and begin to to pound again. When mixed we want to thin the paste down by slowly adding and cutting the paste with approximately 50mls of sesame oil. Keep adding the sesame oil until the paste becomes smooth and loose then when ready cover and store this in the refrigerator ready to use.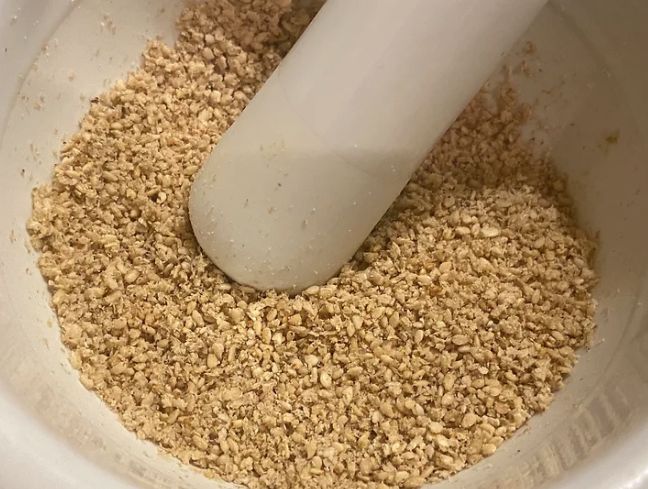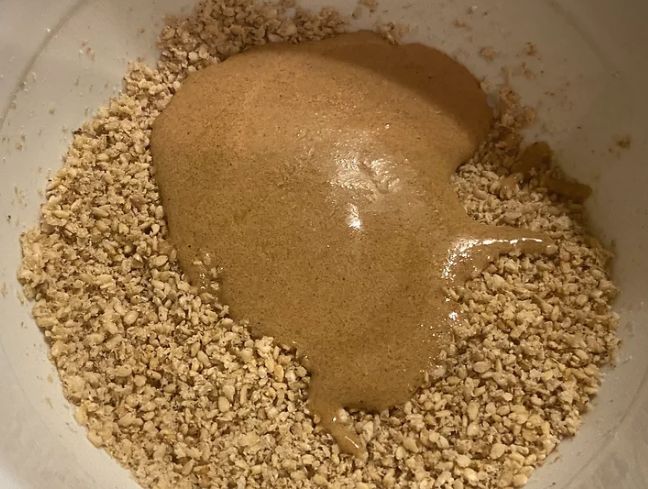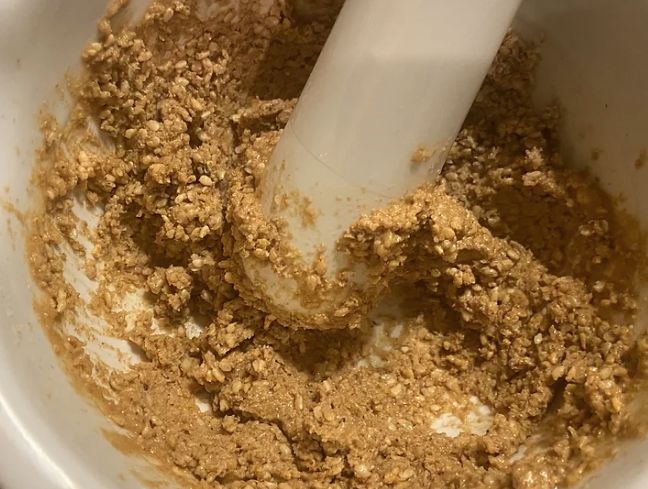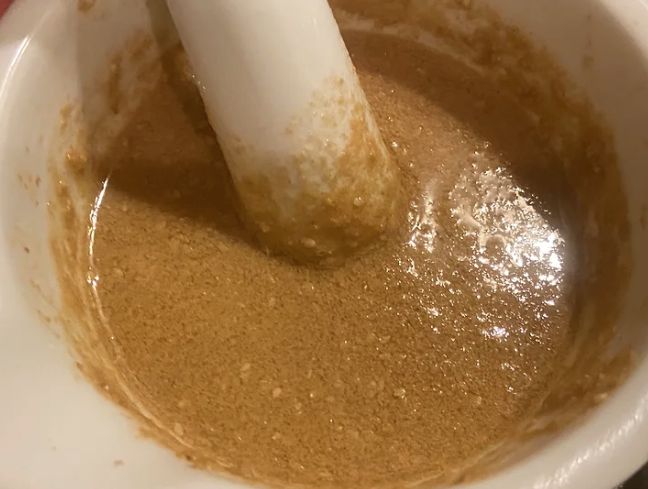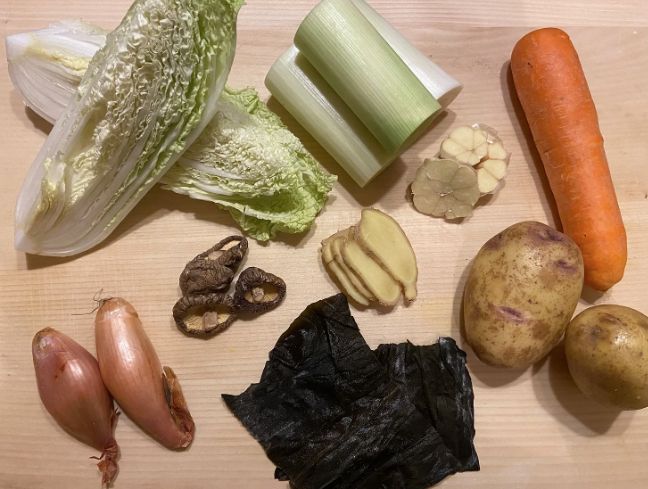 1. Now onto day 2, by this point if making fresh noodles these should be ready along with our Tare, Rayu and Chimanjan all ready to go. Let's start the next day with the key element the vegetable broth. We are going to cut this broth when ready with cashew milk to replicate that creamy broth. In a large saucepan start by adding 1/2 roughly chopped Napa cabbage, 1 white onion, 2 peeled and chopped white potatoes, 1 whole garlic bulb, 1 roughly chopped leek, 1 chopped carrot, 25g sliced ginger, 6 dried shitake mushrooms and finally 15g of kombu. Fill the pot with approximately 3 litres of water and place onto a high heat. Bring the broth up to the boil and allow to rip for a good 1 hour 30 minutes.
Aubergine and Mushroom Mince:
2. Whilst waiting for the broth to boil away we can move onto making the main topping for the ramen. This mix of mushrooms and aubergine is to replicate the classic Tatanmen topping of minced pork. Start the topping by slicing 2 oyster mushrooms, 1 bunch of oysters and 1 aubergine into a small dice. When diced place a large pan or wok onto a high heat then add a drizzle of oil. When smoking hot add all of the diced vegetables then fry until golden brown.
3. When the vegetables are just about cooked we now want to make things more interesting by adding 1 tbsp of red miso, 2 tbsp light soy, 1 tbsp dark soy, 2 tbsp sake and 1 tsp of white sugar. Mix well then reduce the until the vegetables become nice and glazed. Season the mix with a pinch of white pepper then when ready place to one side for now.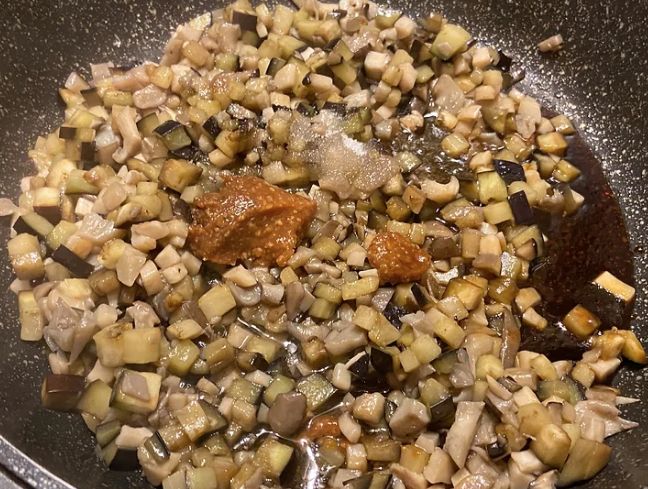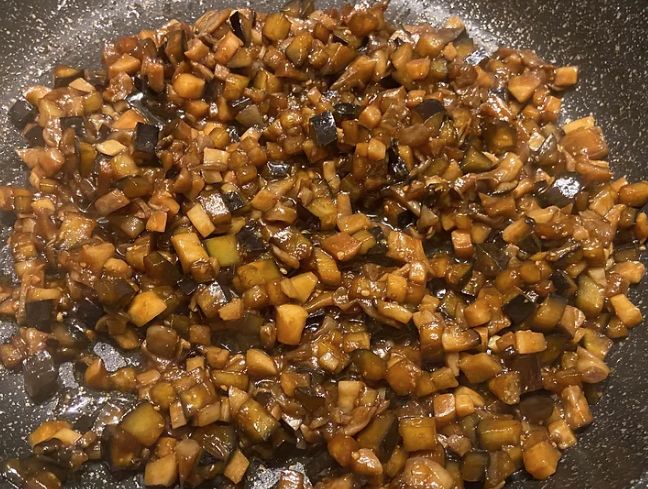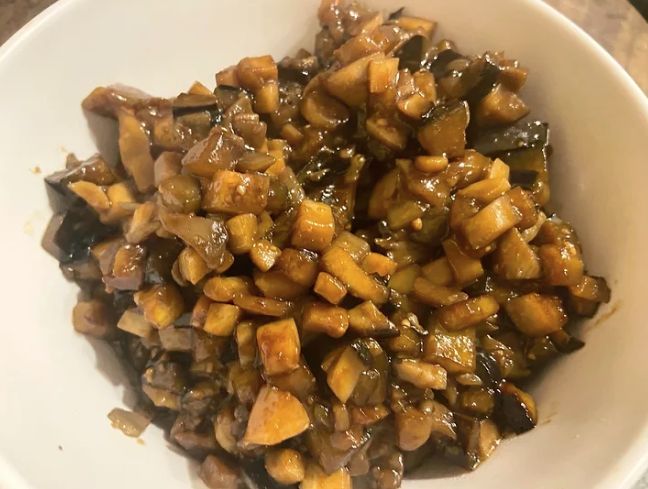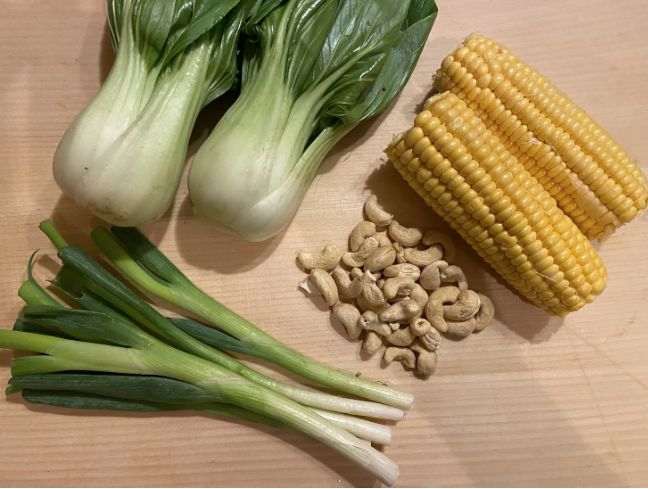 3. Just before we begin to finish the broth and serve we can now prepare a few other various toppings for the ramen. There are so many varieties of toppings you can use, however, this is what I went with. Start with the pak choi, open up and separate the pak choi then slice each stem into thin long strips. When ready add to a small pan full of hot water and boil for around 60 seconds until just cooked. Next drain from the water and chill under cold running water, then when chilled squeeze off any excess water and bunch a few stems together to make tight bundles. Slice into approximately 3 inch pieces then set to one side.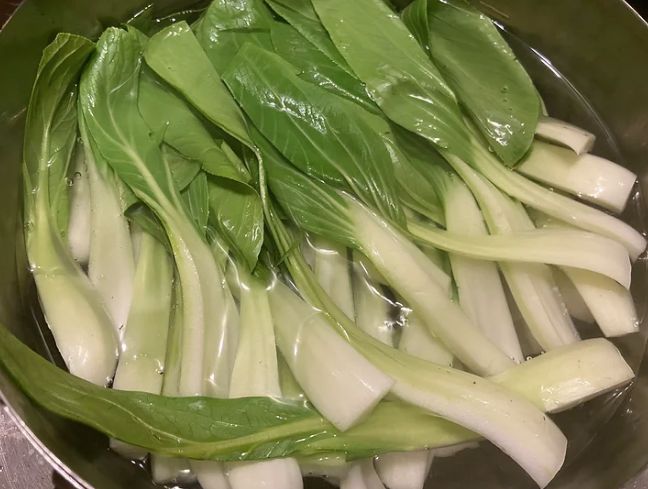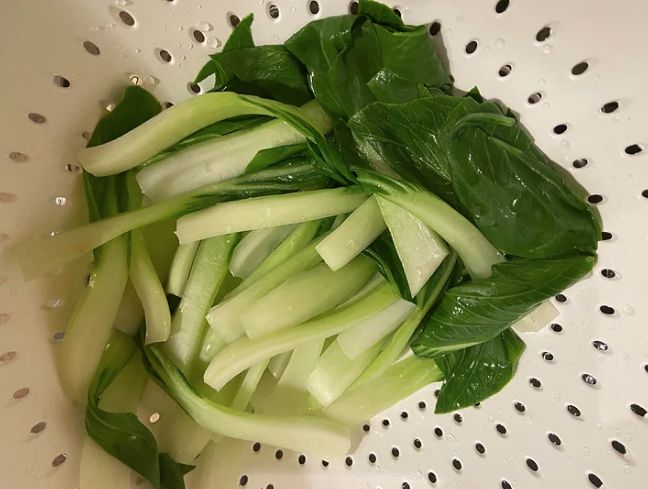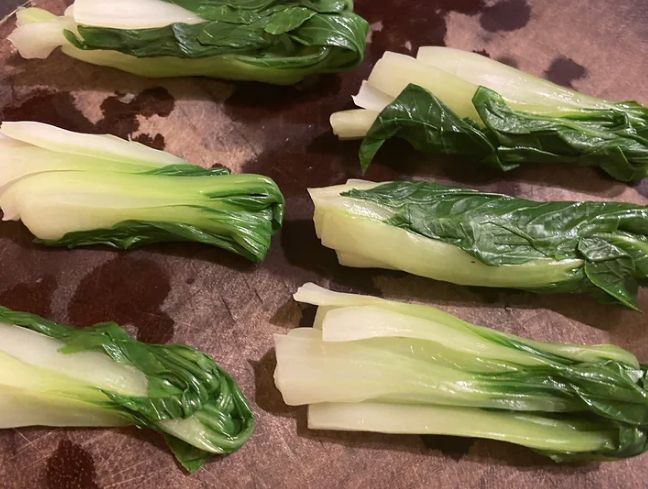 4. Next add 2 corn on the cobs to a saucepan of boiling water then boil for 5 minutes until cooked. When ready drain from the water then either sear with a blowtorch or place under a grill until charred. Use a knife to remove the corn from the cob and place the corn with the pak choi. Finally toast a hand-full of cashew nuts then briefly crush and slice a few spring onions into a fine julienne. Place all of the toppings together and all that's left is to finish the broth and cook the ramen noodles.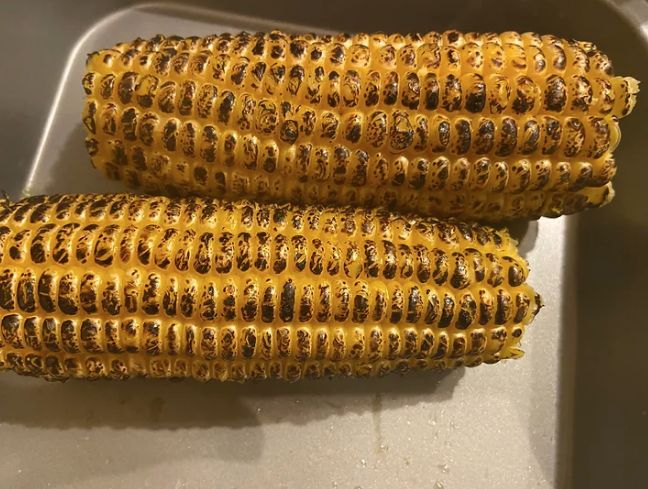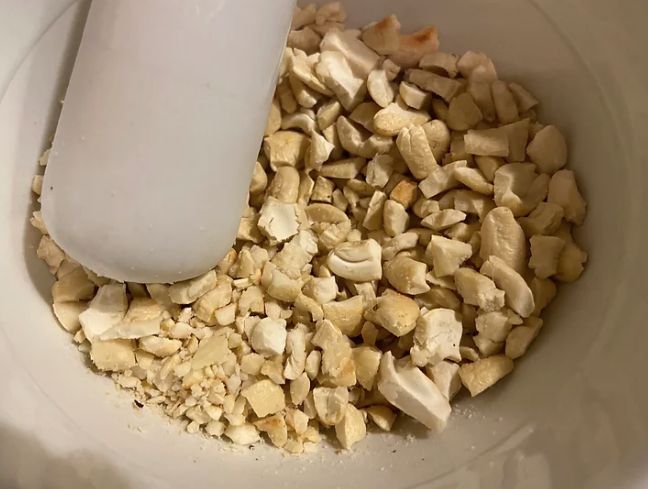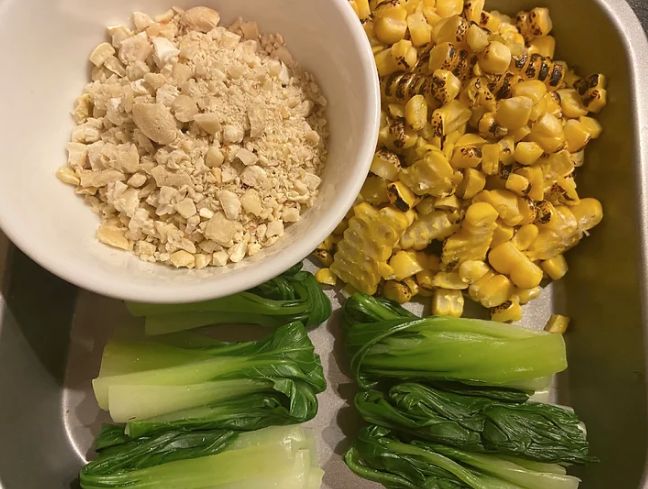 Finish the Ramen:
5. Now back to the vegetable broth, after approximately 1 1/2 hours the broth should be ready. To give the the broth a little more body add a stick blender and briefly pulse until the vegetables are roughly broken down. Next pass the broth through a fine sieve into a fresh pan using a ladle to assist and extract as much flavour as possible. When ready place the passed broth back onto a medium simmer. At this point we do not want to season the broth with salt as this will be the purpose of the Tare made earlier.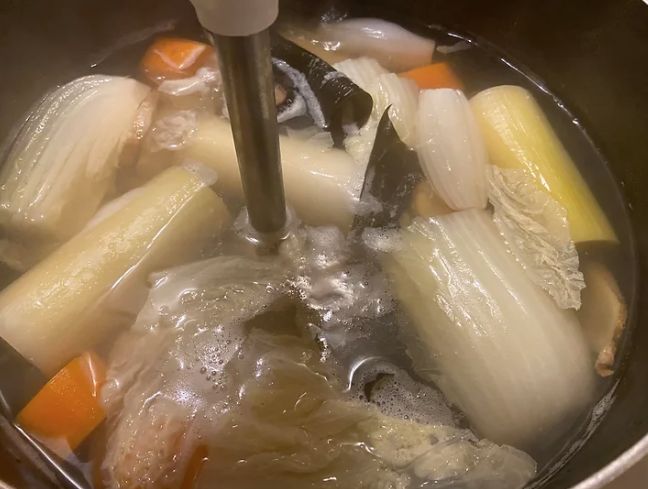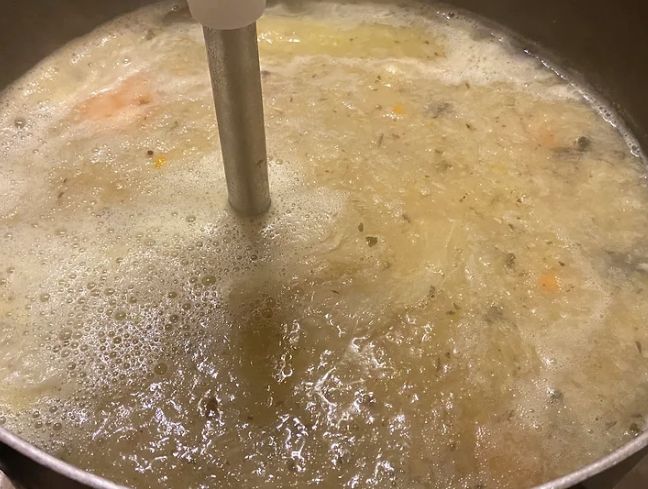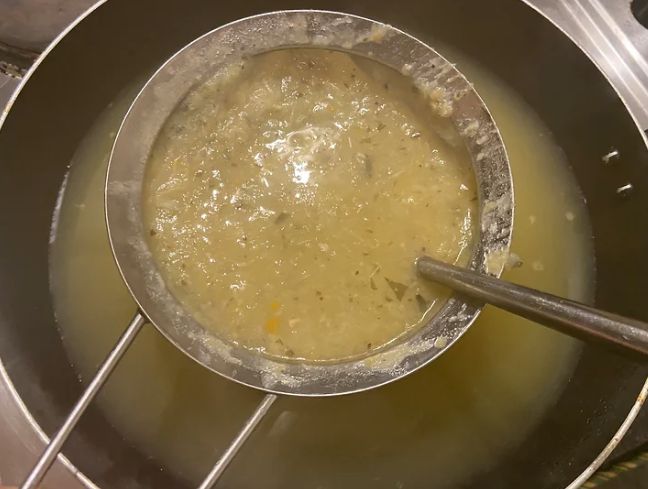 6. To finish and make the broth slightly more creamy we now want to cut the broth with a plant based milk such as cashew, soy or oat. Add approximately 20-30 percent of the milk to broth and stir to incorporate. Allow the broth to continue to keep warm on a simmer and we are set to build the ramen.
7. All that's left at this point of the recipe is to build up the bowls and cook the noodles. To build the base of the ramen in the serving ramen bowls begin by adding 2 tbsp of the Tare, 2 tbsp of the Chimanjan sesame paste, 1-2 tsp of the Rayu chilli oil (depending on spice), 1 tsp of rice vinegar and a pinch of minced spring onion whites. Repeat this for all the serving bowls then when ready add and cook the noodles in boiling water. If cooking fresh then these will take no longer than 60 seconds or if cooking dried then follow to what the packet suggests. When the noodles are cooked thoroughly drain from the water and we are set.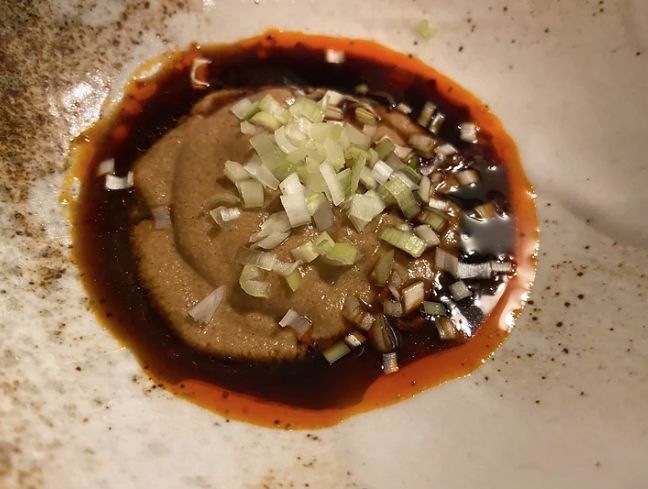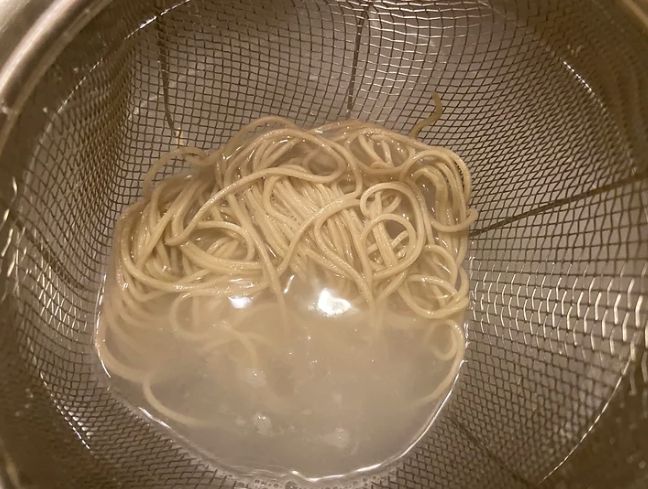 8. Now to serve, to each bowl of ramen we now want to add approximately 2 ladles of the hot broth to the seasoning mix we just made then add the cooked noodles to the centre of the bowl. Top and finish the ramen by adding some of the aubergine mushroom mince, toasted sweetcorn, pak choi then top with a few cashews and finely sliced spring onion. Add additional Rayu for more heat, take a deep breath and nourish…Hope you like my take on a vegan Tatanmen ramen!
As this type of ramen takes quite a bit of time there are a few steps we can take to help make the whole process slightly more bearable. For the broth we can use a pressure cooker, and if making fresh noodles these can be done way in advance and frozen prior to making this ramen. The Tare and Rayu chilli oil can also be made up way in advance making the whole process much smoother. When it comes to the toppings in this recipe take what's added in the recipe as a simple guide. Tofu, various leafy veg, mock meats will all also work really well. Have fun with this one and I'm sure if you follow it through your in for something special! Peace!
Cook Time: 3 hours / Prep Time 1 hour
6 dried shitake mushrooms
2 dried shitake mushrooms
1 tsp sichuan peppercorns
2 heaped tbsps red pepper flakes
2 tbsp toasted sesame seeds
2 tbsp sesame paste or tahini
Aubergine and Mushroom Mince:
handfull oyster mushrooms
Additional Ingredients and Toppings: