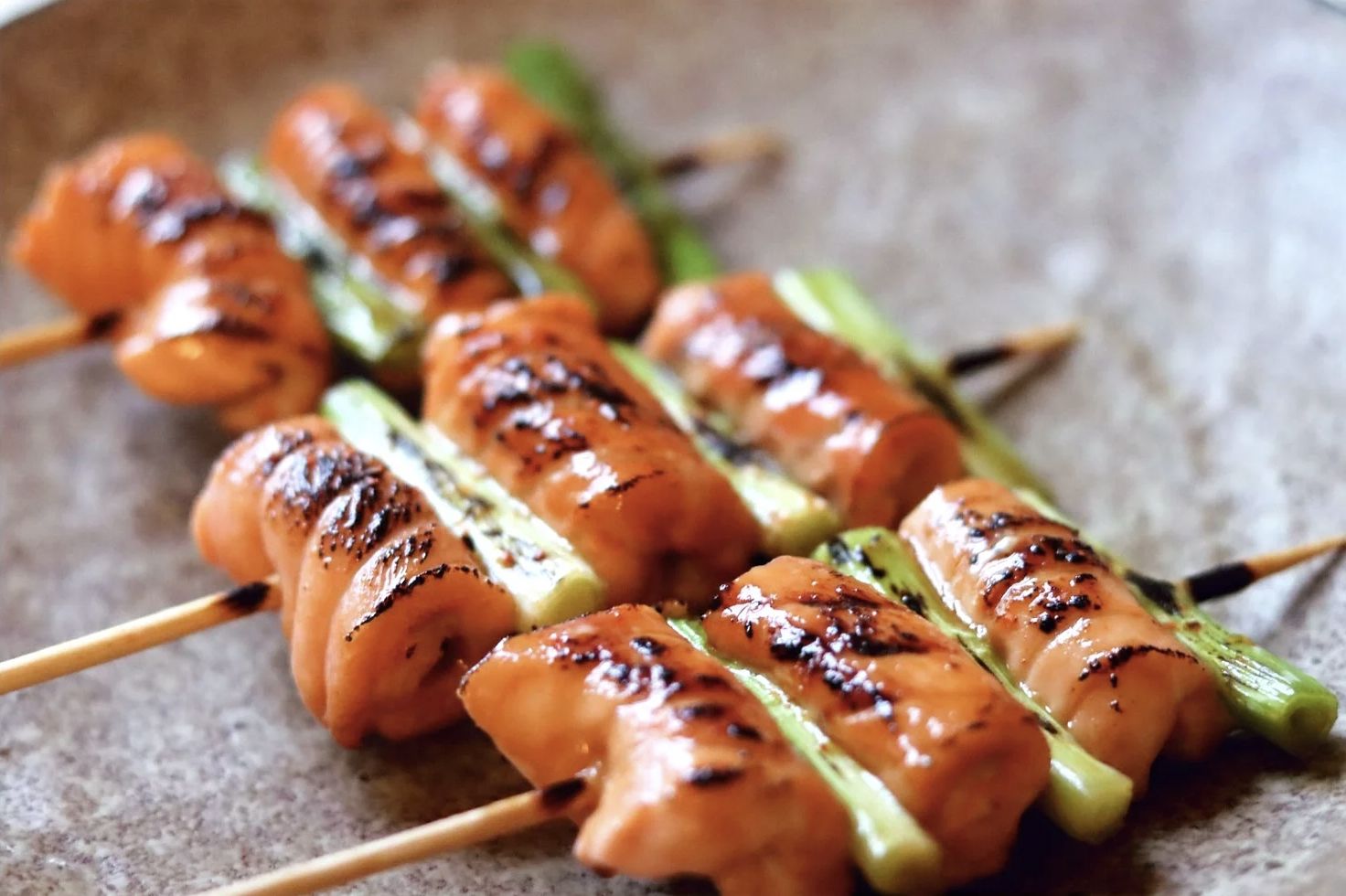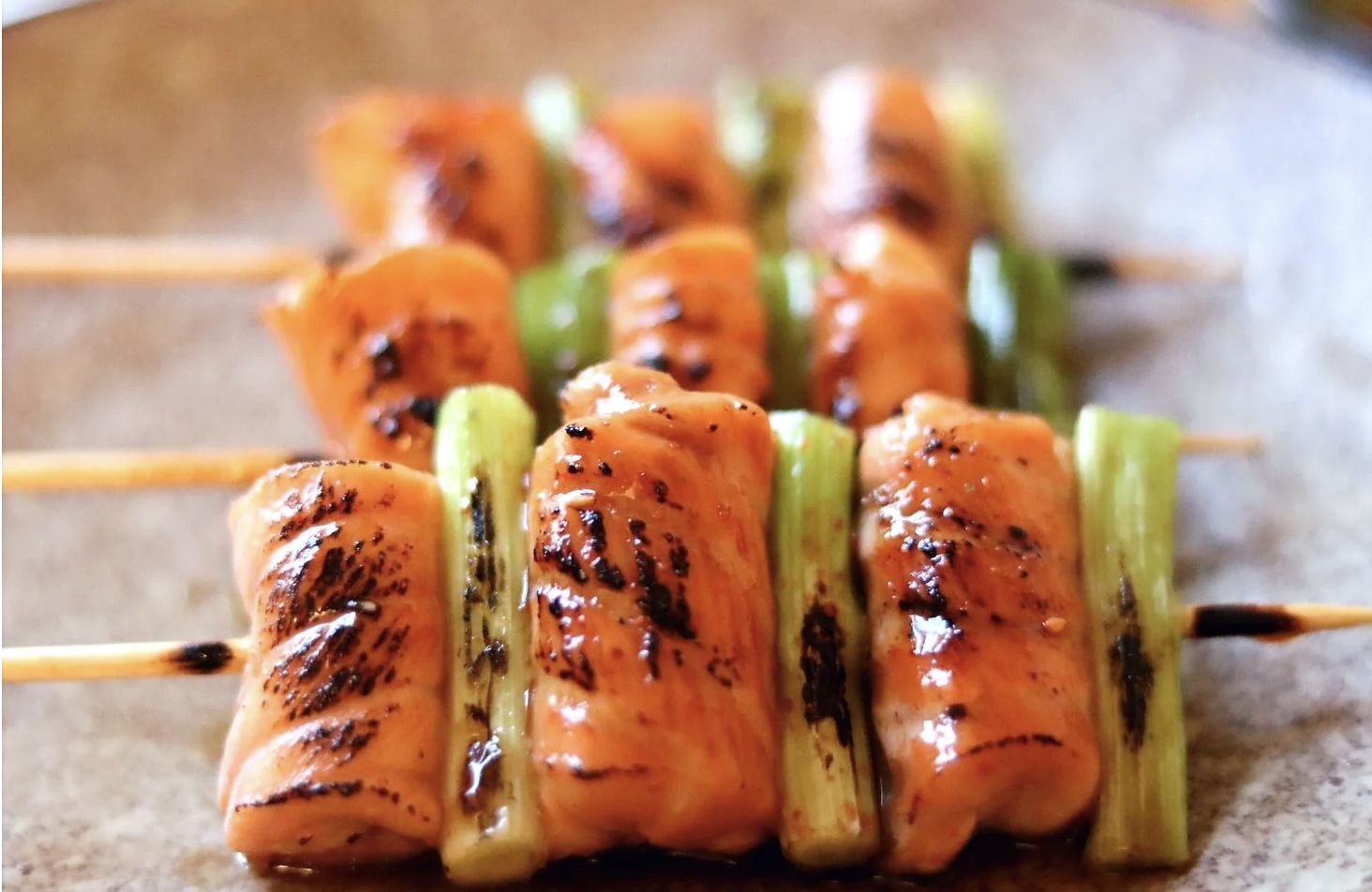 Yakitori taste great when done right. The secret to a good yakitori is all in the glaze. The aim is to create as much umami as possible in a rich soy-based yakitori glaze. A yakitori glaze traditionally gets reused in Japan as the more you dip meat or fish into it the more intense and delicious the glaze gets. I definitely recommend making a batch of the glaze and storing it for further use! For this yakitori, I went with thinly sliced and rolled salmon and spring onion to keep things nice and simple. With all that said let's make this delicious and simple dish!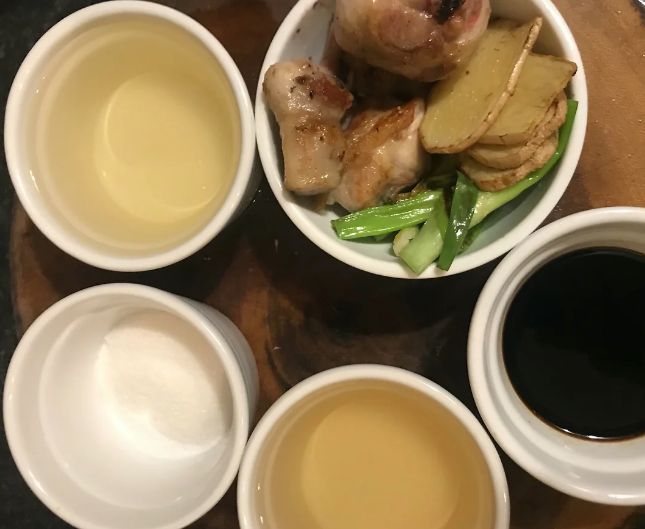 1. Start by making the glaze, roughly chop 2 chicken wings and add to a pan with a small drizzle of oil. Fry on a high heat until nicely seared. Now slice 25g of ginger and roughly chop 4 whole spring onions. Add to the pan of chicken wings and cook together until the vegetables become nicely seared. When ready and aromatic set to one side. These ingredients will give the glaze that extra umami flavour.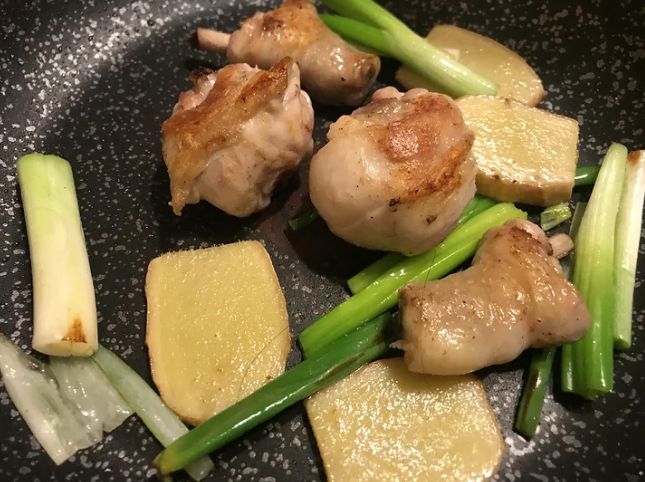 2. Now place a dry saucepan onto a high heat, when hot add 200ml of sake and 200ml mirin. Boil for 1 minute to get rid of the alcohol content, next add the seared vegetables and chicken. Turn the heat down to a low simmer then add 75ml light soy and 30g of sugar and give everything a good stir so that the sugar dissolves. Continue to cook the glaze for 5 minutes on a low heat to infuse everything together. When finished remove from the heat and allow to sit at room temperature until the glaze cools. When cool strain the glaze into a bowl and set this amazing thing to one side. (This glaze can be kept for weeks when stored in the fridge).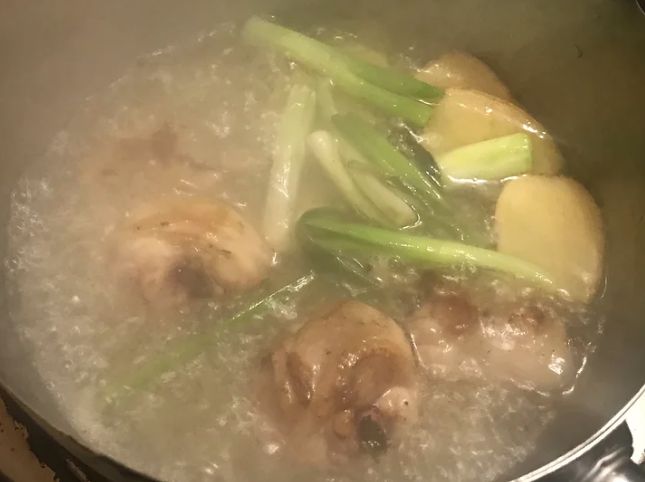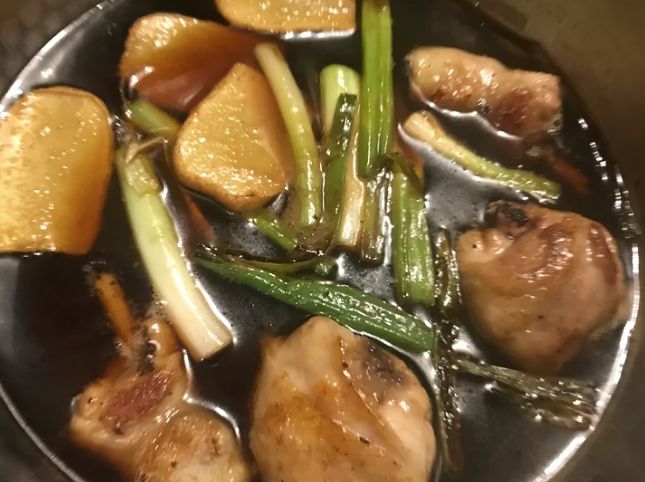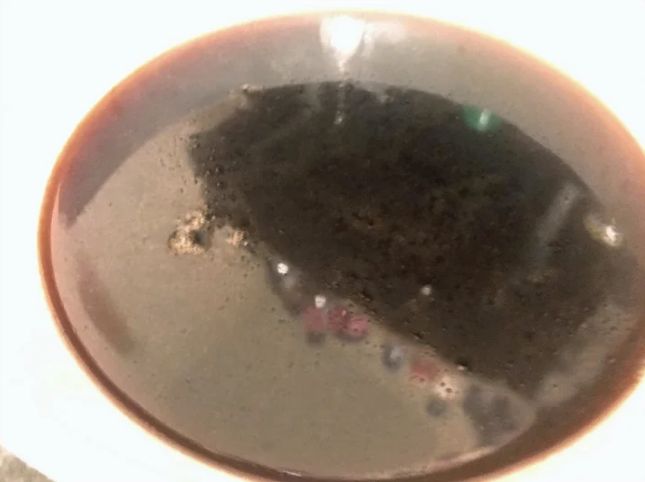 3. Let's move onto the salmon fillets, start by removing the skin off the fillets or 1/2 side of salmon then slice thin strips against the grain. (You can also cut the salmon into bite sized cubes if you find that easier). We want each strip to be as thin as possible to make it easier to roll. Best way to do this is by slicing at a slight angle giving us more surface area on the salmon as we slice. When you have enough slices place to one side for now. Last thing to prepare is the spring onion, wash first then slice into batons roughly the same size of the salmon if possible.
4. Now we can build up the skewers, begin by tightly rolling up each slice of salmon starting from the shortest side then rolling. Now take one skewer and go straight through the centre of the salmon roll. The best way to skewer when making yakitori is to keep the skewer flat against a chopping board to ensure the skewers come out nice and straight.
5. Next place a spring onion piece after the salmon and repeat the process of salmon, spring onion, salmon etc until the skewers are nicely built up. I find that 3 pieces of salmon and 3 spring onions is a decent amount on each skewer. When all of the skewers are made up place onto a tray and we can now begin to cook.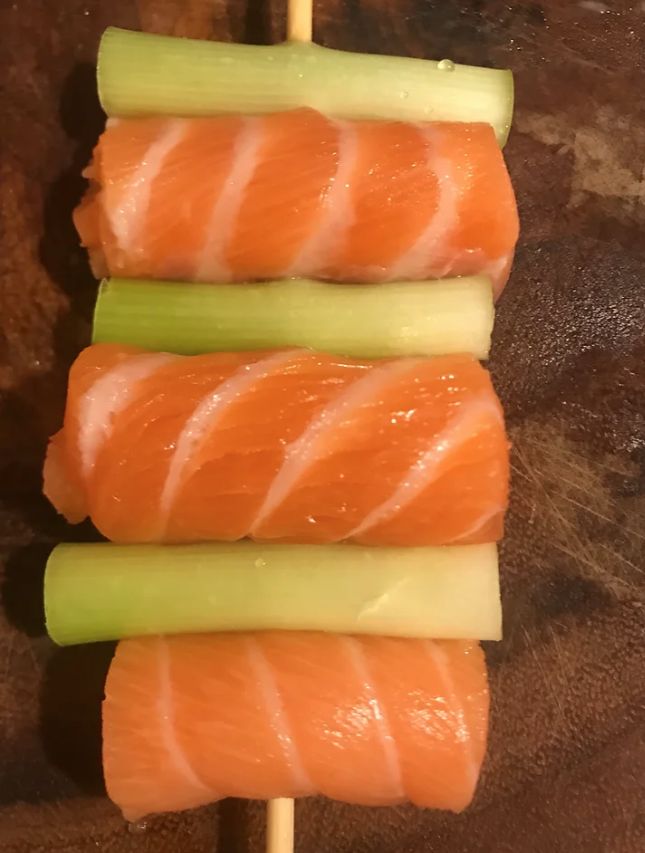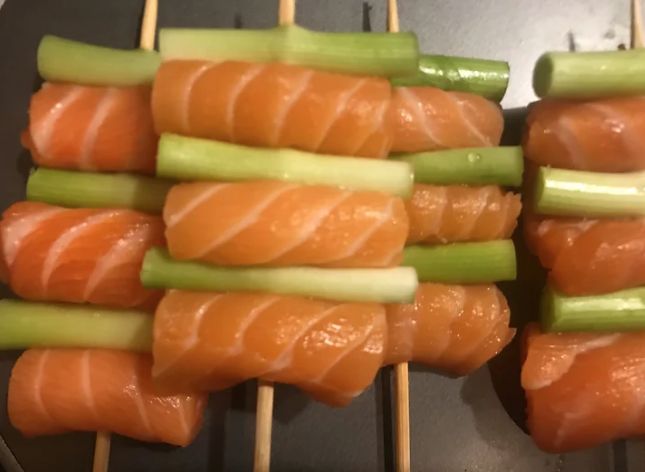 6. To cook we can either grill, pan fry or bbq if possible. As its peak winter I decided to simply pan fry to make things easy with a little help from a blow torch to give that charred aroma. Place a large flat pan onto a medium to high heat with a tiny drizzle of oil. When hot add the skewers and part cook for 30 seconds each side. Now take each skewer and dip it into the yakitori glaze that we made earlier. Place back into the pan and cook for a further 30 seconds each side then repeat by dipping back into the glaze each time. Do this around 3 or so times taking care not to over cook the salmon. By cooking the yakitori in this way we are able to prevent the glaze from burning and to achieve the maximum flavour of yakitori.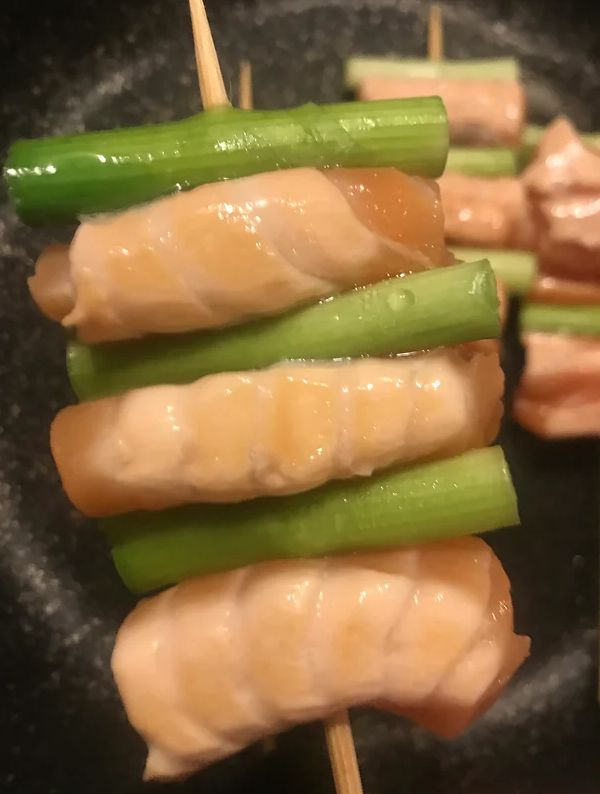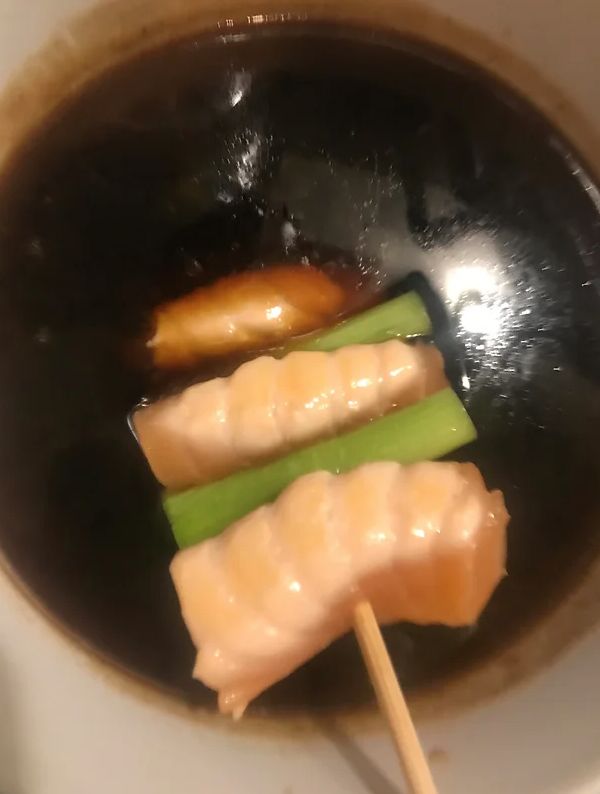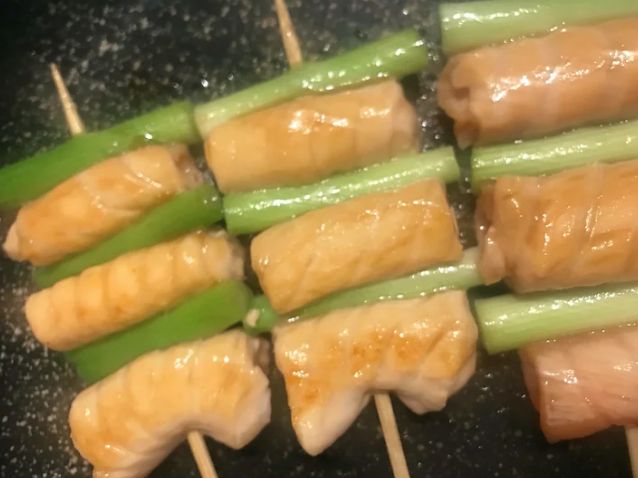 7. Now we can serve, when the salmon is cooked remove from the pan and briefly blowtorch over each skewer to help give that char aroma. If you don't have a blow torch then your could briefly pop directly under a hot salamander to get that last bit of colour. Season the skewers lightly with shichimi pepper for a touch of heat and a squeeze of fresh lemon juice. Yakitori works great as a light snack or with some freshly cooked Japanese rice. Hope you like this quick and simple recipe!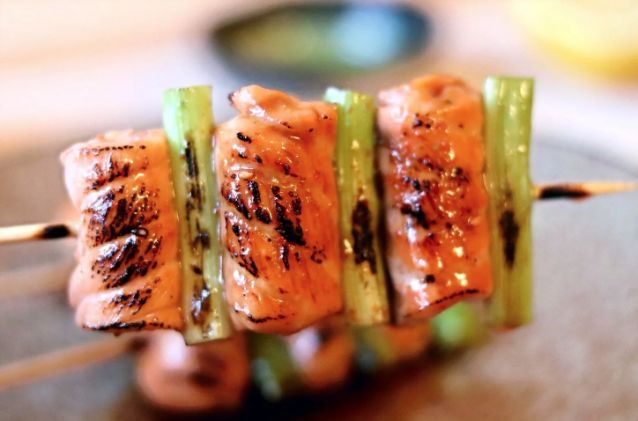 The longer you keep the yakitori glaze the better it becomes! If you times this recipe by 4 and make a big batch it will keep fine in the fridge for weeks. The more various types of protein you dip in the glaze i.e seafood, chicken or beef the more umami the glaze seems to get, so no worries about reusing it. If you want to use chicken or beef instead of salmon then I have also made a chicken yakitori recipe on here to learn how to make that. Instead of spring onions, you could either leave them out or try peppers, aubergine, courgette or even white or red onion. Have fun making yakitori!
2-3 salmon fillets or 1/2 side salmon
shichimi pepper (optional)