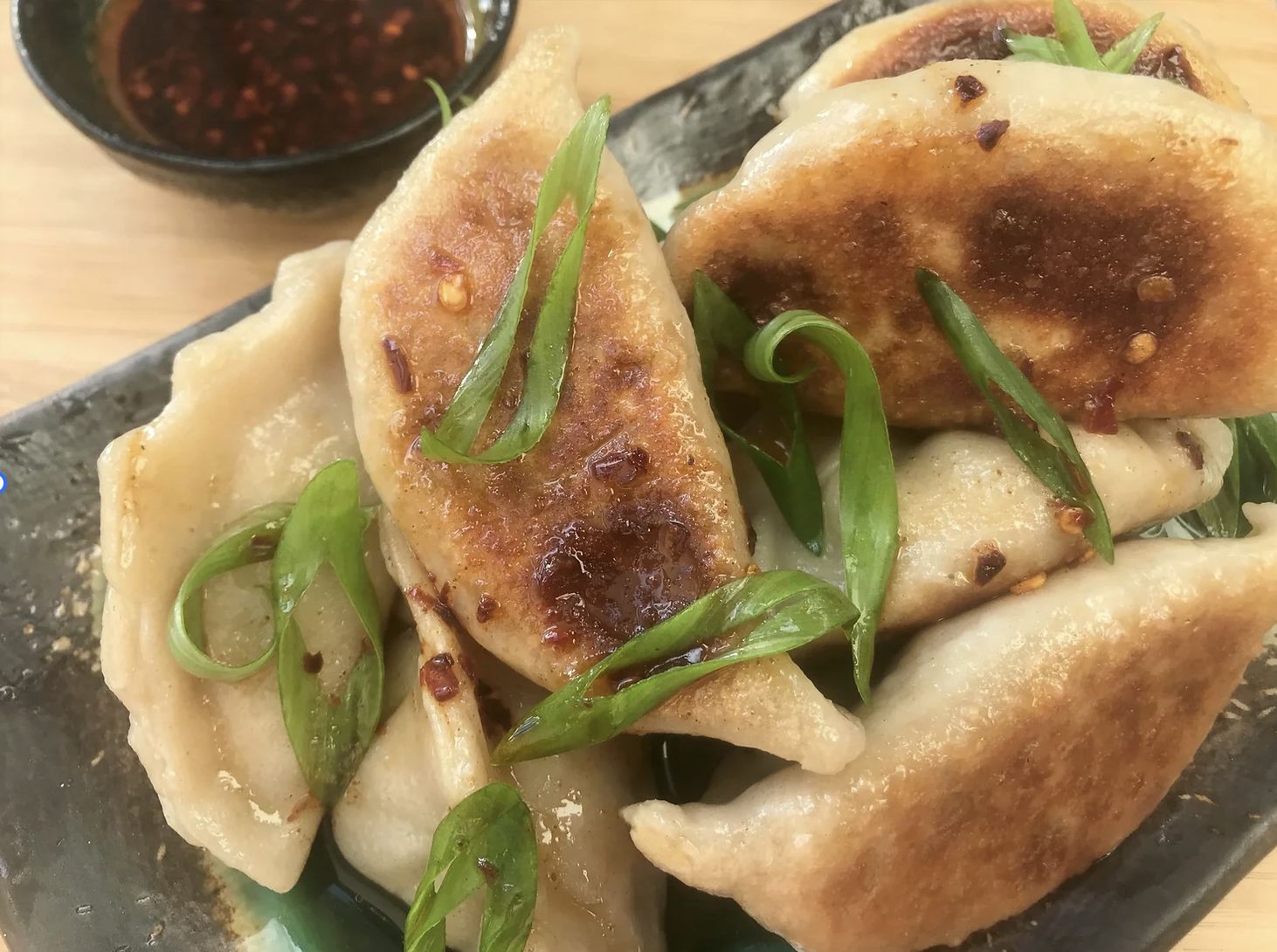 Gyoza are fried Dumplings that are very common in Japanese cuisine. I kept the filling for the gyoza fairly traditional for this recipe. The wrapper dough for this recipe is incredibly easy and takes hardly any time at all. I highly recommend giving this a try as it is great as either a snack or as a side to the main course. Let's make gyoza!
To make the gyoza filling begin by mincing both the prawns and the chicken. You can either do this in a food blender or by chopping with a knife depending on how smooth you want the filling. Add the minced chicken and prawns to a bowl then add finely chopped cabbage, sliced spring onion, diced shiitake mushrooms and minced garlic and ginger. Next add 2 tbsp of soy, 1 tbsp sesame oil, 1 tbsp sake, 1 tsp of sugar and salt and cracked black pepper. Mix all the ingredients well and place into a bowl then set to one side.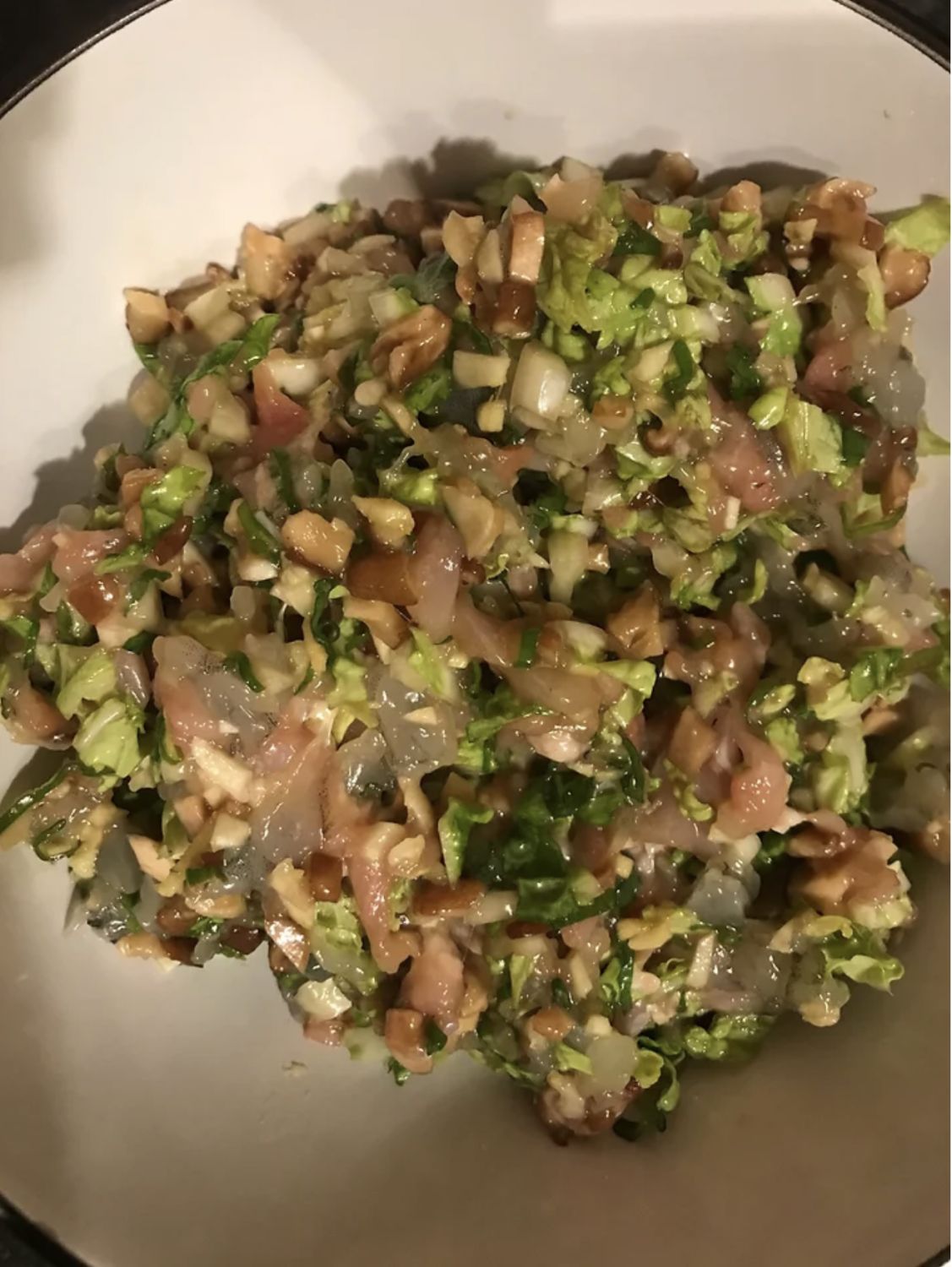 2. Now we can move onto the gyoza wrappers, in a large mixing bowl add 300g of plain flour and a pinch of salt. Then make a well in the flour and add 220ml of boiling water. Mix together with a spatular until all ingredients are combined. Empty the dough onto a table and kneed for around 10-12 minutes until a smooth dough is formed. When the dough is ready place into a bowl and clingfilm then allow to rest for 30 minutes.
3. After the dough has rested for 30 minutes remove from the bowl and place onto a work surface dusted lightly with cornflour. Divid the dough into 2 equal pieces. Next roll both pieces of dough into 2 cylinder shapes. Divide the cylinders into 2 again and repeat until you have 12 equal balls of dough roughly 18-20g each.
4. Shape the small pieces of dough into small neat balls, then flatten with your palm. Next using a rolling pin roll out the dough into thin disks then place the wrappers onto a tray.
5. Now we can make the gyoza, add roughly 1/2 a tablespoon of the filling into the centre of the wrapper, then fold the dough in half. Next seal the edges by either folding small creases along the top of the wrapper or just pinch around the filling to make a tight seal. (It may take a bit of practice to fold gyoza so its entirely up to you how you fold them).
6. Now to cook the gyoza, in a large pan add a splash of oil then add the gyoza on the bottom side. Fry on a high heat for around 3-5 minutes until golden brown. When golden, add 120ml of water to the pan then place a lid on top and let the gyoza steam for around 10 minutes or until all of the water has evaporated. When the water has evaporated remove off the heat and prepare to serve.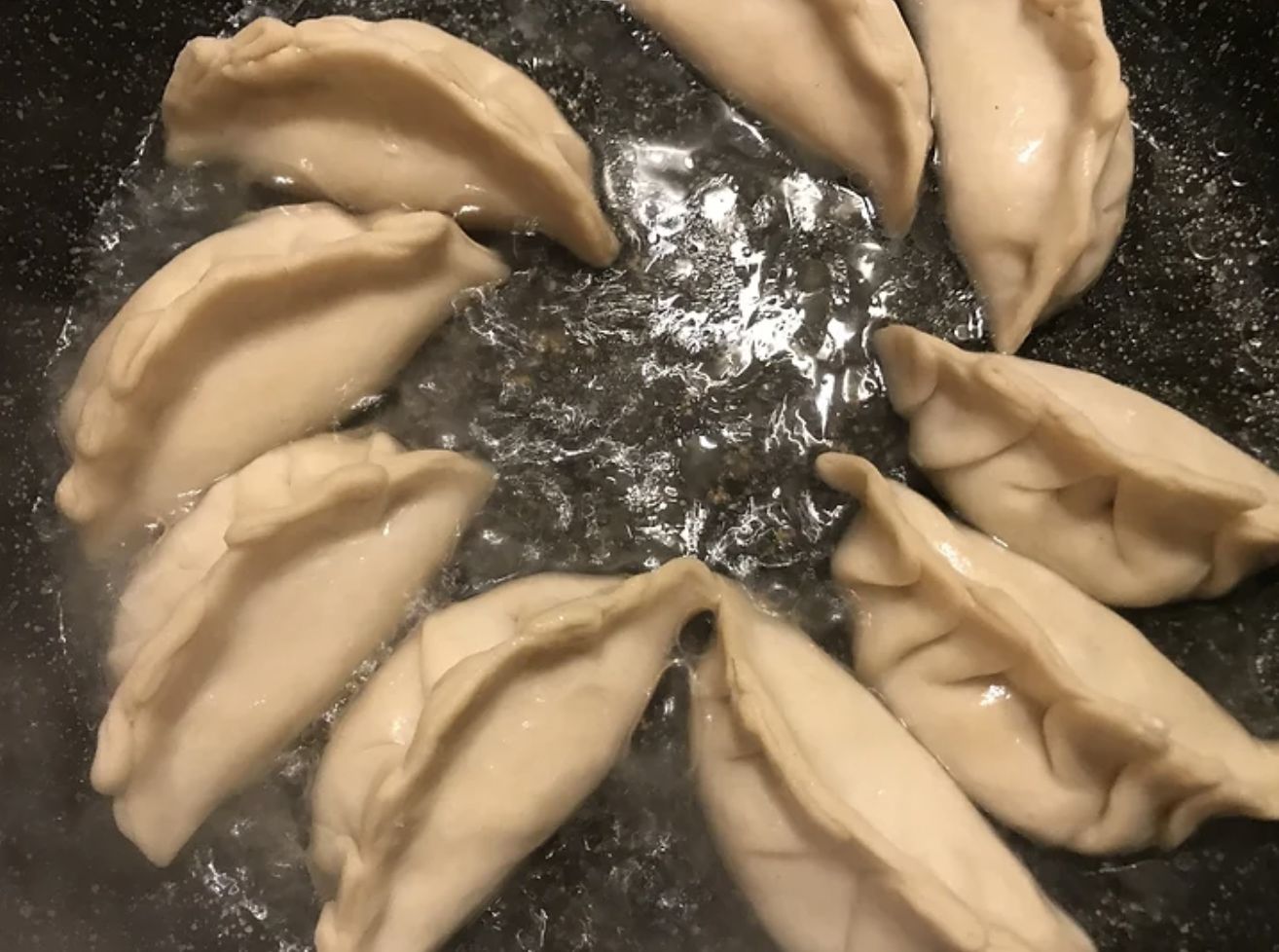 7. To make a really simple dipping sauce to go with the gyoza, in a bowl add 1 tbsp light soy, 1 tbsp sesame oil, 2 tbsp of chilli oil and 2 tbsp of black rice vinegar. Mix the ingredients and place into a small bowl.
8. Now we can serve, add the gyoza onto a plate and place some sliced spring onions over the top. Add a drizzle of the chilli oil and enjoy…have fun making gyoza!
You can make what ever filling you like for gyoza. Tofu, fish, pork, chicken, beef, lamb… it's entirely up to you, as long as the mix is nice and fine you should be good. As for the dipping sauce you can play around with what sauces you prefer although gyoza goes really well with a vinegar type of base. Freezing gyoza when prepared works well also, so it's a good recipe to make in bulk as they will easily last in the freezer for a month. Enjoy…
1/4 Chinese leaf or white cabbage
2 tbsp black rice vinegar