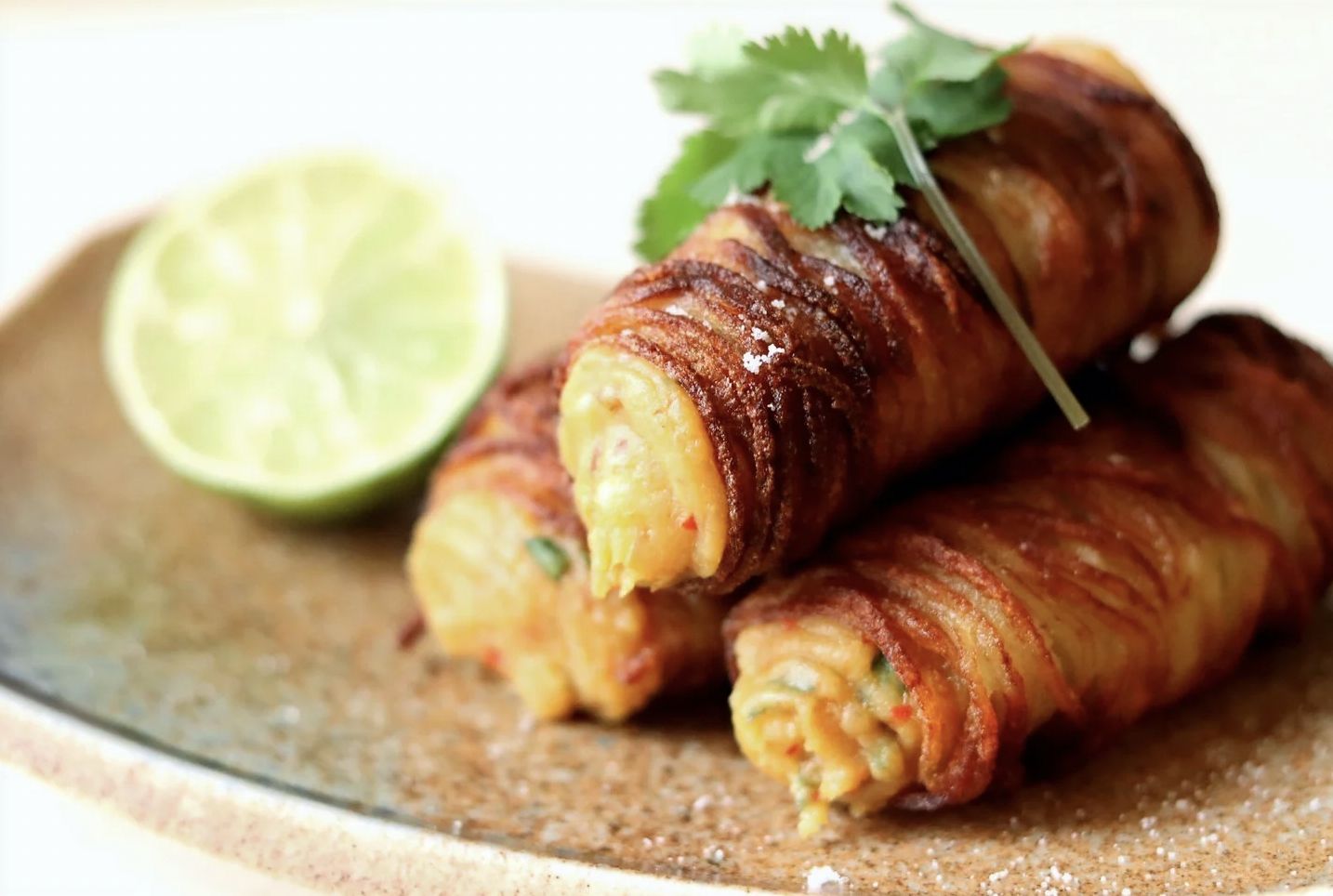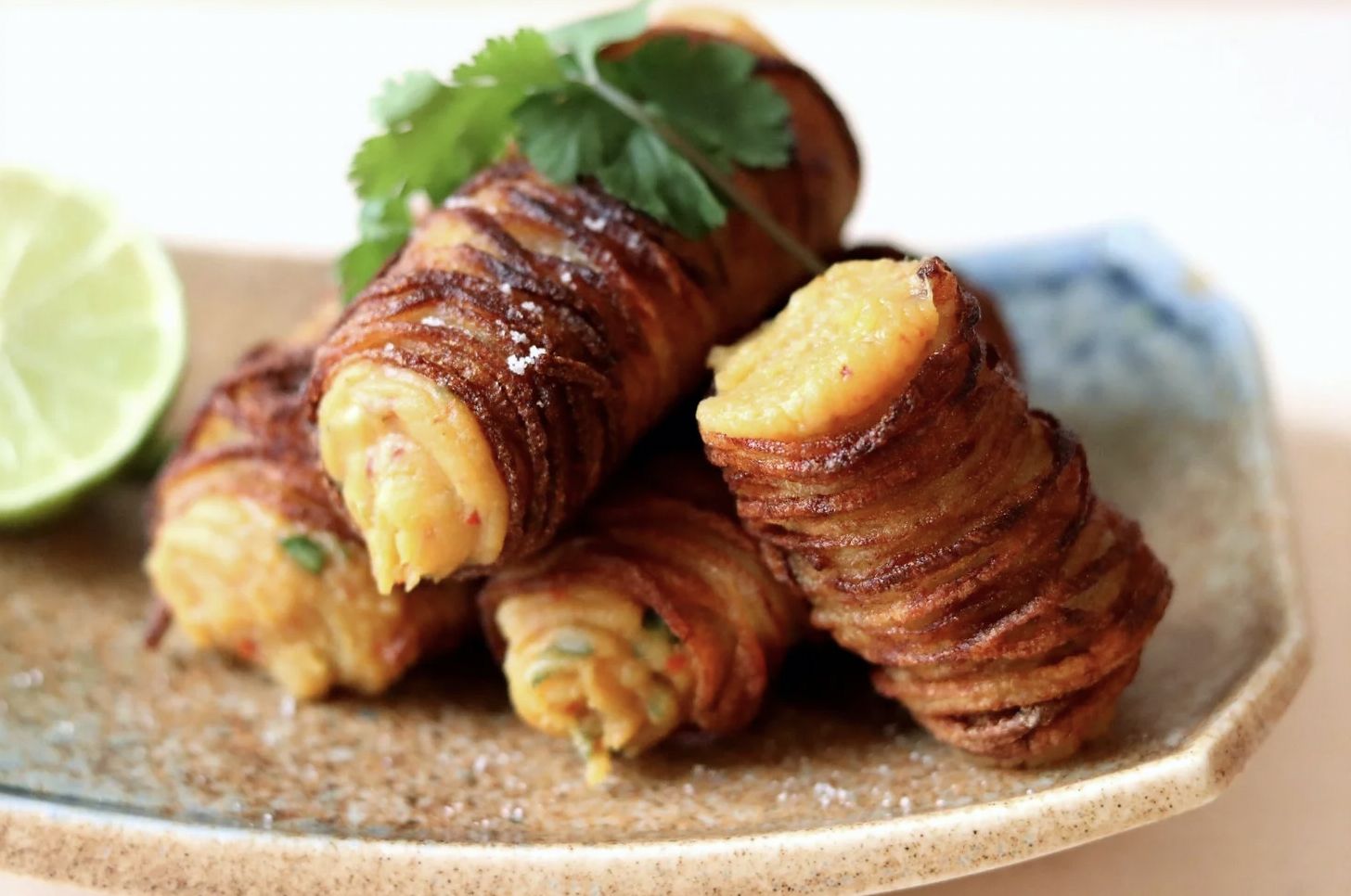 This recipe was an idea I had randomly during the early hours of one morning…The potato cannelloni made in this way is already a thing In quite a few high-end restaurants use. Saying that they are usually not the centrepiece of a dish, therefore I began to think what I could fill inside that would make you only want to eat these almost like you would with a spring roll. I went immediately to rendang as the flavour packs a punch and is incredibly nourishing. The next step was to add cooked baked potato to thicken the rendang enough so we can fill the cannelloni. I know rendang usually contains beef but for something like this dish it simply doesn't need it plus I can make this a vegan recipe! With all that said this is how you make them…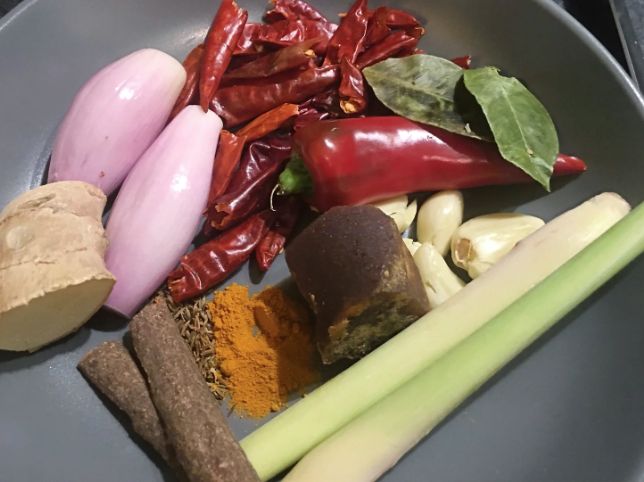 1. Let's begin with making the rendang paste, start by deseeding approximately 20g of dried red chillies then deseed and roughly chop 1 fresh red chilli. Add the chillies to a food blender along with 2 chopped shallots, 4 peeled garlic cloves, 2 bruised and chopped lemongrass, a 3cm piece sliced ginger, 1 tsp cumin, 1 tsp turmeric and 1 tsp ground coriander. Add a drizzle of cooking oil to loosen and pulse until a fine paste is made.
2. Before we start to cook the rendang wash and place 5 whole potatoes (unpeeled) into a hot oven set at 180°c and leave to cook for 45 minutes. These potatoes will be to finish the rendang filling and are best cooked this way as we want a dry rendang mash/puree. When cooked allow to cool then cut into 2 and remove the middle of the potato from the skin and place to one side. and we will add these at the very end.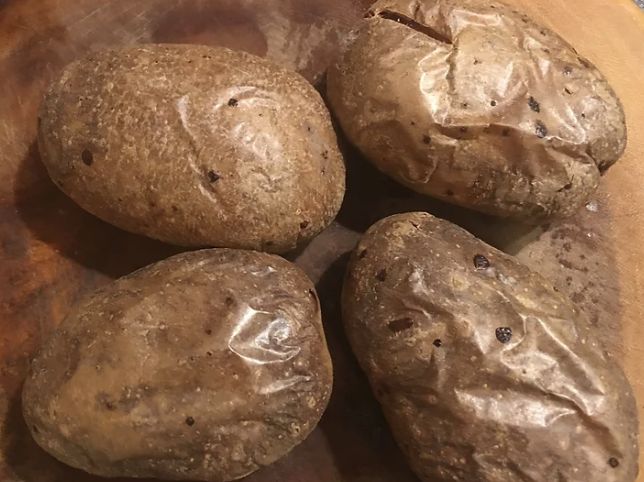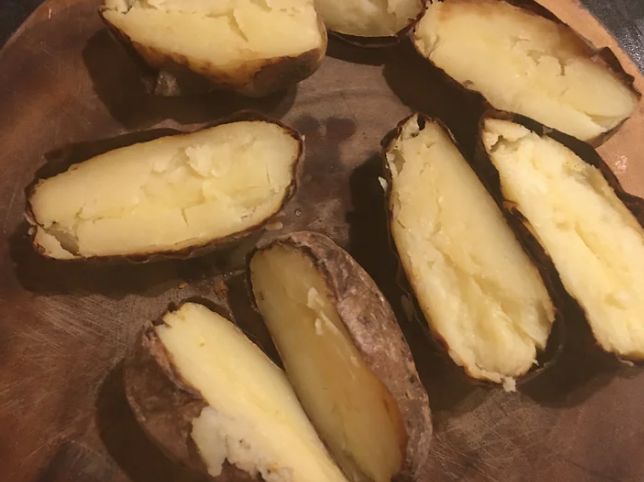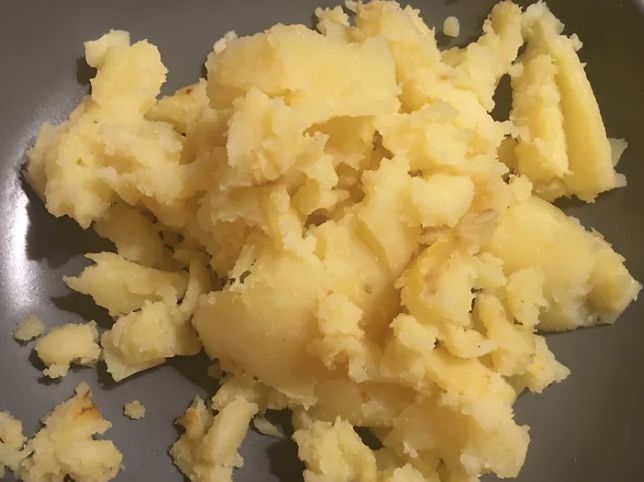 3. Now back to the rendang paste, we want to cook the paste out low and slow. Add a drizzle of oil to a pan then add all of the paste. Fry on a low heat until the paste becomes dark and fragrant then add 300ml of coconut milk, 2 kafir lime leaves, 2 pieces tamarind pulp, 1 stick of cinnamon and 2 tbsp of palm sugar. Cook the rendang on a low heat stirring occasionally to prevent from burning. Rendang is at its best when the coconut milk has split and the curry has become super aromatic and reduced, therefore leave to cook whilst we prepare everything else for this dish.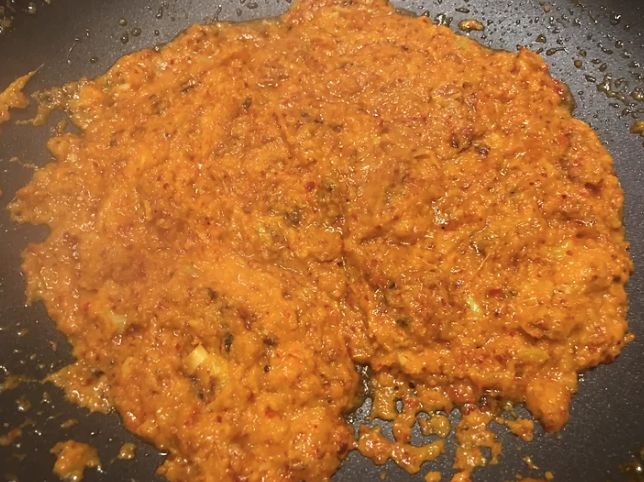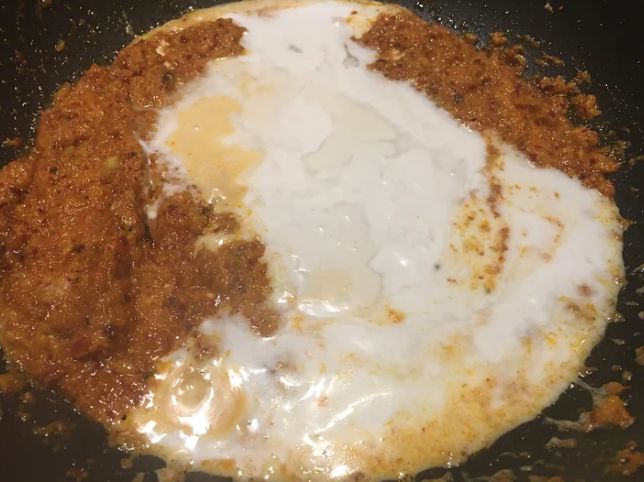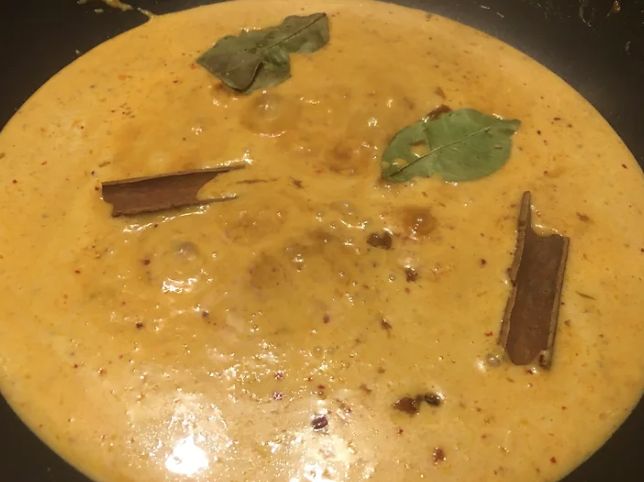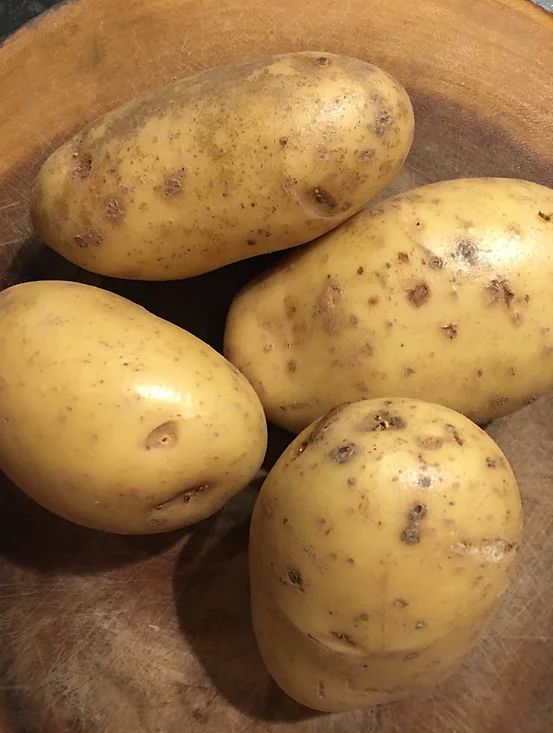 4. To make the shells you will need to use a potato spiraller, however, if you cant get hold of one of these then simply use a peeler or knife to cut the potato into thin strips instead of spirals. Another option here is instead of potato to use blanched egg noodles as they will also work just fine to create a shell. Peel 4 potatoes first then feed through the device to make spirals.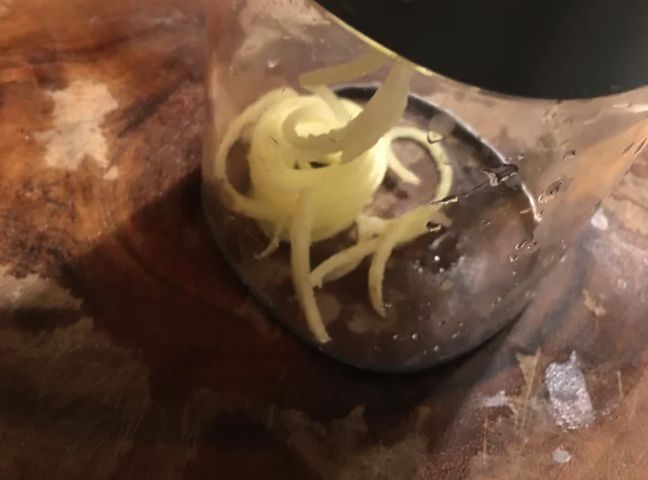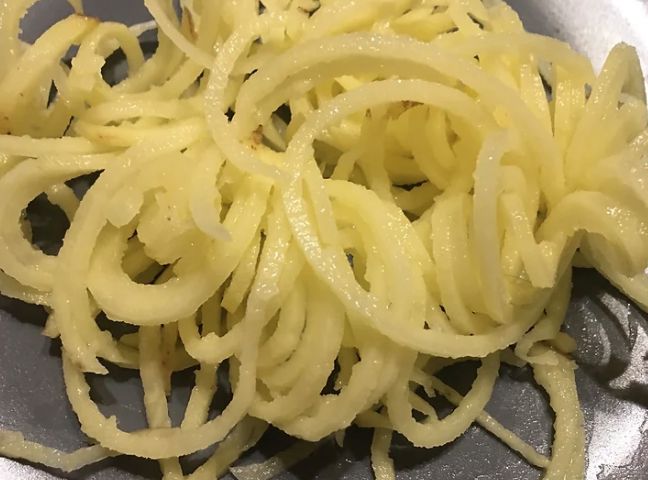 5. To wrap the spirals into a cylinder I used a small pastry tube however you could also use a carrot wrapped in greaseproof or the end of a whisk if you cant get hold of one of these. I did try the carrot just to see if it worked and it was fine…Tightly and carefully wrap the potato around the cylinders creating 2-3 overlapping layers to ensure a stronger shell. You should aim to get around 10-12 shells if possible then when all the shells are wrapped place to one side for now. If you find you are worried that the cylinder mould may stick to the potato you can also wrap the mould in parchment paper to make it easier to remove the potato shell when cooked.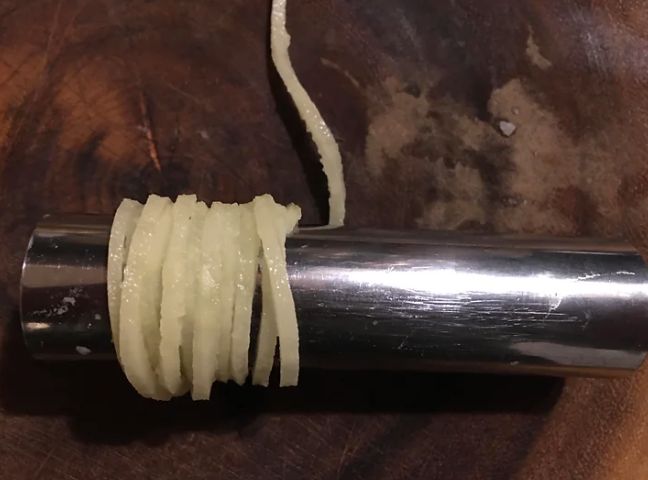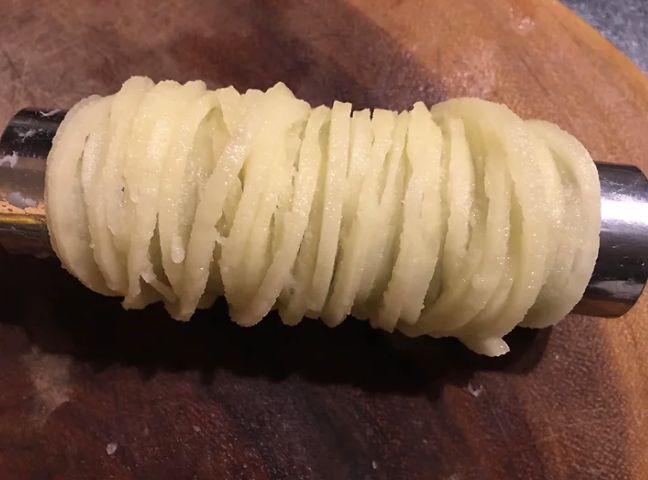 6. To cook place a pan with approximately 200ml of cooking oil onto a medium to high heat. Allow the oil temperature to reach between 150°c – 160°c to prevent from burning then when ready add the shells in batches. Cook the potatoes for 8-10 minutes turning occasionally until each shell is nice and golden brown. When cooked remove from the oil and place onto kitchen paper to drain off the excess oil. When cool carefully remove the cylinder mould and season the potato cylinders lightly with sea salt.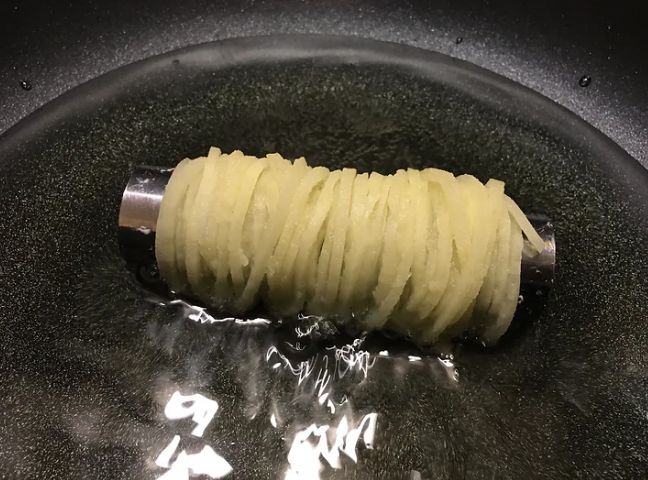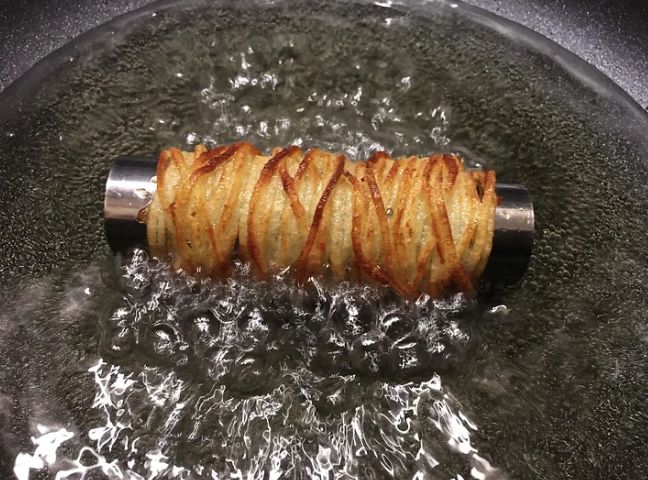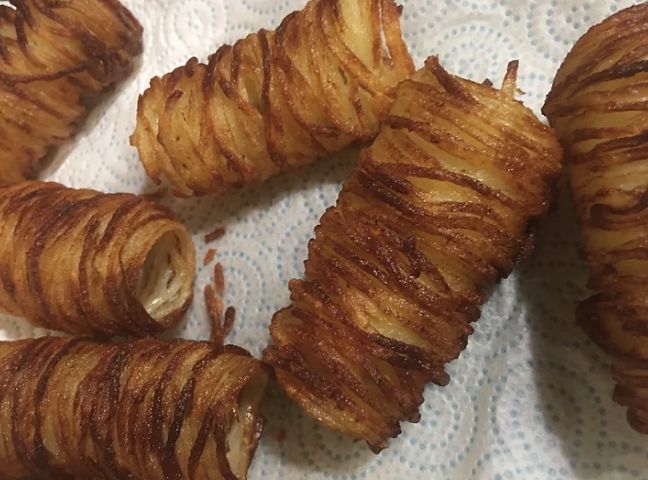 7. Now all that's left is to finish the rendang and transform it into more of a filling for the potato cannelloni. By this point the rendang should have split and reduced significantly, when ready remove the kafir lime leaves, cinnamon stick and tamarind skin then add the cooked potato from the baked potatoes. Mix well so that the potato gets well coated and soaks up the rendang. Adjust the seasoning with salt and additional palm sugar if needed then add a squeeze of lime and some fresh chopped coriander.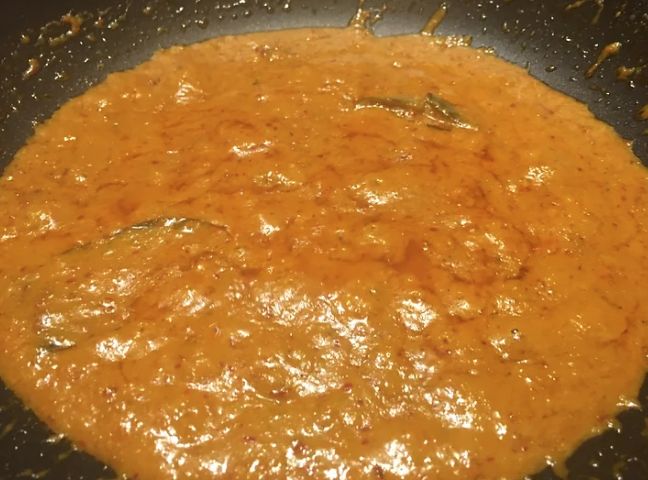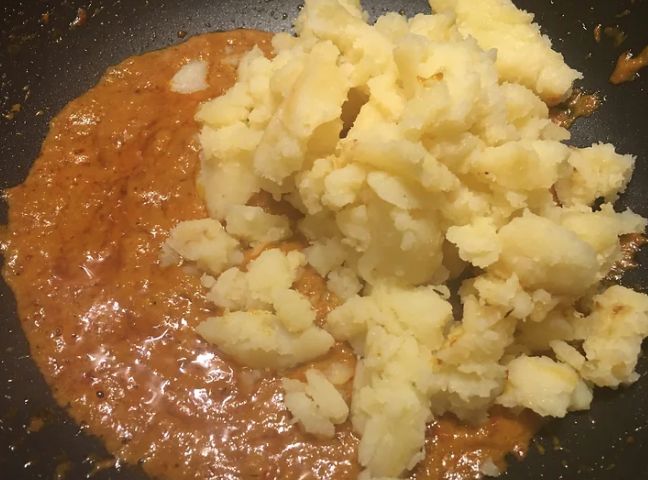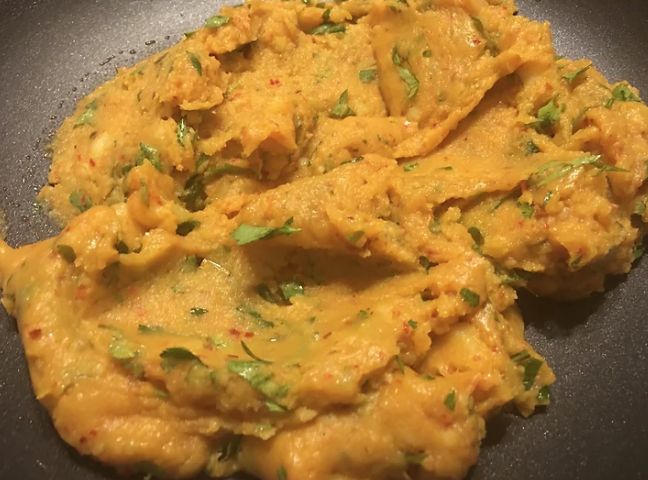 8. To fill place the rendang filling into a piping bag, then begin to tightly fill in the potato cannelloni then when all filled were ready to serve.
9. Serve these with a squeeze of lime or even with a simple citrus mayonnaise…Have fun with this recipe and I'm sure there are limitless possibilities on different types using the same concept…
You can also try to make potato shells with thin noodles if you wish to save some time. As for the filling, most root vegetables would also work well…you could also try making and adding a savoury mousse. Have fun with this one!
2 pieces dried tamarind pulp (optional)
2 tbsp palm sugar or brown sugar