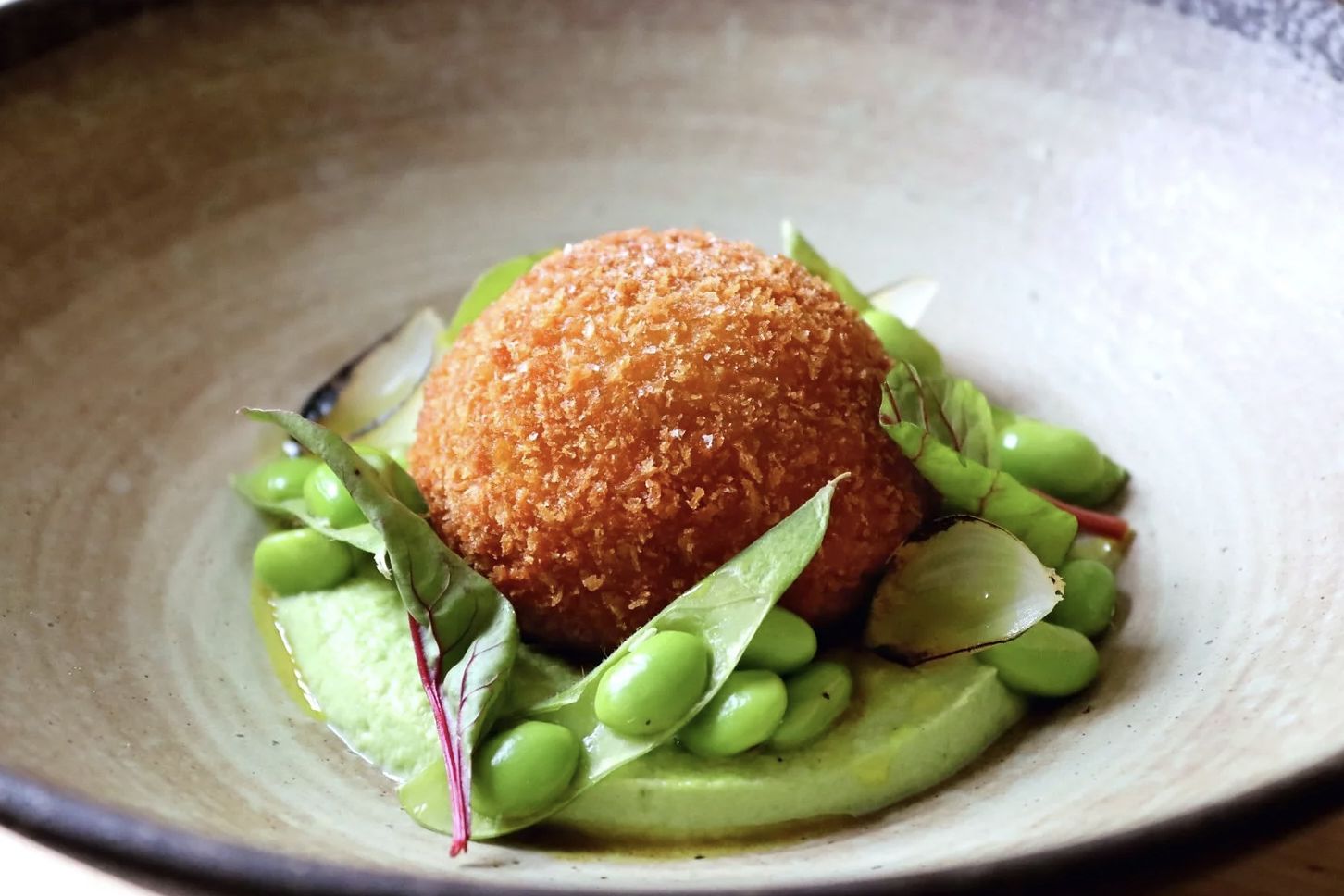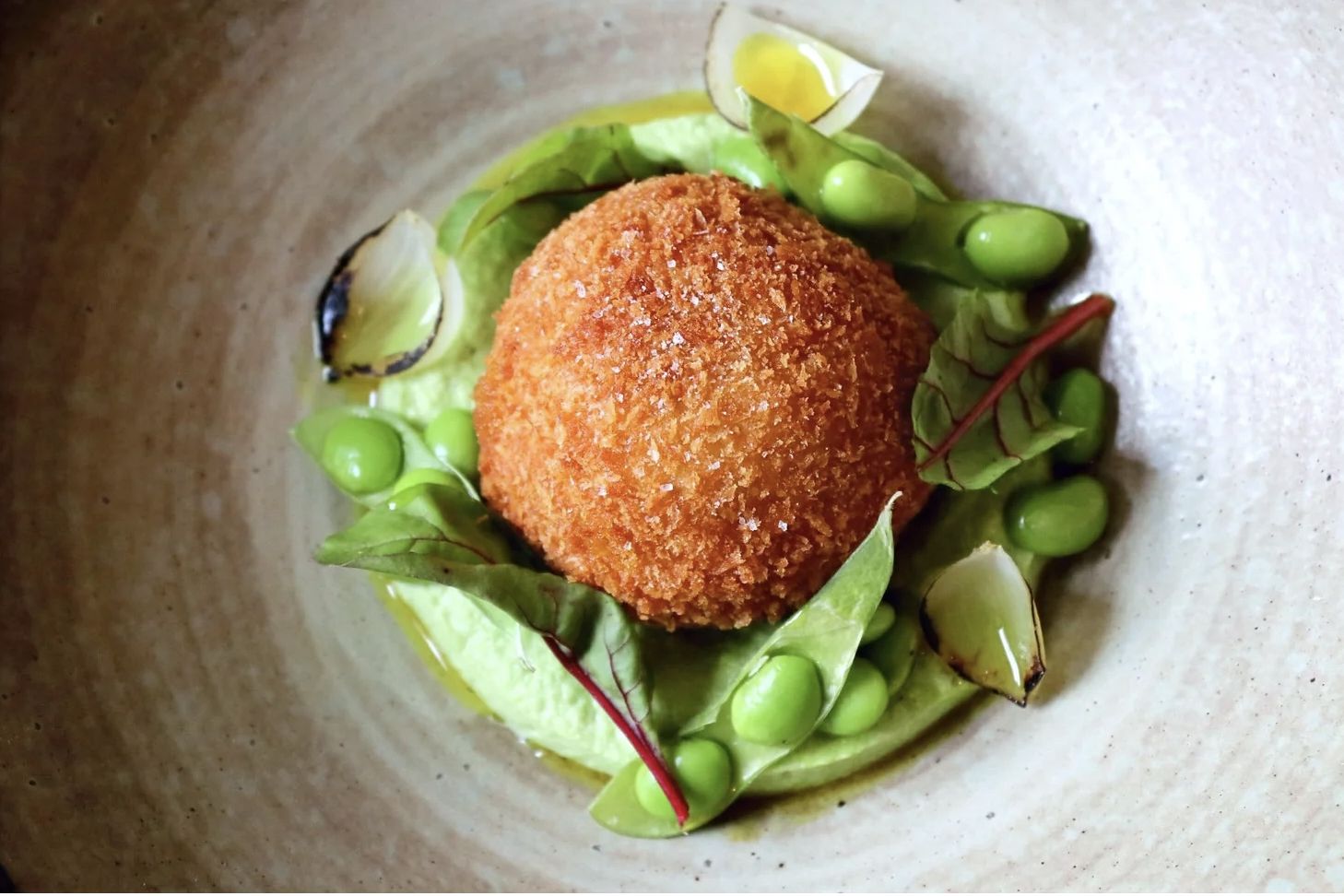 The idea behind this recipe was to recreate a classic Japanese creamy Korokke. Korokke essentially are deep fried and can be filled with various root vegetables, seafood or meat and can be found all throughout Japan. I was intending on making a classic creamy crab Korokke but I literally could only get hold of already picked white crab meat and, to be honest, that would simply not do any justice to making Korokke. Instead of crab, I went with smoked haddock and a Japanese-style creamy curry almost like a hybrid of Japanese curry and a kedgeree for the filling. Overall the Korokke was perfect and creamy and a light edamame puree and salad with curry oil managed to transform a simple humble Korokke into something special. With all that said let's get straight to it!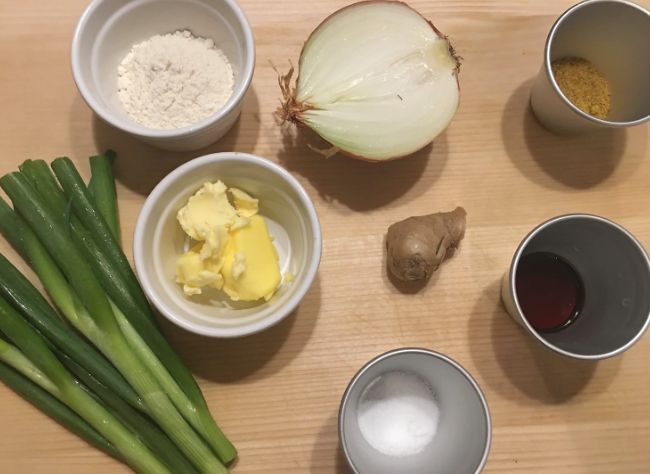 1. Let's start off this recipe with the haddock, if you're not a fan of smoked fish then by all means use regular haddock or a similar white fish. Place a pan filled with water onto a medium to high heat then when simmering add the smoked haddock fillets with the skin on. Poach for 2-3 minutes until just cooked then carefully remove the smoked haddock and drain onto kitchen paper. When cool and easier to manage remove the skin and flake the meat. When ready set to one side as we will add this later.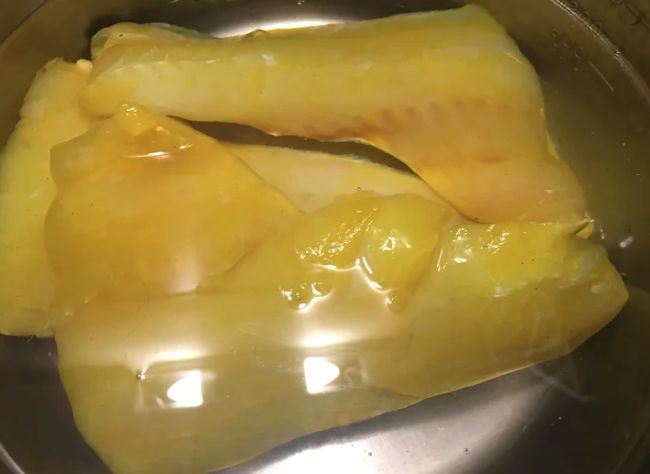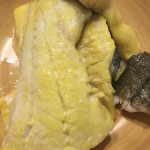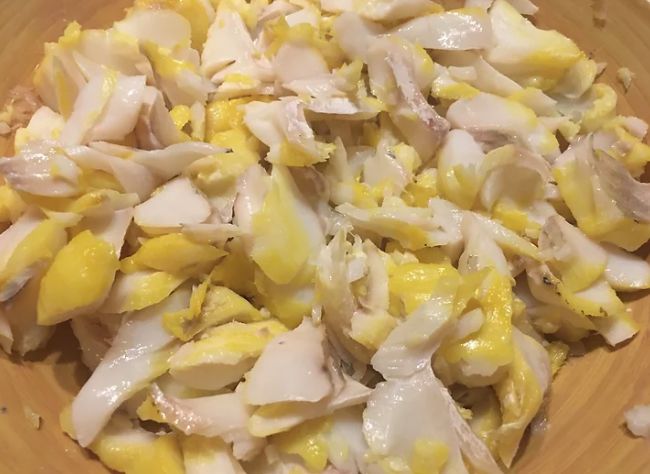 2. Now we want to go super old school and make up a roux for the Korokke, unlike a traditional roux using milk we will add a dashi stock instead. Instead of making a fresh dashi I used instant dashi powder to speed things up, however, if you cant get hold of instant dashi then using just water will also be fine. Start by firstly adding the instant dashi to approx 500ml of boiling water then mix. Now in a pan add 75g of butter and place onto a medium heat to melt. When the butter is nice and foamy add 75g of plain flour and mix well until the texture has a sand like consistency. Cook out the roux for 1-2 minutes stirring constantly.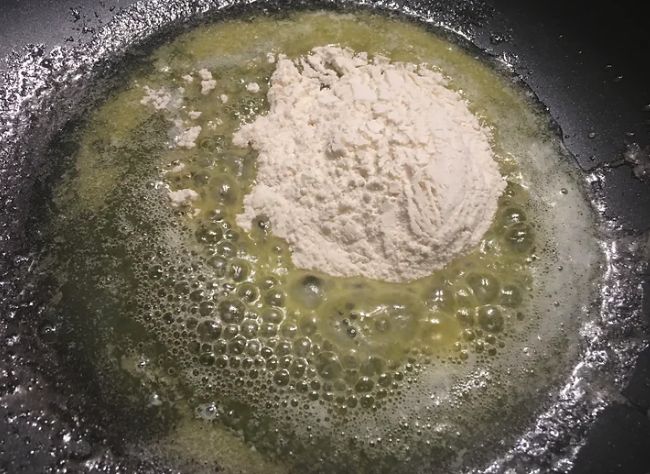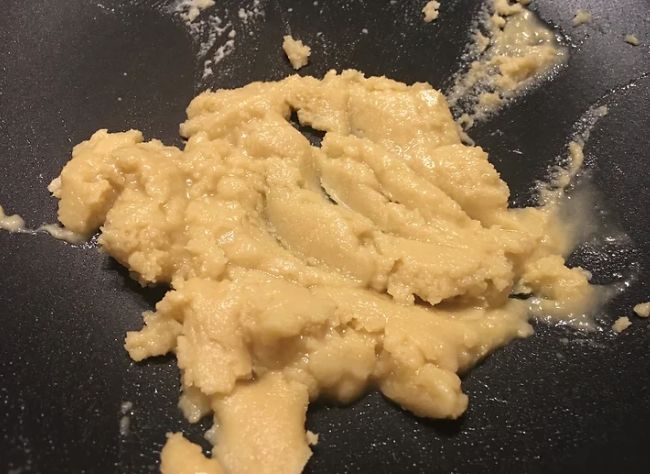 3. Next we want to add ladle by ladle 500ml of the dashi stock. We want to add the dashi little by little ensuring the roux absorbs all of the liquid before adding dashi, this method will help maintain a silky smooth roux. Continue to add the dashi stirring constantly until the roux is neither too thin or too thick (you want the roux have a ribbon consistency). When ready remove the roux from the heat and allow to cool.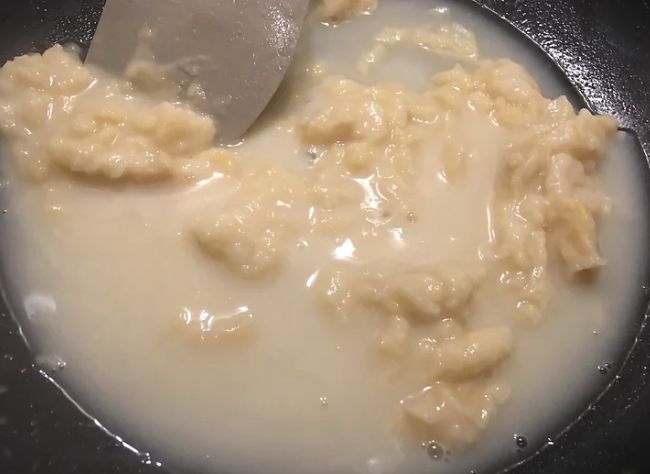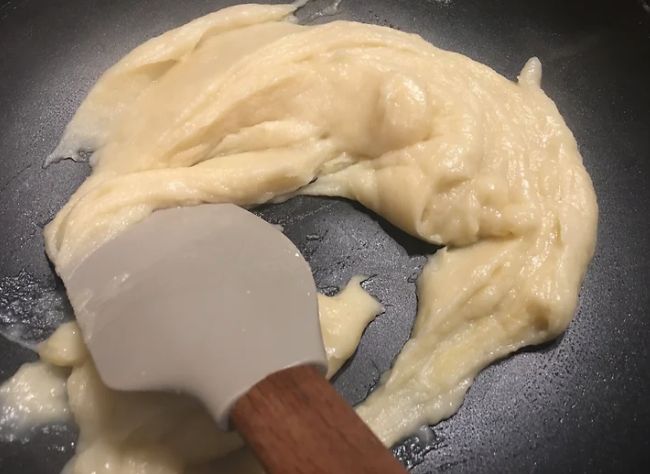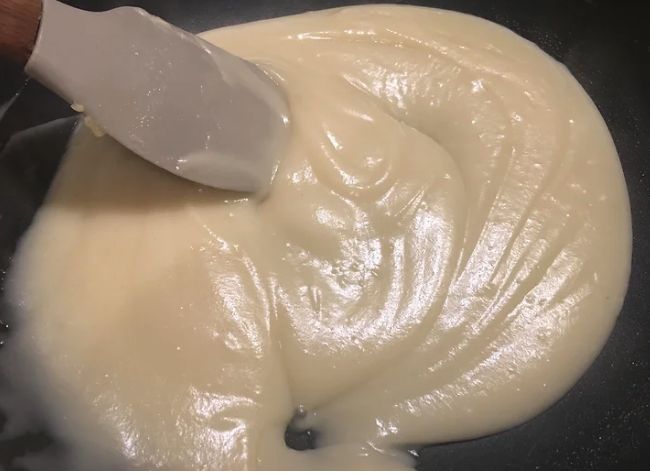 4. To bring everything together and to liven up the Korokke, the next step is to finely dice 1/2 white onion and mince 10g of ginger. Place the diced onion and minced ginger into a pan with a drizzle of oil then fry on a medium heat for 5 minutes or until fragrant and translucent. Next add 2 tbsp of mild curry powder, 1 tsp white sugar, 1 tbsp of light soy and fry until fragrant. When ready remove from the heat and add the flaked smoked haddock and gently fold into the spice mix. Finish with some finely sliced spring onion to freshen things up and we can now incorporate this into the roux.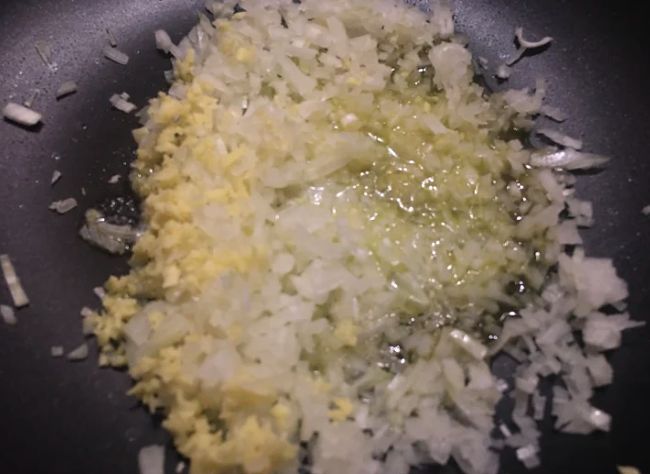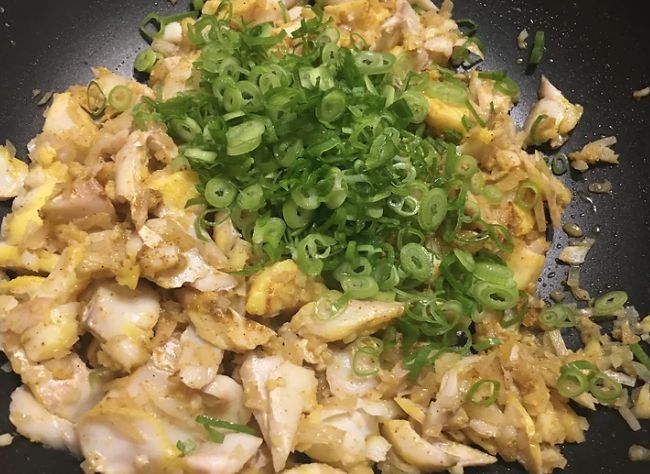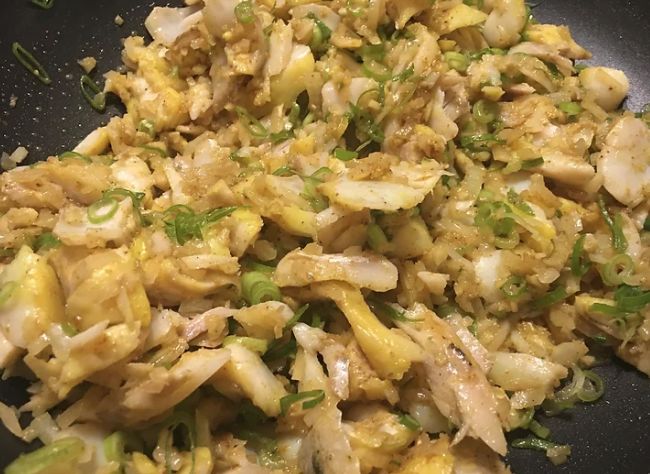 5. To finish the mix we now want to add and fold in the curried haddock into the chilled roux. When combined add a squeeze of lemon juice and adjust the seasoning if needed by adding additional light soy, salt and white pepper. When ready place into a container or baking tray and cover with clingfilm. Place into the refrigerator until the mix is completely chilled, this will make the mix much firmer and easier to panne in the panko later.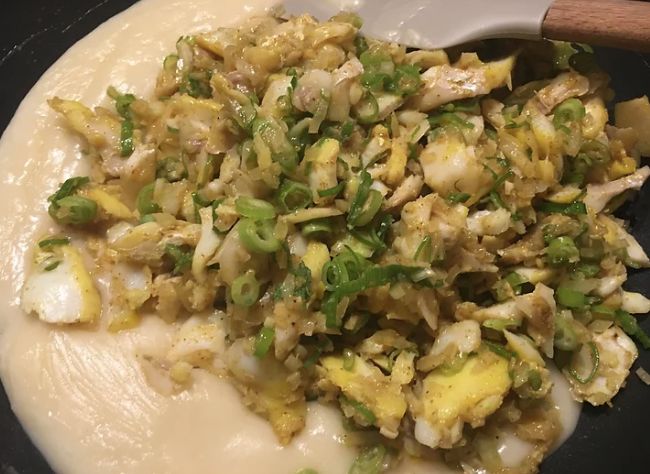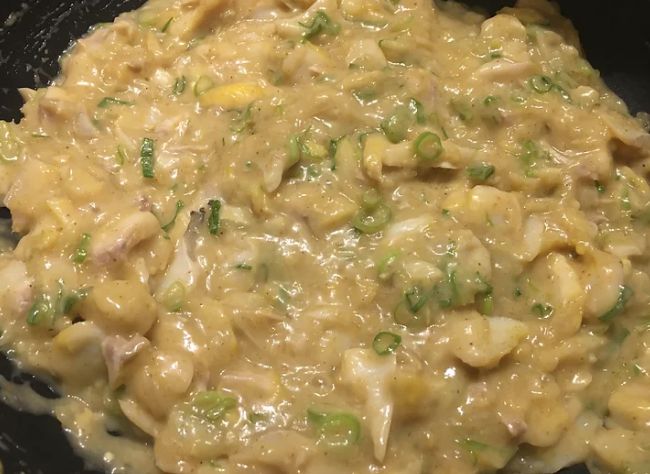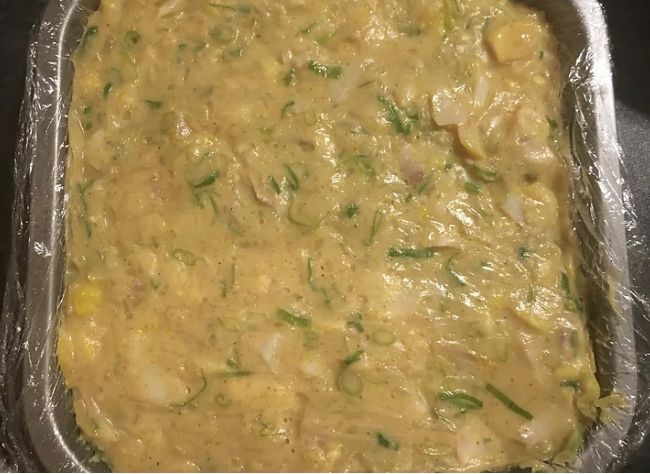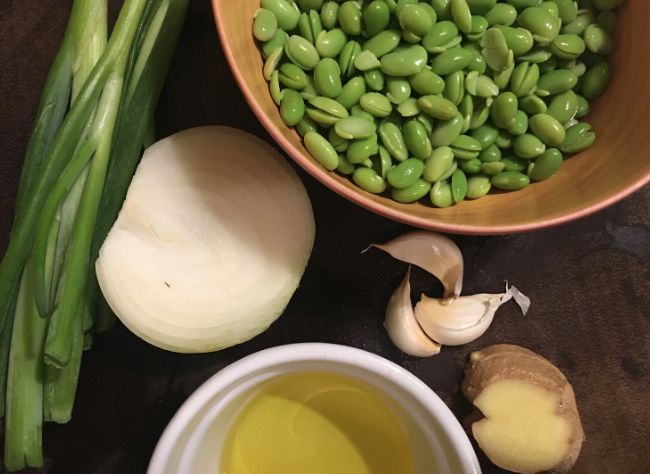 6. Whilst we wait on the haddock mix to firm, let's move onto the edamame puree. Start by placing a pan filled with water onto a high heat and bring up to a boil. When boiling add 200g of edamame beans, 1/2 roughly chopped white onion, 2 peeled garlic cloves and 5g of sliced peeled ginger. Boil for 2-3 minutes to soften the edamame then when ready drain from the boiling water and add to a small bowl or food processor. Next add 2 finely sliced spring onions, 50ml of olive oil and a pinch of salt and white pepper.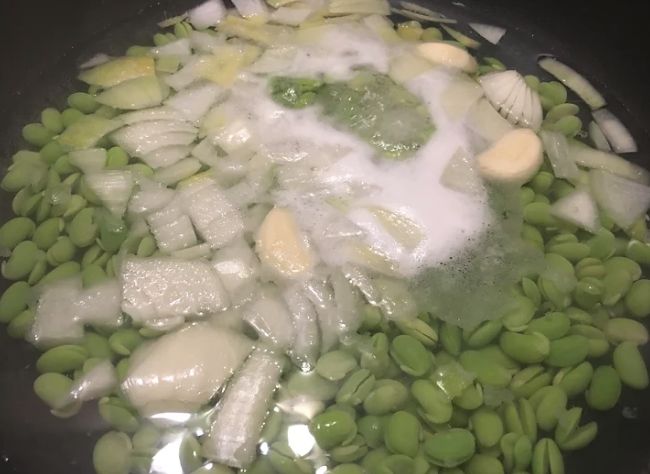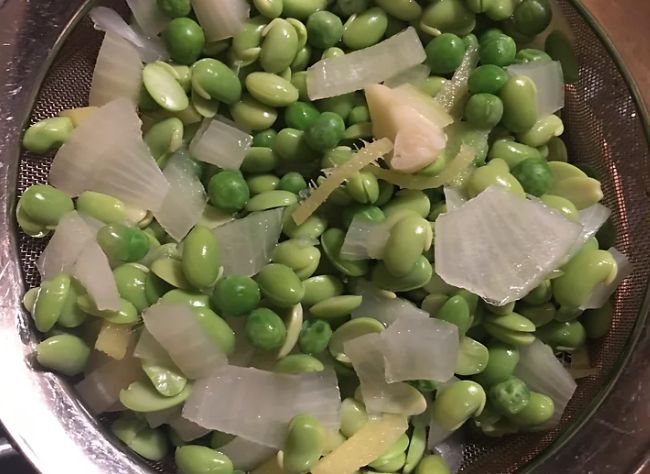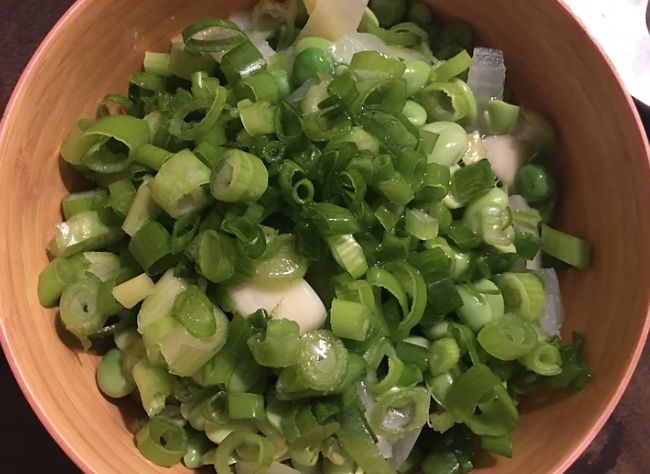 7. We now want to pulse either using a stick blender or a food processor until all of the ingredients are nicely broken down adding additional olive oil if too dry. When ready adjust the seasoning if needed then pass the puree through a fine sieve into a container to until smooth. When ready set to one side as we will reheat and use this at the end when ready to serve.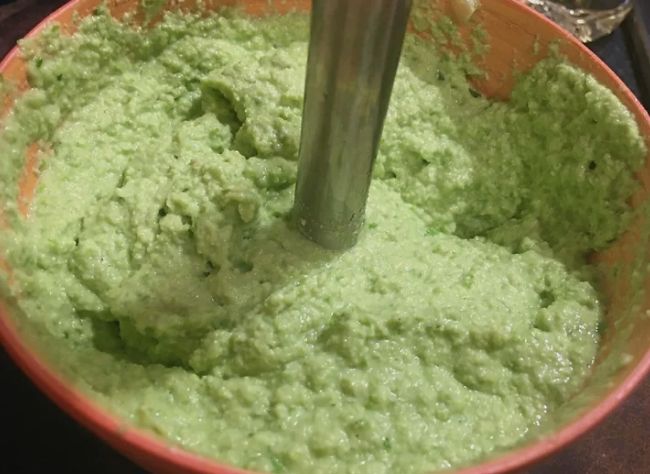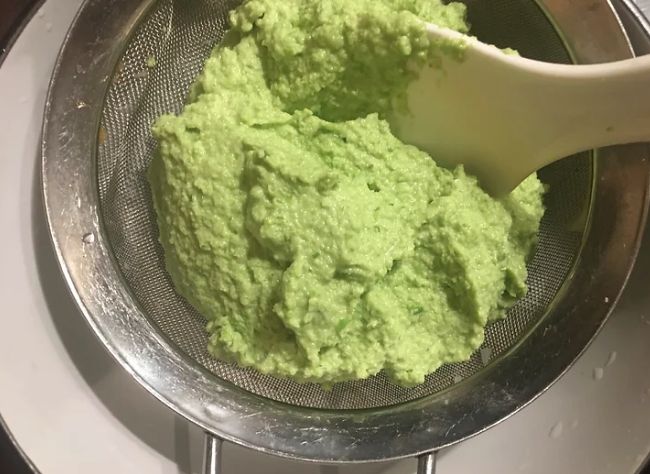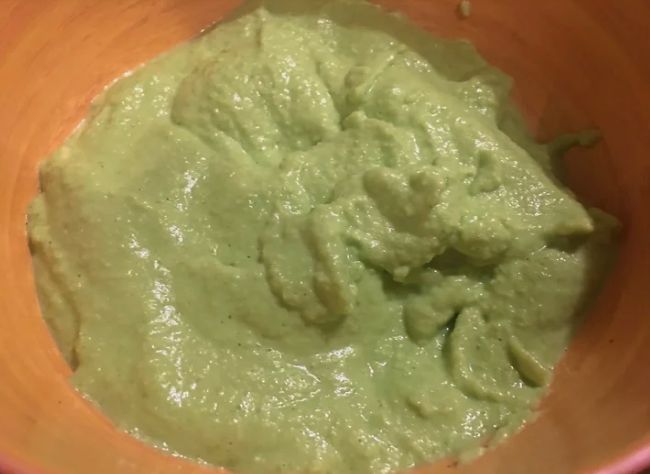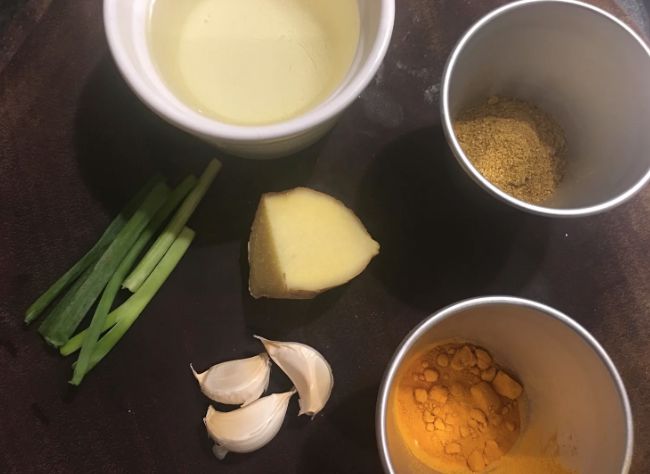 8. For the curry oil this element was to just simply enhance the curry aroma to the dish. It's quite nice to make a batch of this regardless as it works great with lots of things. Begin by roughly slicing 10g of ginger, 3 garlic cloves and 2 spring onions. Add these to a small saucepan then add 75ml of rapeseed oil, 1 tbsp of curry power, 1/2 tbsp of turmeric and a pinch of salt. Place onto a high heat and fry for 5 minutes until fragrant. When ready carefully pass the chilli oil through a fine sieve and place to one side to cool.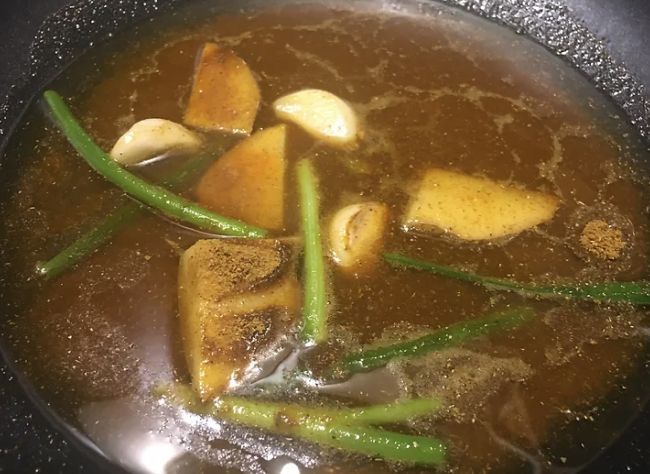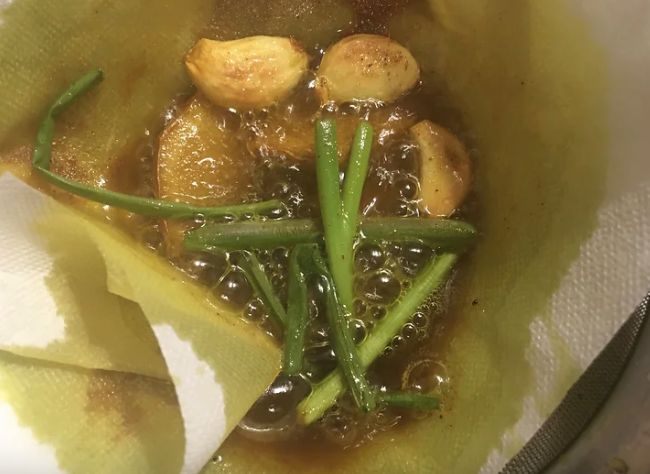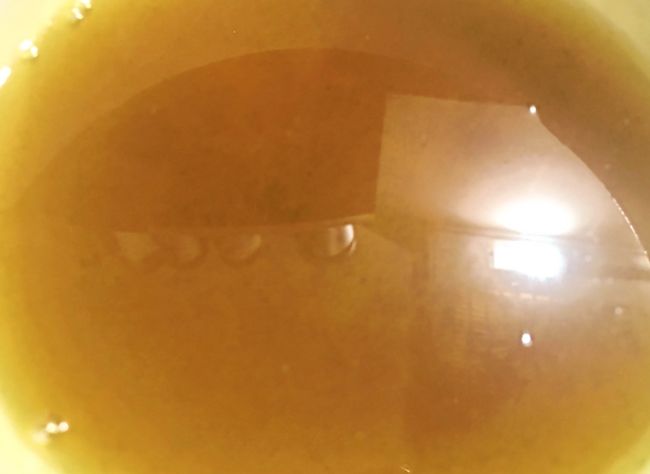 9. This next element is totally optional to make, however, the purpose was to add a little freshness and texture to the Korokke. For the edamame simply blanch 50g of the whole beans in boiling water for 1-2 minutes or until cooked. When ready I removed some of the beans from the pods and slice some of the pods in half. For the shallots, slice in half leaving the skin on then sear in a dry hot pan until charred. When ready peel and remove each section of the shallots to make charred leaves. Place all of the salad components to one side with the red chard as we will dress these with curry oil and a pinch of salt at the very end.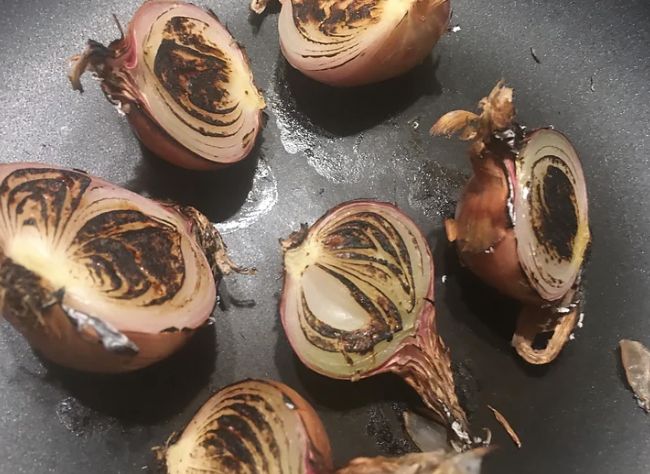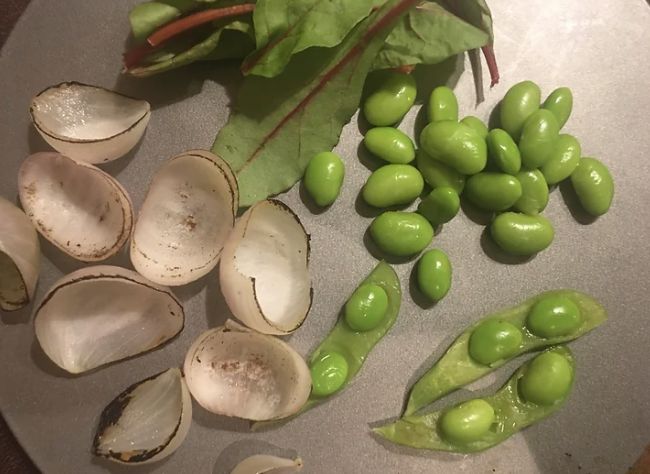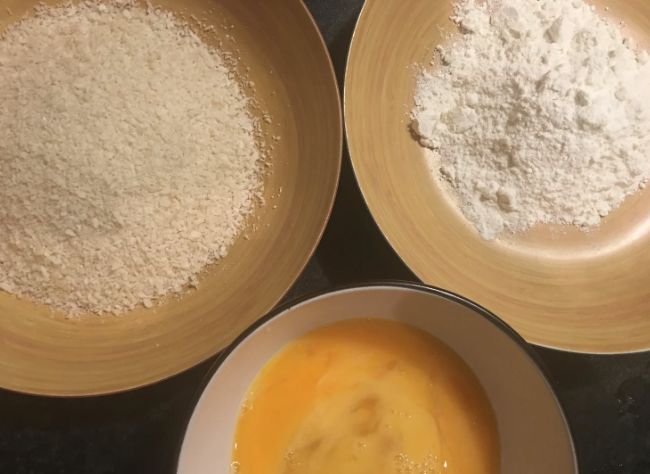 10. The final stage of this recipe is to cook the Korokke, by this point the curried haddock mix should be much firmer and easier to work with. Divide the mix up by cutting into equal sized pieces then remove each piece and shape into rough balls. The mix may be still slightly wet but that's fine at this point. As for the size and shape, to be honest is completely up to you, however, if too large the centre may take a while to cook.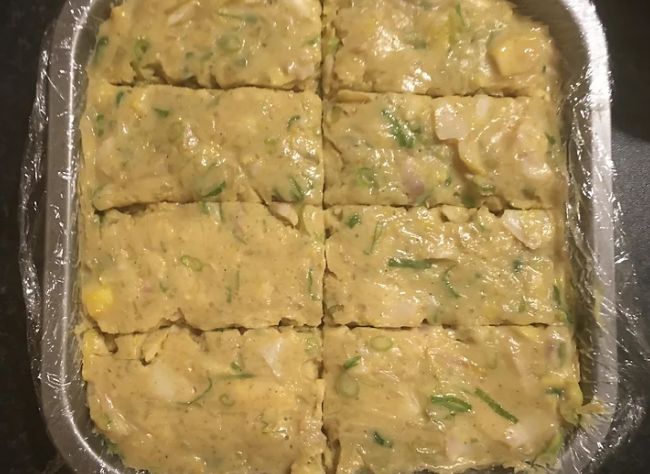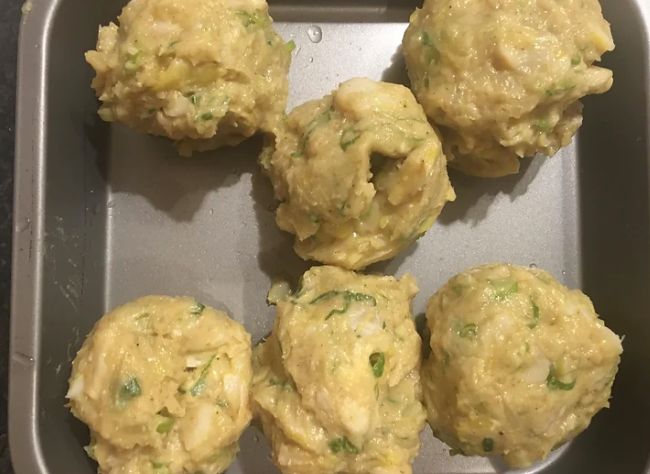 11. The next step is to prepare 3 separate bowls or containers filled with 50g of plain flour in one, 3 beaten whole eggs in another and 150g of panko breadcrumbs in the last. Shape each ball of curried haddock again to tidy then start by placing each ball into the flour mixture first. Evenly coat then dust off any excess flour then coat in the egg wash. Again wipe off any excess and add and coat in the panko. Repeat the egg wash and panko for a second time then place onto a tray. Repeating the egg wash and panko will ensure a tidier and more secure filling. Repeat this process for all of the mix and they are now ready to cook.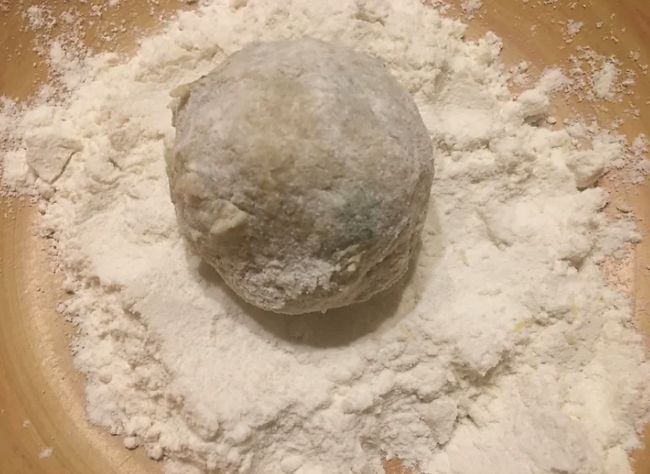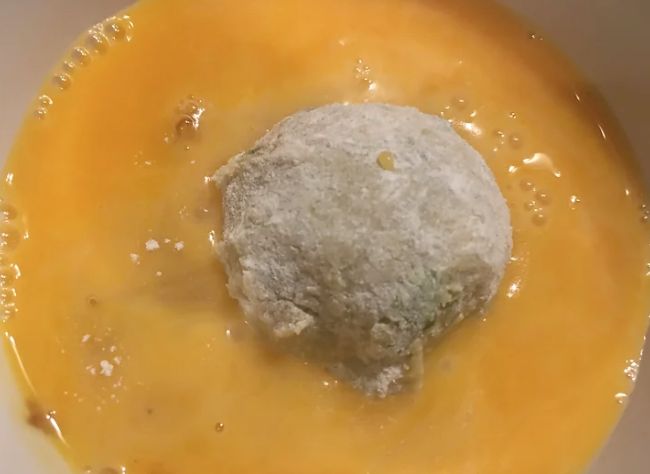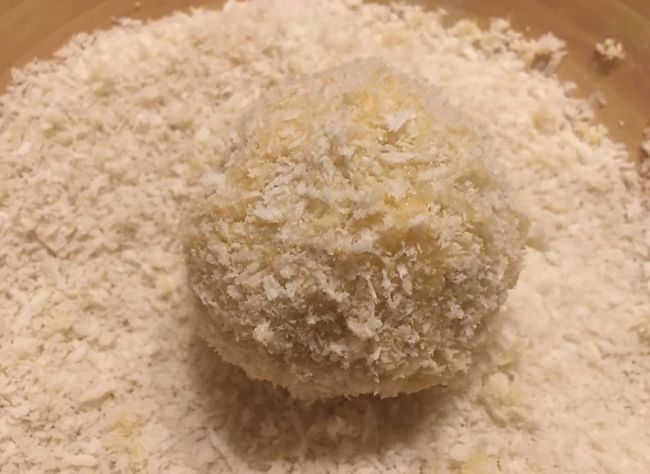 12. To cook place a generous amount of cooking oil to cover the Korokke into a deep saucepan and place onto a medium to high heat. Bring the oil temperature up to 160°c then when ready add the Korokke in batches and fry for approximately 5 minutes until nice and golden brown. When ready carefully remove from the oil and drain onto kitchen paper and finish with a touch of sea salt. If the centre is still slightly cold then you can add to a hot oven and bake for a few minutes.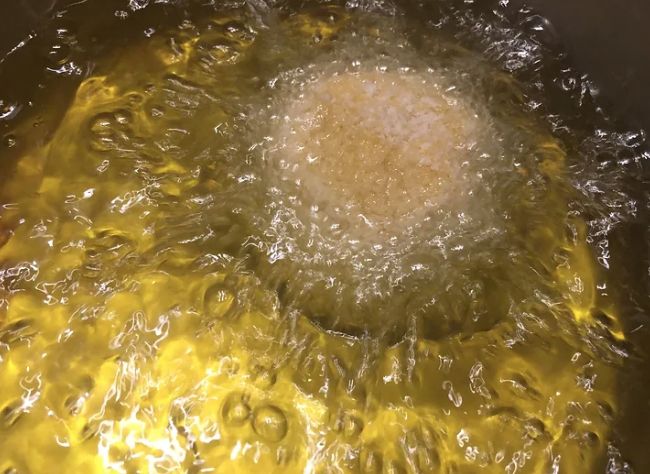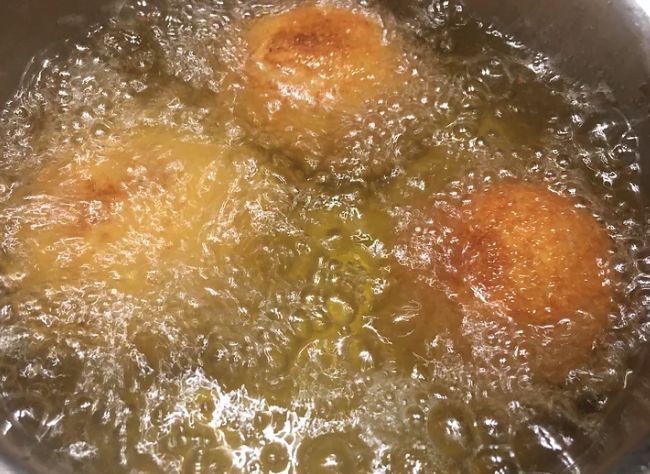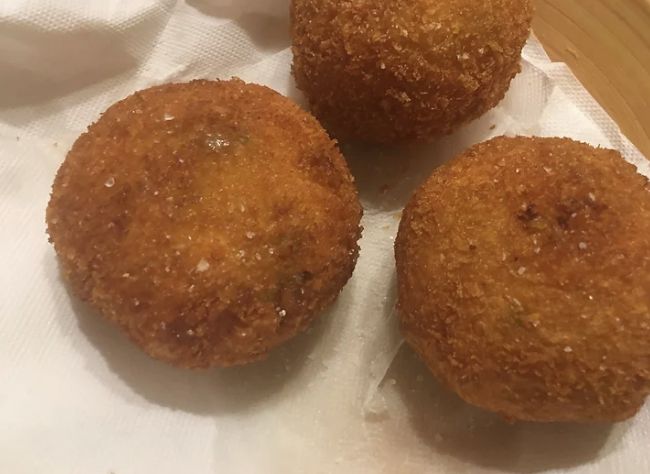 13. Now to finally serve, briefly reheat the edamame puree and dress the edamame salad lightly with the curry oil. Add a spoon of the edamame puree to serving bowls and place the cooked Korokke on top. Add some of the mixed edamame salad and finish with an extra drizzle of curry oil and nourish! Hope you like my take on a classic Korokke!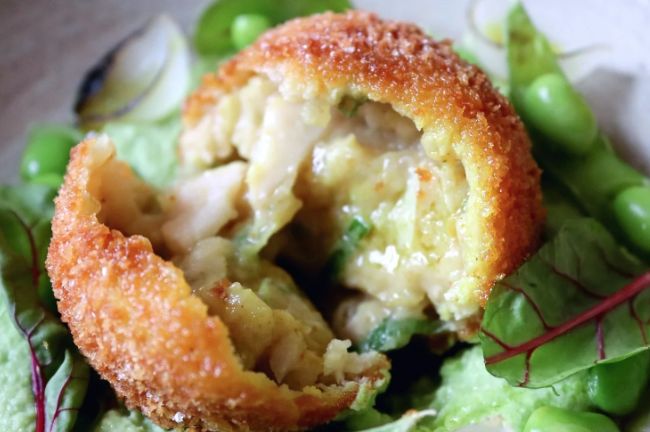 As for what else to make the Korokke with then you could use crab, root vegetables, various cheeses and cured meats. Korokke is usually a street food snack that is eaten on the go, therefore, feel free just take away the korokke part of this recipe and literally run with it! If you are not a fan of curry in general then simply leave it out, the Korokke will still taste good with or without it! Have fun with this recipe and peace!
Total Cook Time 45 mins / Prep Time 1hr
220g smoked haddock fillets (2 fillets)
400ml dashi or water (roux)
Edamame Salad (optional):