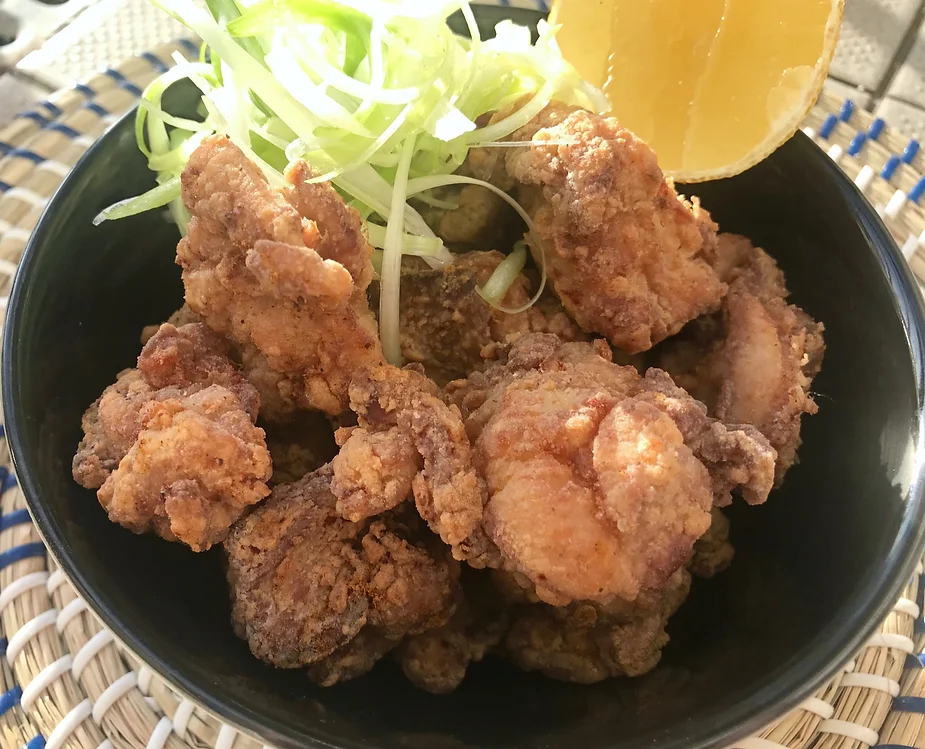 1. Begin by deboning the chicken thighs then cut into four pieces ensuring that you leave the skin on. Next add the chopped chicken thighs to a bowl then add the sake, soy, mirin and a half of the curry powder. Next grate the garlic and ginger season with white pepper then add to the chicken and let marinade in the fridge for approximately 3 hours if possible.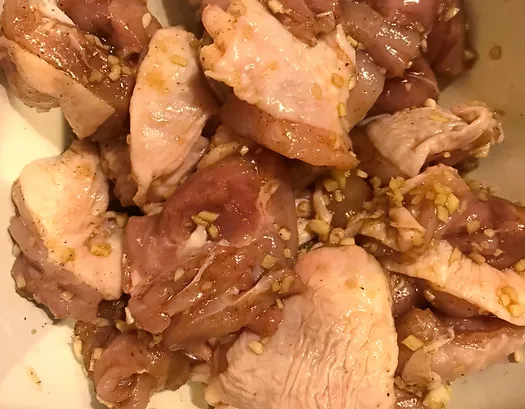 2. For the dredge add equal quantities of corn flour and plain flour to a bowl then season with the remaining curry power a pinch of shichimi pepper (you can use chilli power if you cant get it) then mix well. Evenly coat the chicken in the dredge and set to a side.
3. In a large pan add oil (I prefer rapeseed oil) and turn onto a high heat getting the oil temperature up to 180 degrees centigrade. When the oil is at 180 gradually add the chicken in batches as this ensures the oil remains at a high temperature and fry for approx 10 mins or golden brown in colour. When the chicken is cooked remove drain then season with more shichimi pepper.
Hope you enjoy this simple quick recipe.
If your really in a rush then the marinade can be done 30 mins before cooking and the taste is still great! You could also replace the curry power with hot curry powderer if you prefer or not to use any at all which is also fine. I recommend serving karrage with Japanese curry boiled rice and Japanese pickles. Another popular way to eat this is with a squeeze of lemon and garlic aioli!
6 Chicken thighs (deboned skin on)
1 tbsp chopped ginger
1 tbsp chopped garlic
1 tbsp curry powder
1 tsp sugar
2 tbsp light soy
1 tbsp cooking sake
1 tbsp mirin
1/2 cup of corn flour
1/2 cup plain flour
pinch of white pepper
lemon wedge
Shichimi pepper seasoning (or mild chilli power)