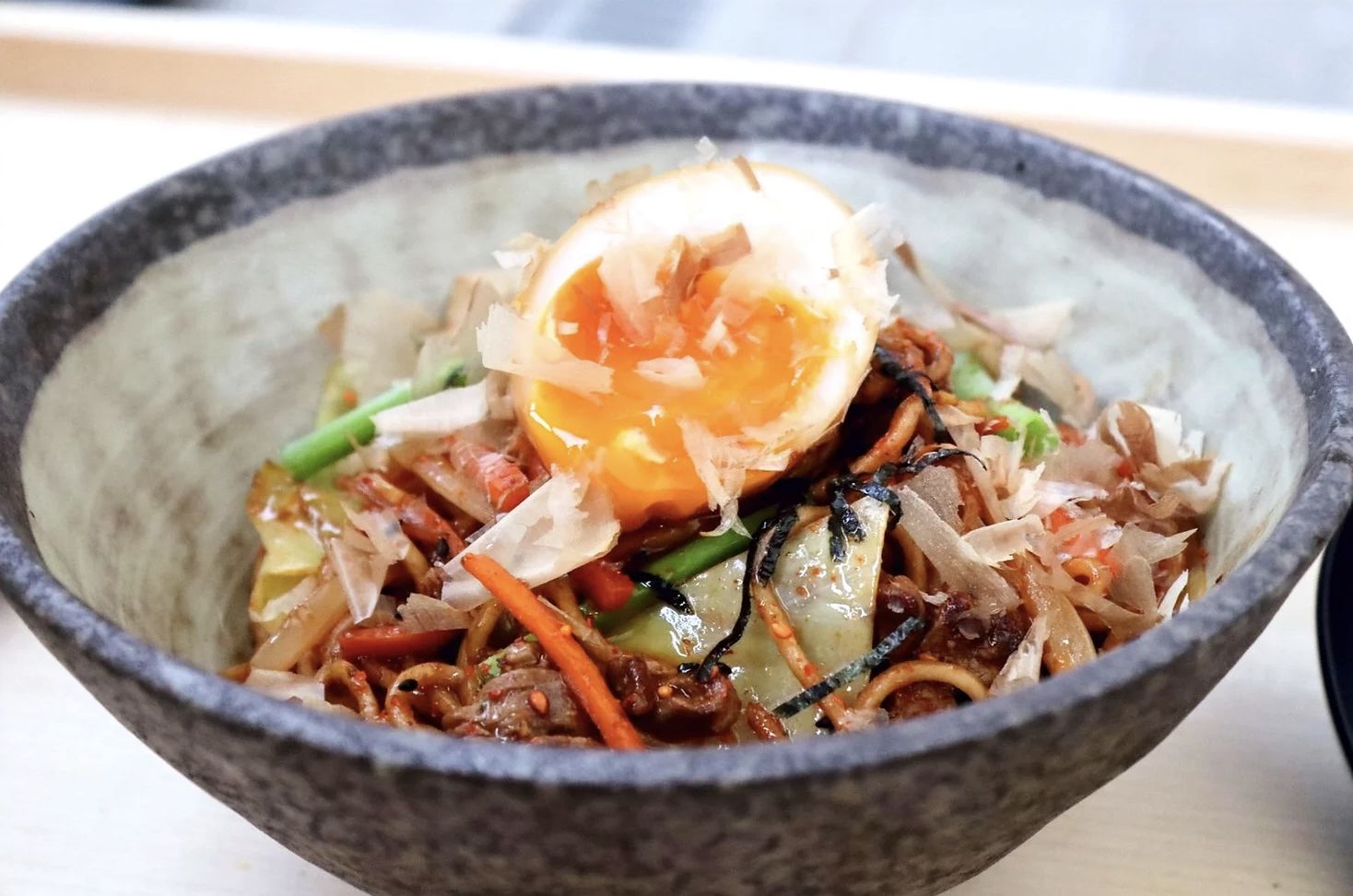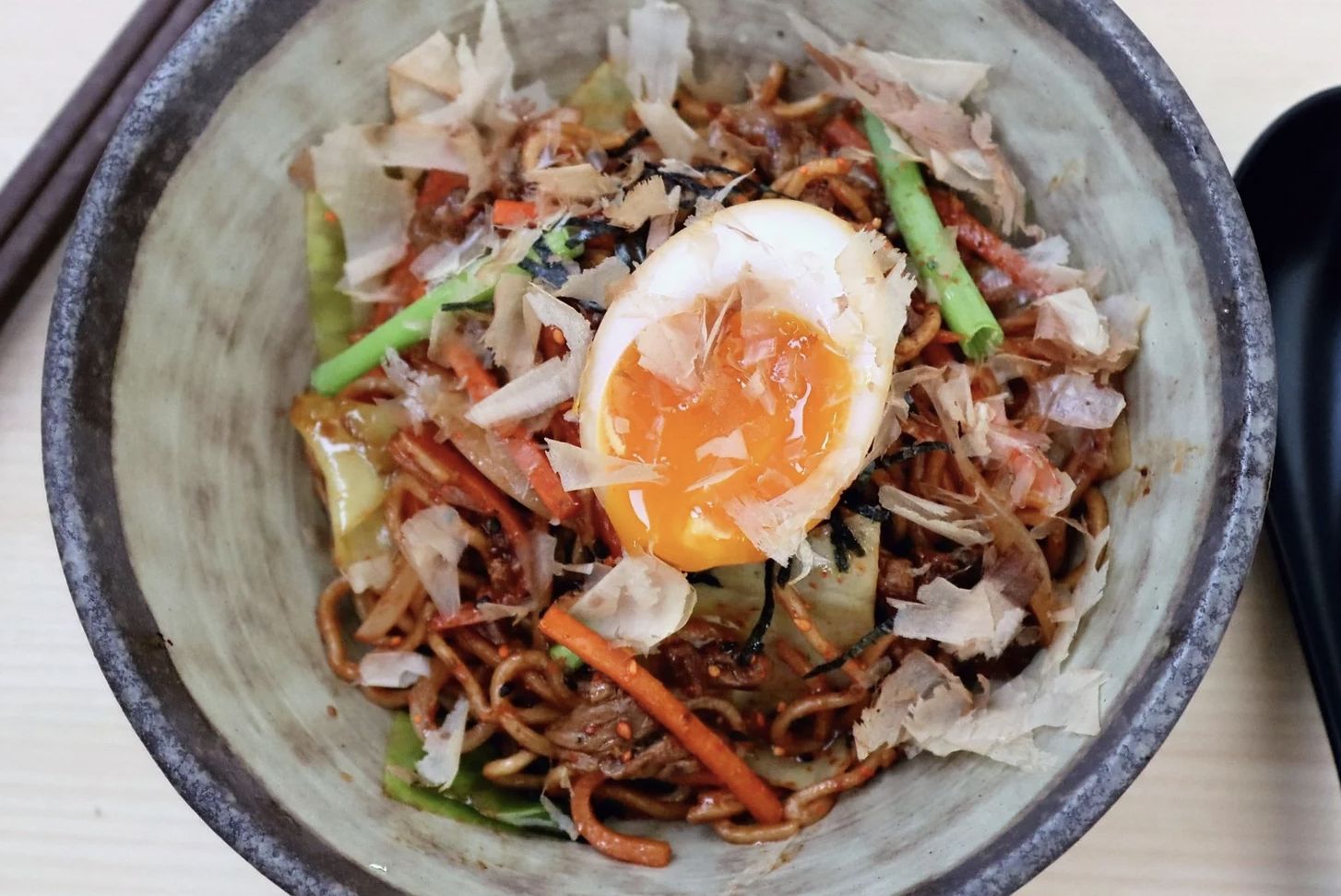 Yakisoba has to be one of the most popular Japanese street food dishes and can be most commonly found at street food venders during festivals. Although yakisoba is relatively easy to make, if you focus on the fine details such as fresh ramen noodles for texture and the right toppings this humble dish can be made into something quite special. Let's make Yakisoba!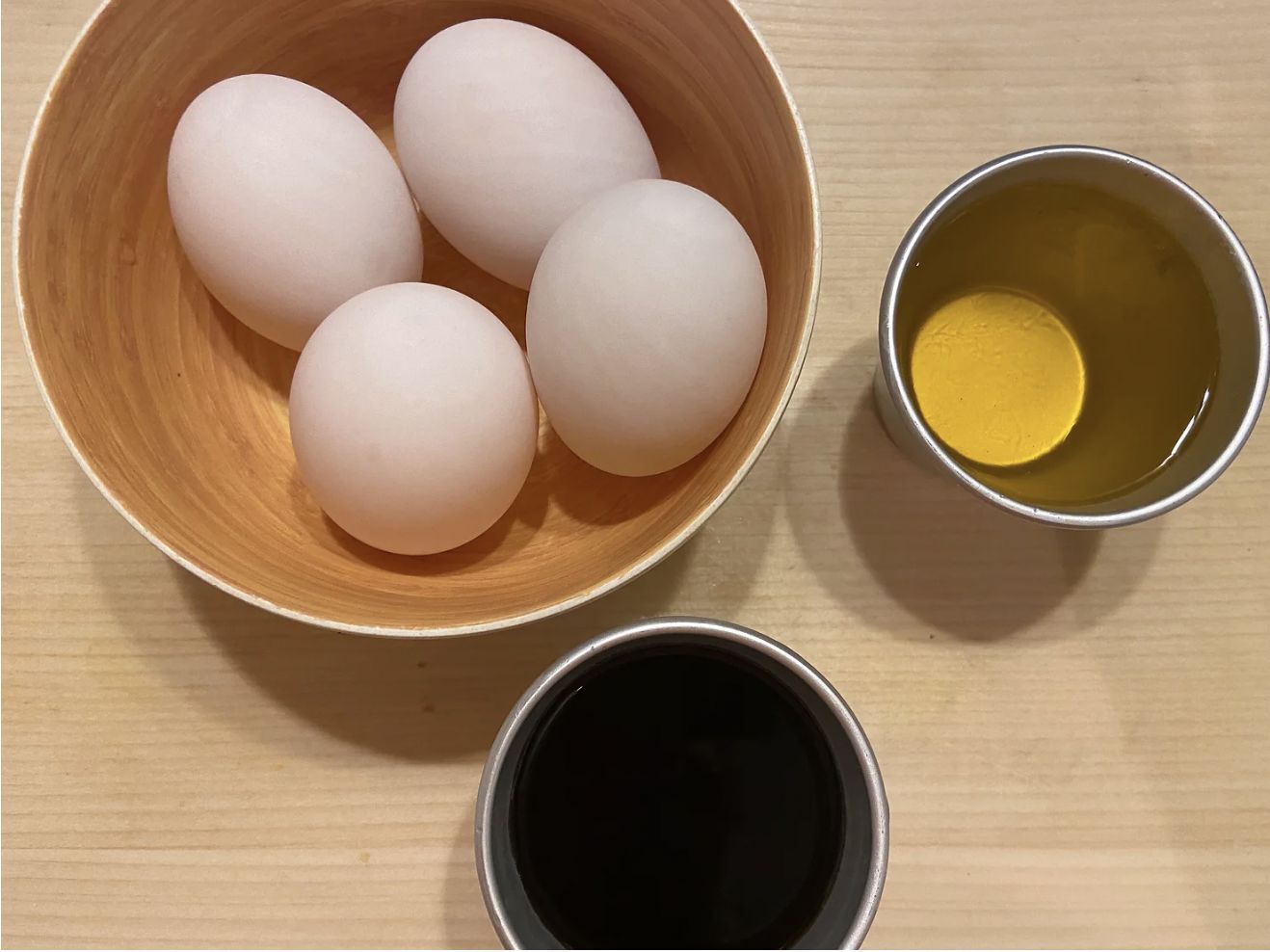 Let's start by making some duck egg or regular ramen eggs. These ramen egg noodles are best done the day before, however, you can totally skip on these and simply fry eggs and use instant ramen noodles but I will write them up anyway. Begin by placing a small saucepan just full of water onto a high heat. When boiling add the whole duck eggs and boil for 6 minutes. After 6 minutes take out the eggs then immediately chill in ice water to stop the cooking process. When completely cool carefully peel then set to one side. To marinade, in a small bowl add 100ml of light soy and 100ml of mirin. Mix well then add the peeled soft boiled eggs and cover tightly with clingfilm. Allow the eggs to marinade for at least 1 hour in the refrigerator until ready to use.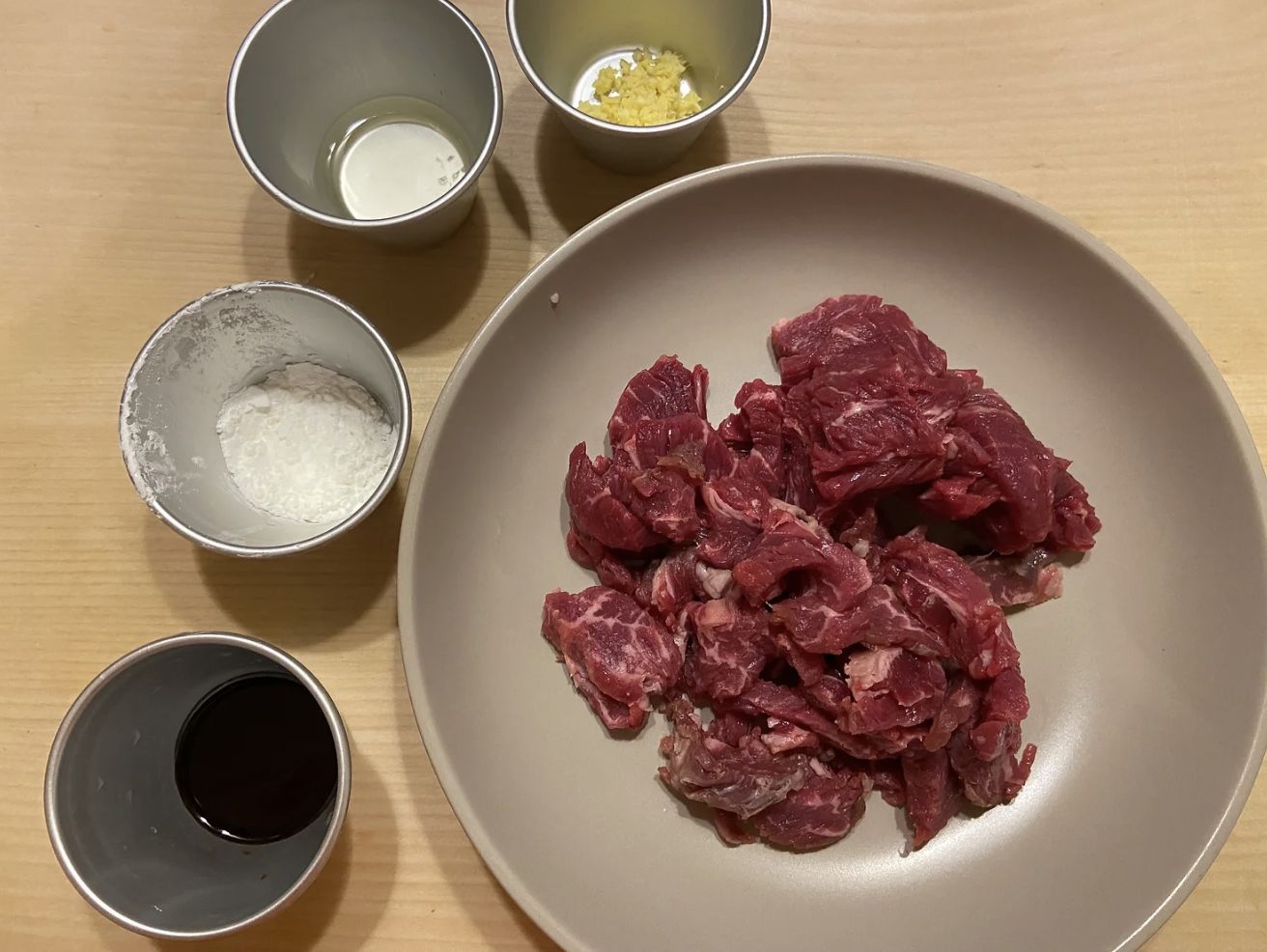 2. Now moving onto the beef, you can add this to the stir fry raw, although I find briefly velveting prior to cooking helps stop the beef from overcooking and to stay nice and tender. Begin by slicing approximately 16oz of beef fillet or ribeye into 1/2 cm thick slices. Add to a bowl then add 5g minced ginger, 2 tbsp light soy, 2 tbsp sake, a pinch of black pepper, 1 egg white and 1 tbsp of cornflour. Mix the beef well until the texture becomes velvety. Set to one side and allow to marinade until ready to use.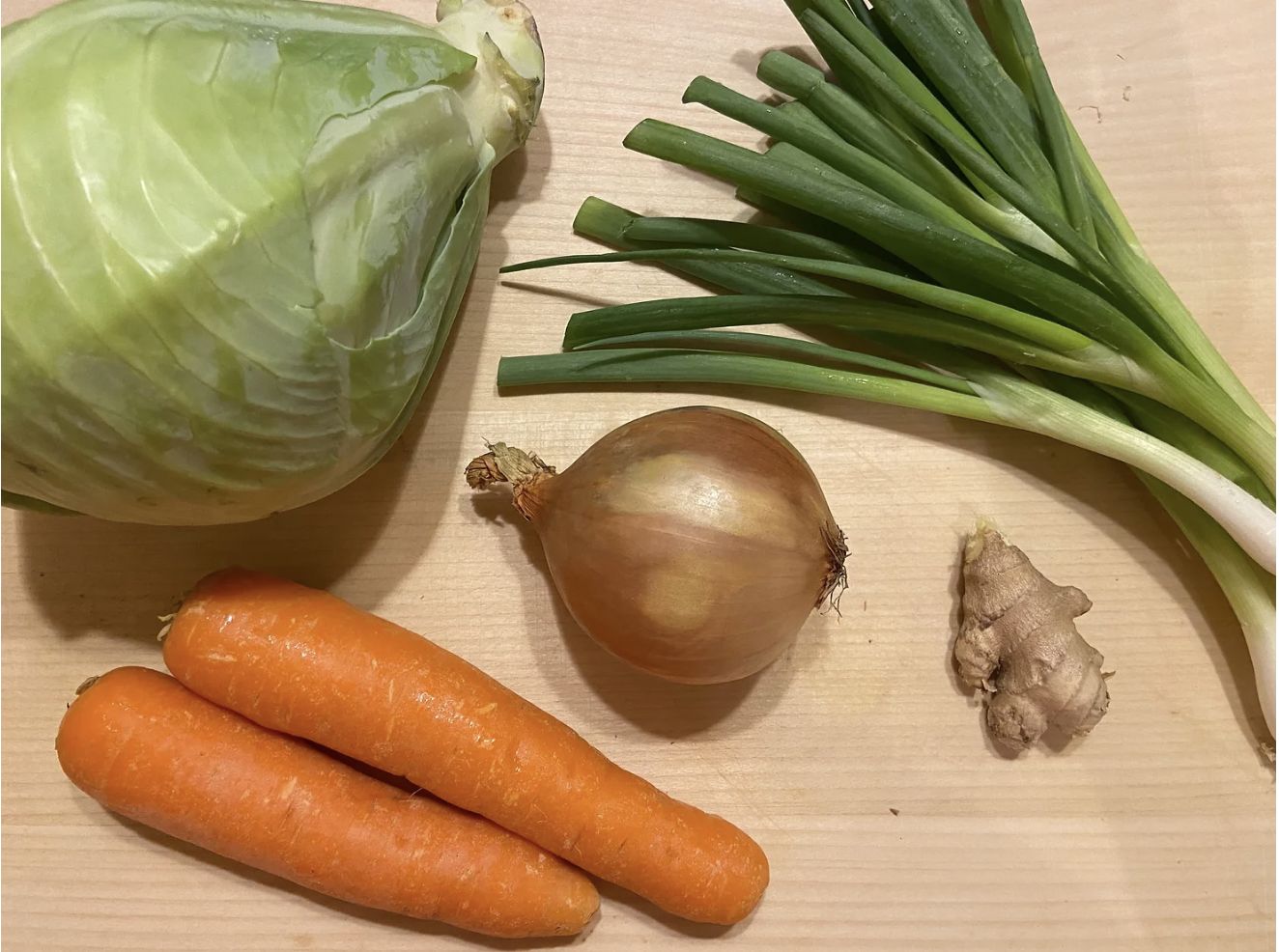 3. As for the vegetables you can use whatever you have to hand really, as long as they are chopped fairly small to ensure a quick cook then its quite flexible. For this recipe, however, I sliced 2 carrots into a julienne, finely sliced 1 white onion, seperated the leaves from 1 white cabbage then cut into bite sized cubes, sliced a bunch of spring onions into batons and finely minced 10g of ginger. When ready place all the prepared vegetables to one side for now.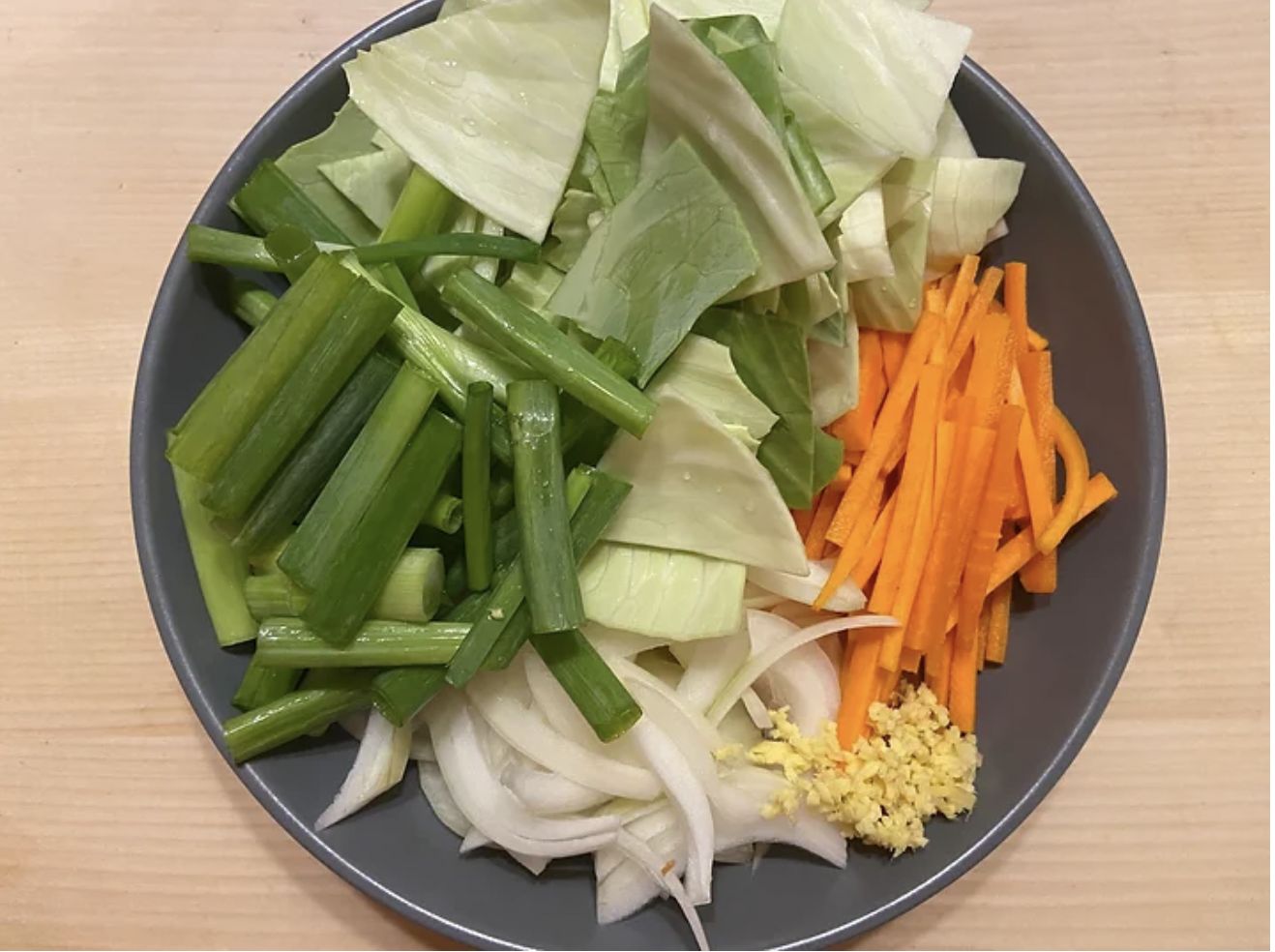 4. Prior to cooking we can also pre boil the noodles before stir frying, place a large saucepan full of water onto a high heat then when boiling add the noodles. If using the ramen noodles from the recipe link above then I prefer to crunch them up in hand first for texture then add to the boiling water and cook for 45 – 60 seconds. When just cooked drain from the water then plunge into ice water to clean and chill. Drain the noodles again then they are ready to be stir fried. If using dried noodles then simply follow to what the packet suggests, again chilling after cooking to make frying them far easier.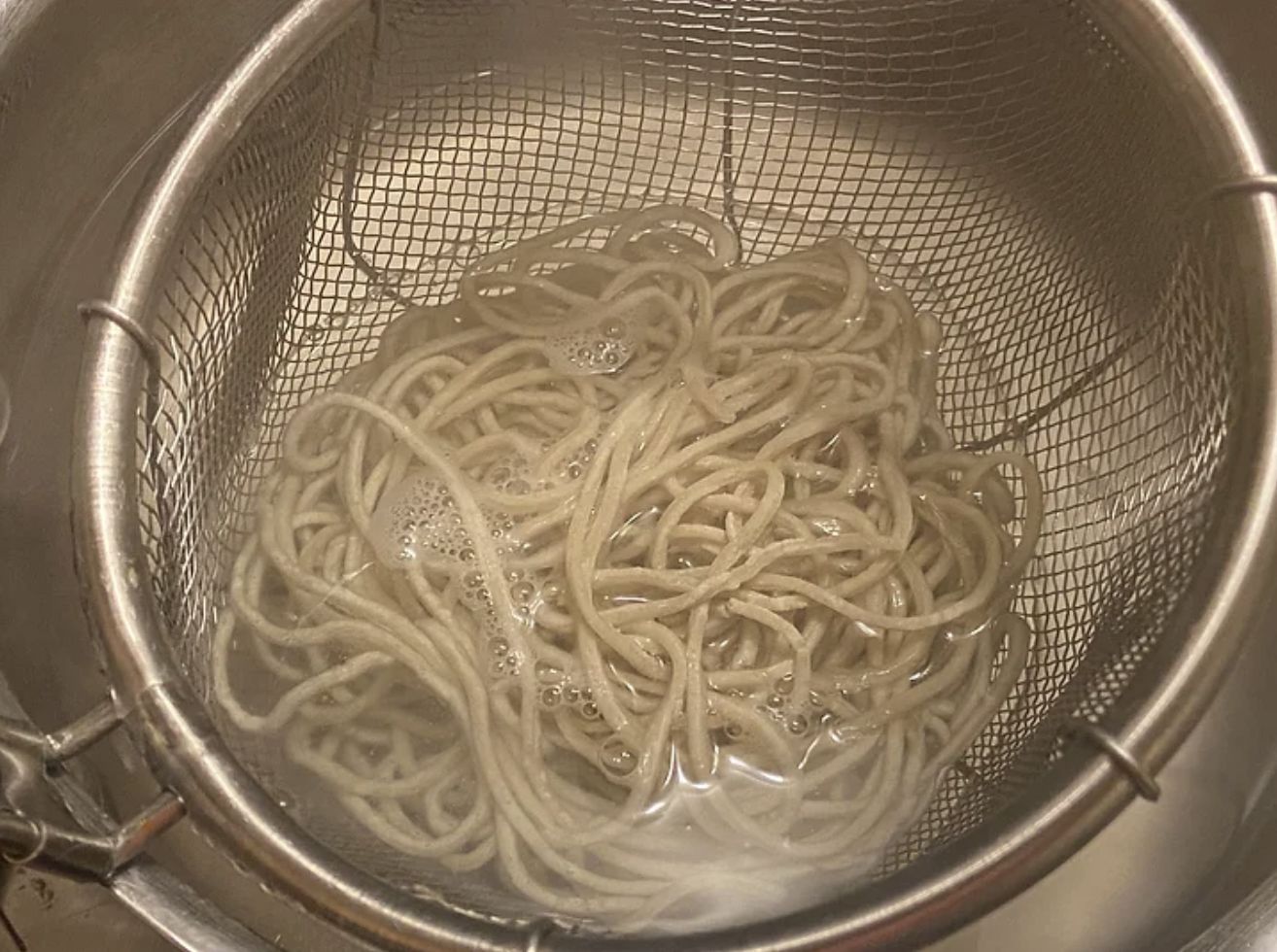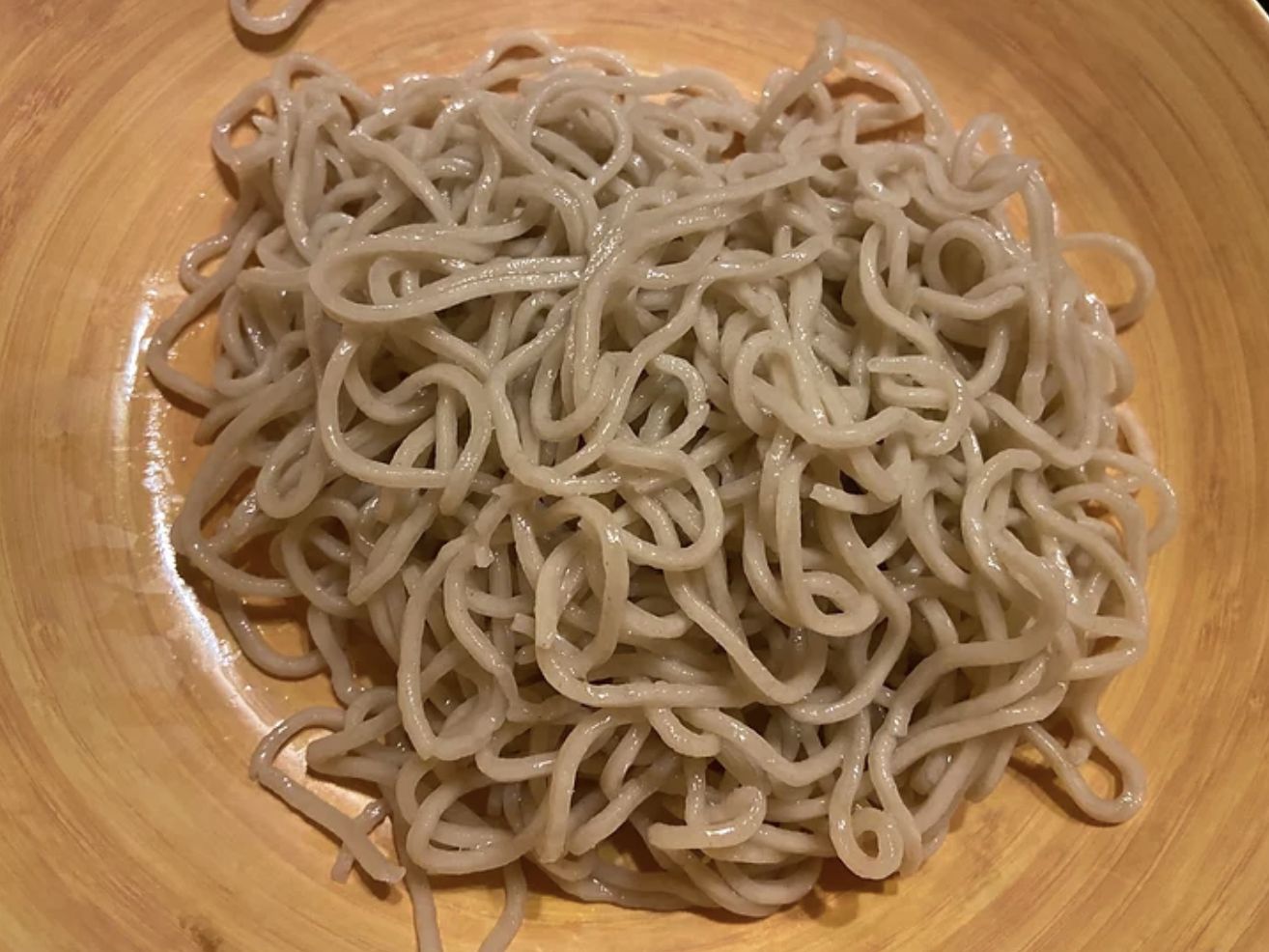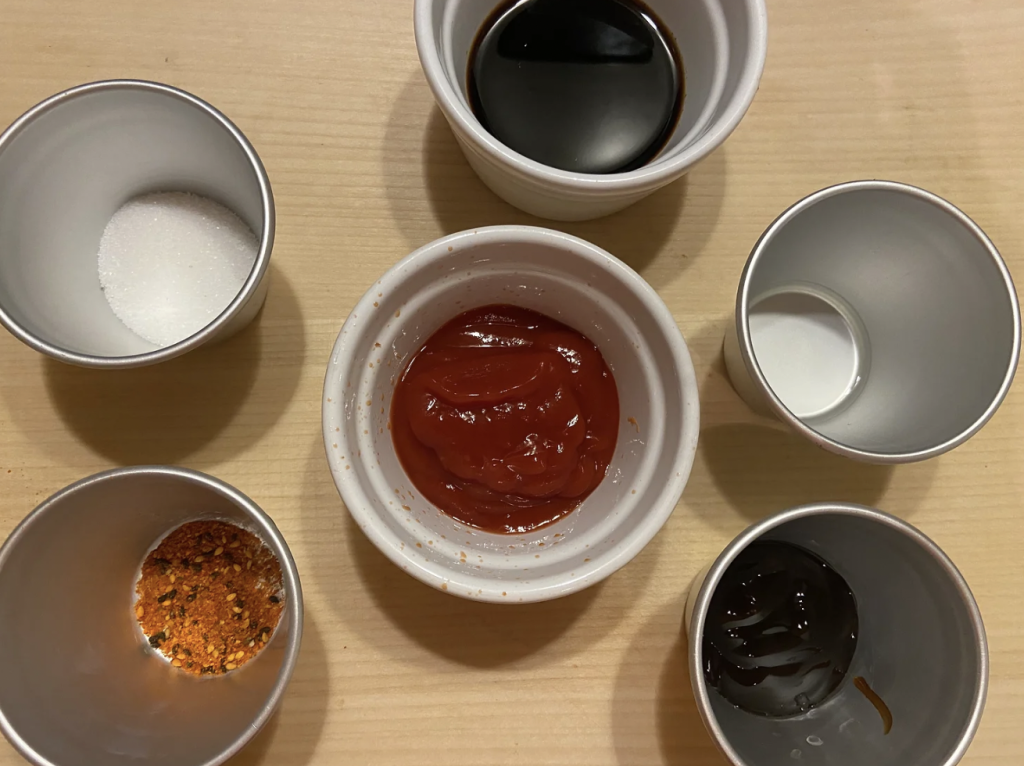 5. All that's left to prepare now before cooking the yakisoba is the sauce, what we are after here is a slightly fruity, tangy Worcestershire sauce. In a small mixing bowl simply add 5 tbsp Worcestershire sauce, 6 tbsp ketchup, 2 1/2 tbsp oyster sauce, 1 tbsp rice vinegar, 1 tbsp dark soy, 2 tbsp of white sugar and 1 tsp of optional togarashi chilli pepper for a little heat. Mix well then adjust the seasoning if needed. Set the sauce to one side and we are now ready to cook.
6. Start by placing a large heavy frying pan onto a high heat, when hot add a drizzle of cooking oil then add the marinated beef first. Briefly stir fry to seal the beef then when ready remove from the pan and set the sealed sliced beef to one side. Place the same pan back onto a high heat then add another touch of cooking oil if needed. Now add the prepared cabbage, carrot, onion and ginger then stir fry for 2-3 minutes until fragrant and just about cooked.
7. When the vegetables are just about cooked, add the pre cooked noodles and beef back into the pan and continue to further stir fry for 3-4 minutes. When well mixed and the noodles start to become crispy add the yakisoba sauce bit by bit until the noodles become nicely coated and the sauce begins to char. We are not after a wet sauce here, therefore, gradually add the sauce. When ready adjust the seasoning again if needed and add some optional additional togarashi for a little extra heat then we are ready to serve.
8. To serve, divide the yakisoba into serving bowls then top with some sliced nori and bonito flakes. Finish by slicing the marinated ramen eggs into halves then sitting them on top of the yakisoba then nourish. Hope you like this super simple yet immensely delicious yakisoba!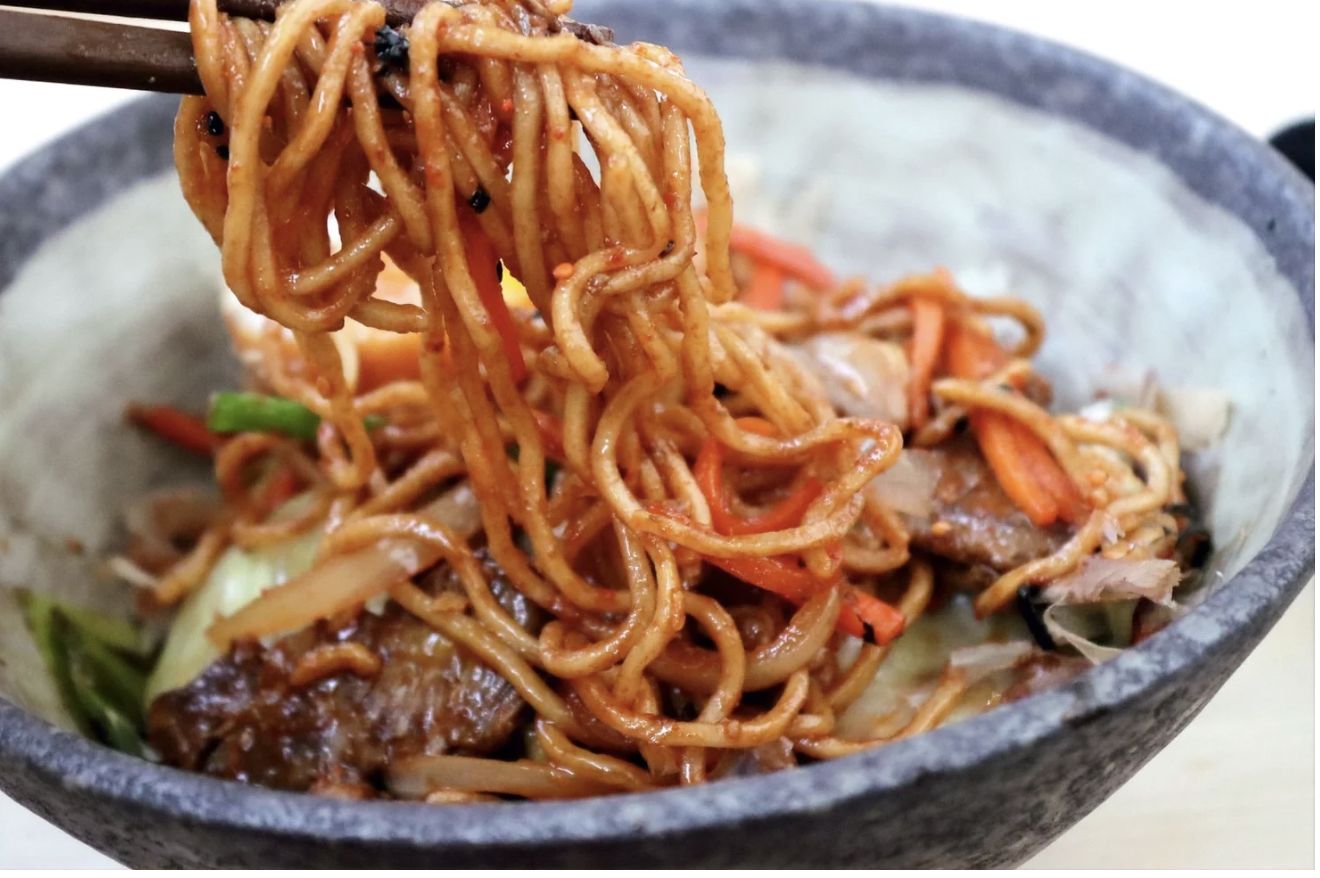 Alternatively, instead of beef, you could make this recipe vegan by adding fried tofu, and then removing the egg, oyster sauce and katsubushi from the recipe. Other than beef you could also add chicken, pork, duck or even lamb. You can completely skip out on the cured duck eggs also and simply fry eggs, however, these duck eggs are something special. Regardless of how you go about this recipe, I'm sure that you will be hooked on making yakisoba! Have fun and peace as always!
Prep Time: 45 mins / Cook Time: 20 mins / Optional Ramen Noodles: 1 hr 30 mins
16oz beef fillet or ribeye
5 tbsp worcestershire sauce
1 tsp togarashi (optional)
Optional Ramen duck eggs: