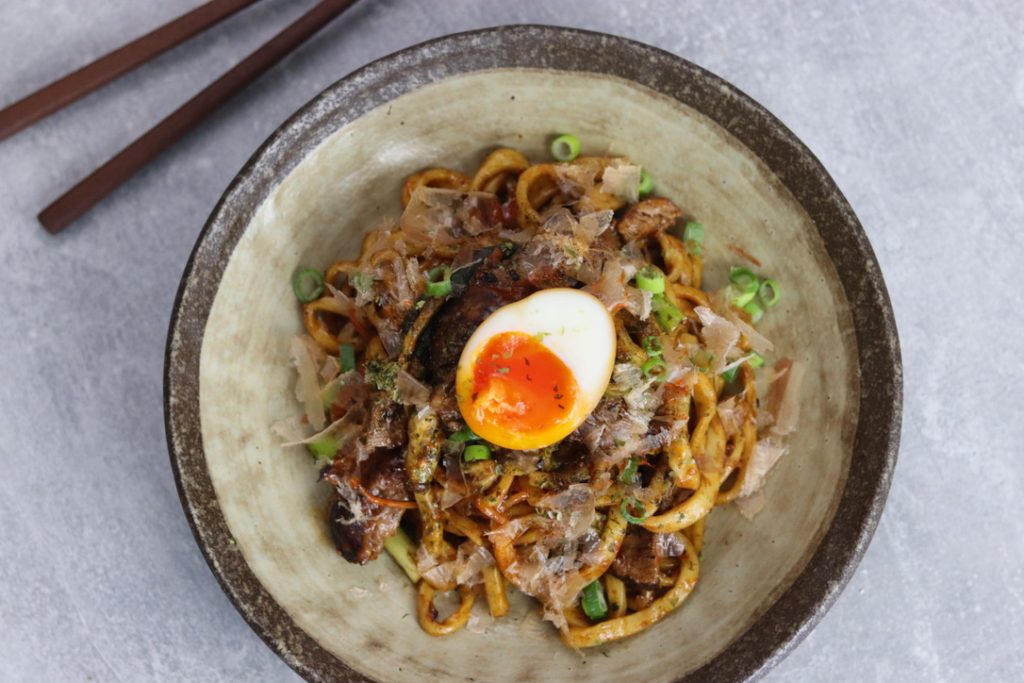 Yaki Udon is an extremely popular yet simple Japanese dish that can be found all throughout Japan. Most commonly Yaki Udon is one of those dishes that you would order late at night at an Izakaya restaurant with a standard Japanese beer to accompany. What makes a good Yaki Udon is a bouncy textured Udon noodle along with a good punchy sauce that is packed full of umami. You can make your own udon noodles if you have time to really elevate the dish and i will leave a link on how to make those in the ingredients section. With all that said this is an easy one and let's get straight into making Beef Yaki Udon!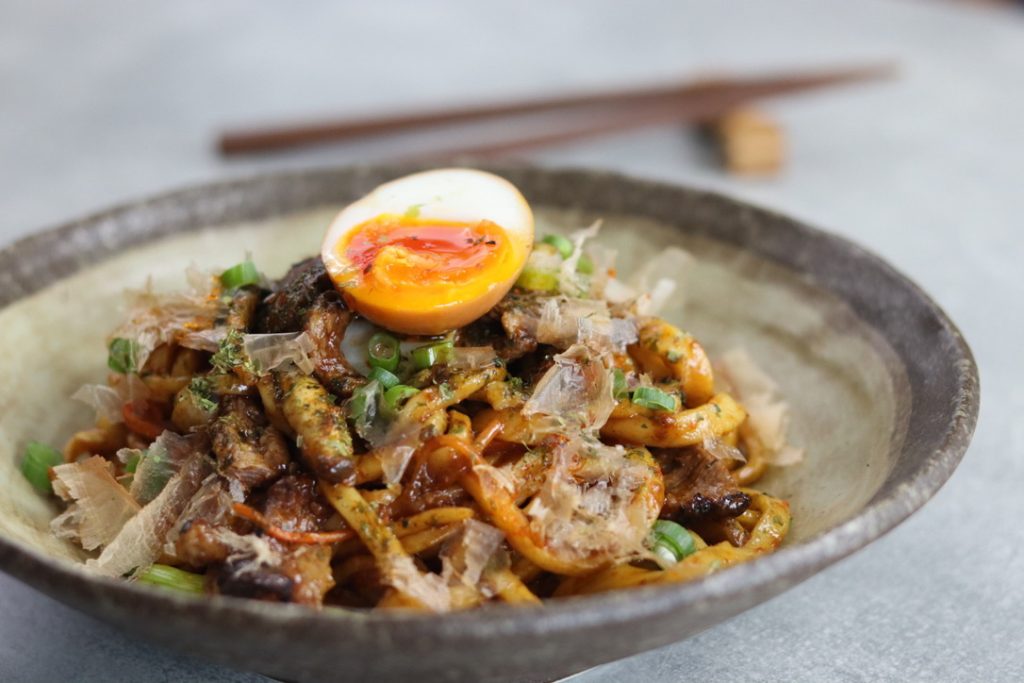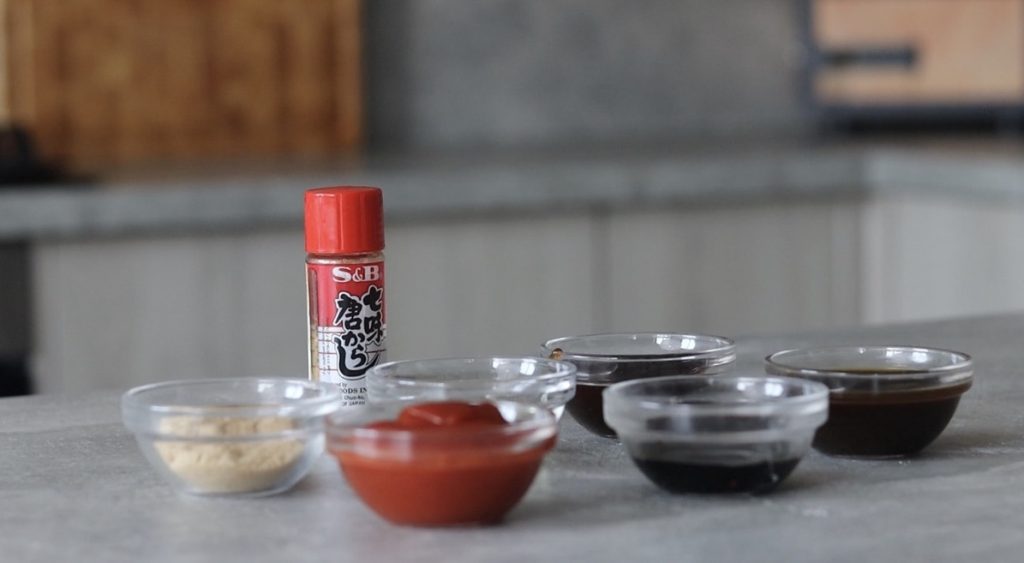 1. First let's make up the Yaki Udon sauce, in a mixing bowl add 5 tbsps of worcestershire sauce, 4 tbsp of tomato ketchup, 1 tbsp rice vinegar, 2 tbsp light soy, 4 tbsp oyster sauce, 1 tbsp light brown sugar and 1-2 tsp of Togarashi for some optional heat. Mix well until smooth then the sauce is ready.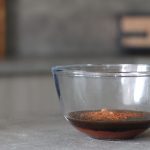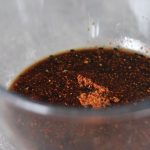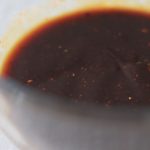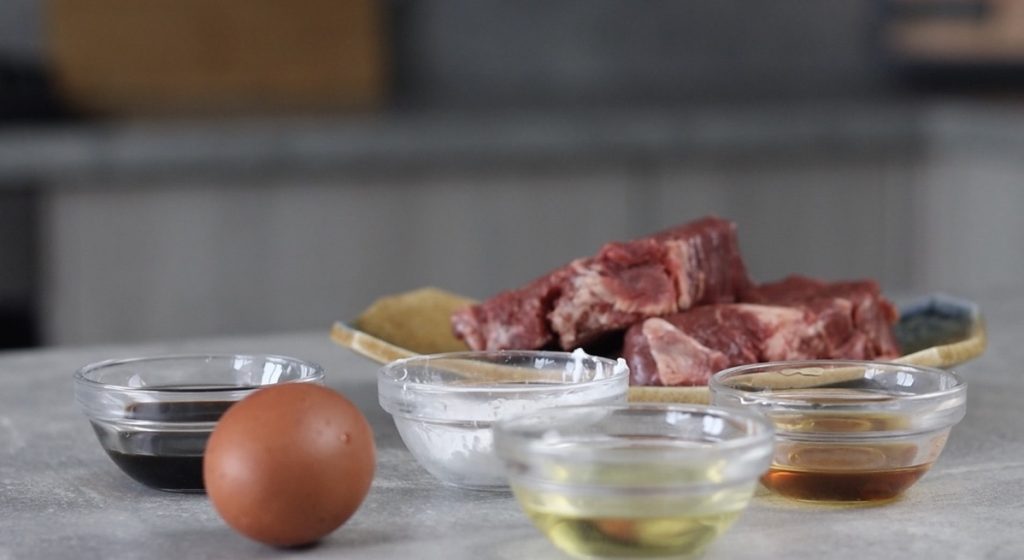 2. Next we can move onto marinading some beef. First slice around 500g worth of beef fillet or ribeye into thin slices. Try not to slice the beef too thin as this will make the beef cook a little too quickly. Place the sliced into a mixing bowl then add 2 tbsp mirin, 50mls of light soy1 tbsp sesame oil, 1 tbsp of cornstarch, 1 egg white then a good seasoning of black pepper. Mix the beef well into the marinade until the sliced beef becomes velvety in texture. Cover, then store to one side for now.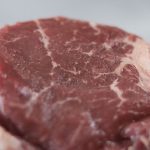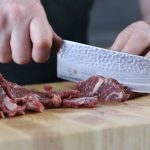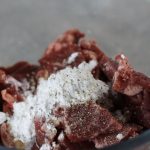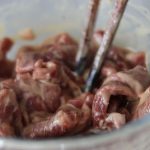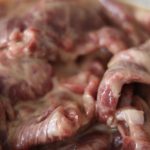 3. Moving onto preparing a few vegetables, this is really a personal preference to what you like, however, this is what i went with and a good base. Slice 1/2 white or napa cabbage into bite sized pieces, slice 1 carrot into a fine julliene, cut 1/2 white onion into 1cm thick slices, slice 4-5 spring onions into batons, mince 2 garlic cloves, grate 5g of ginger and cut 100g of various mushrooms of you choice into bite sized pieces. Shiitake, oyster, chestnuts would work perfectly. When prepared place all of the vegetables to one side seperetley for now as we will cook these at different stages towards the end.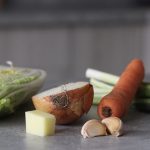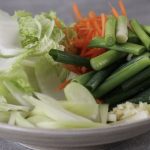 4. Just before we begin to cook an extra additional topping I like to eat with yaki udon is a soy egg. I have gone over these quite a bit on here as Im slightly addicted to these but here we are. Start by adding 4 eggs to a pan of boiling water and cook for exactly 6 1/2 minutes. When cooked add to a a bowl of ice cold water and completely chill then when ready peel the eggs and place to one side. Next, in a small bowl add 50mls of light soy and mls of mirin. Mix well then add the soft boiled eggs and cover tightly to submerge the eggs in the marinade.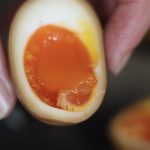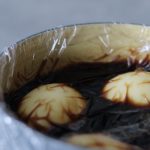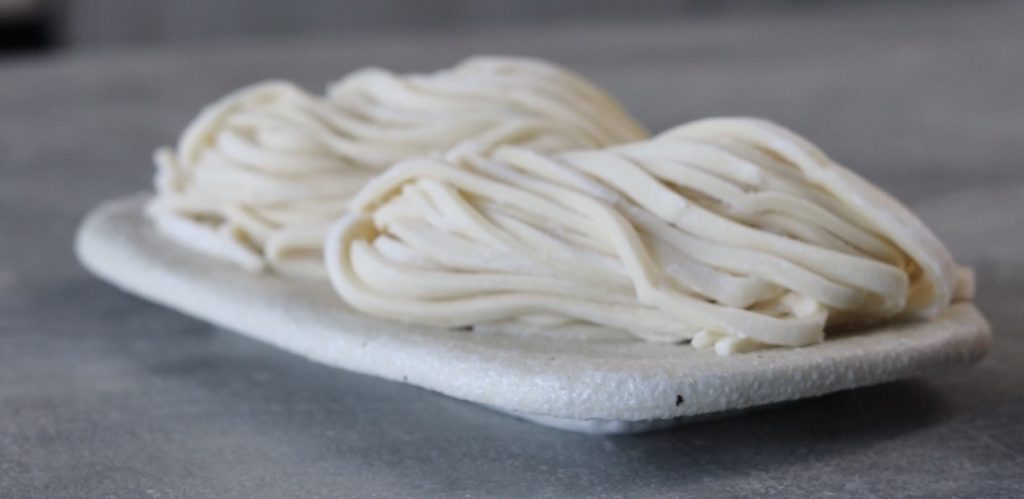 5. Just before we bring the dish together we need to pre cook the udon. For this recipe I used homemade and i will leave the link here on how to make those, however, feel free to use store brought also. If using fresh then add to a pot of boiling water and cook for 10-12 minutes and if store brought cook to how the packet suggests. When cooked drain from the water and chill/wash under cold running water to chill. When ready place to one side and drizzle with sesame oil to prevent them from sticking.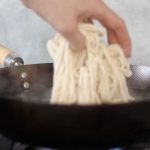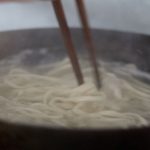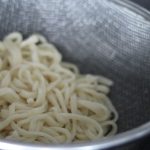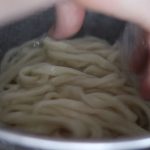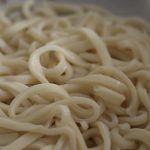 6. To cook place a large wok or heavy skillet onto a high heat, add a touch of cooking oil. When hot add the beef first and stir fry until nicely caramelised. Remove the beef and place to one side then in the same wok/skillet add the sliced onion and mushrooms and stir fry for 2-3 minutes until golden brown. Next we can add the sliced carrot, minced garlic, ginger and noodles then stir fry for a further 1 minute to slightly crisp up the noodles. Now we can add the beef back in along with the yaki udon sauce made earlier, chopped cabbage and spring onions. Continue stir frying on a high heat whilst mixing to evenly coat the noodles in the sauce and finish with a seasoning of black pepper and togarashi seasoning for some optional heat.  When ready remove from the heat and all thats left is to serve!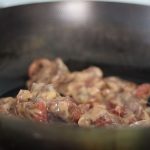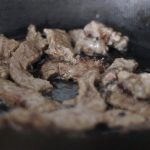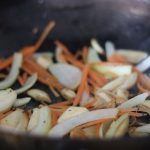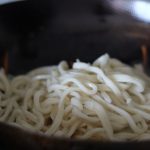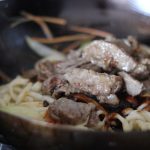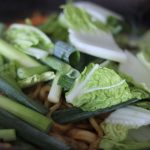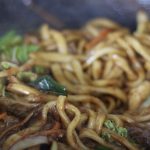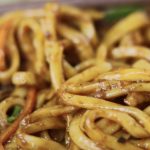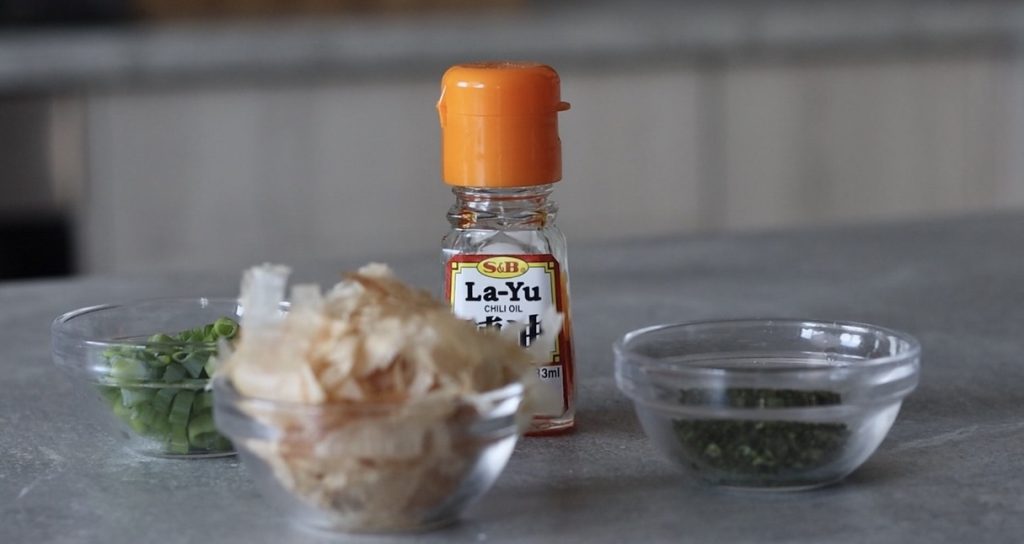 7. To serve divide the Yaki udon into serving bowls then top with Aonori, sliced spring onions, a soy egg and finally some Katsubushi to take the Yaki udon to that next level! Grab a pair of chopsticks, perhaps a beer and nourish!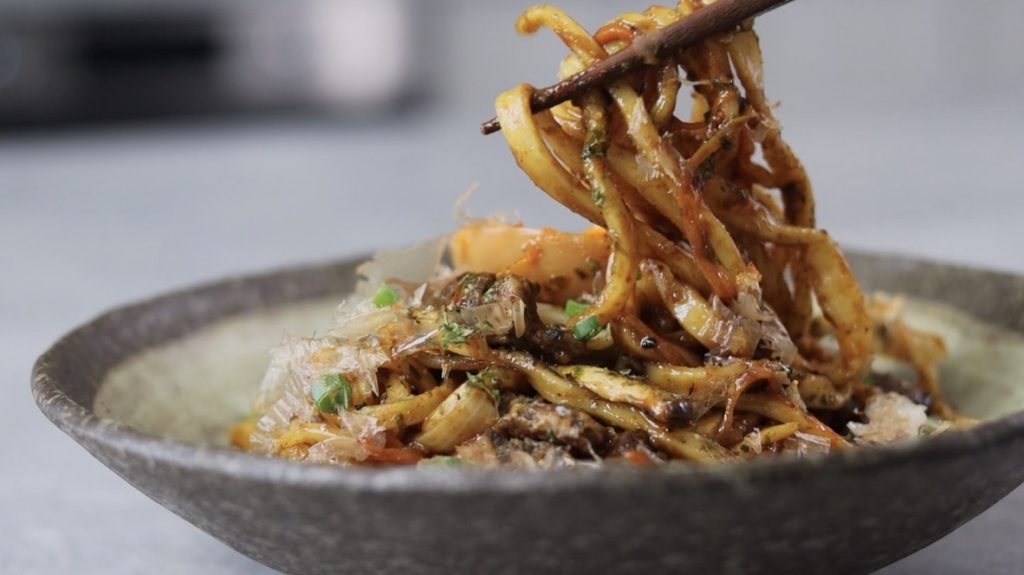 Instead of beef then various seafood such as shrimp, clams, squid would also work perfectly with Yaki Udon. If your after a vegetarian version then tofu would also work well but I would opt in for hard frying the tofu first. Other proteins like thinly sliced pork belly or chicken would also work, this really is a nice flexible dish to work with. When it comes to the udon noodles itself I personally always would make my own as the texture of the noodles is much easier to control and that is what will make a legendary bowl of Yaki Udon! Have fun and see you on the next recipe!
 To serve 4
Cook Time: 20 minutes
Prep Time: 20-30 minutes
Sauce:
5 tbsp Worcestershire sauce
4 tbsp tomato ketchup
1 tbsp rice vinegar
2 tbsp light soy
4 tbsp oyster sauce
1 tbsp light brown sugar
1-2 tsp Togarashi optional
Vegetables:
1/2 white cabbage
1 carrot
1/2 white onion
4-5 spring onions
5g ginger
2 garlic cloves
100g various mushrooms
Beef and Marinade:
500g beef fillet or ribeye
2 tbsp mirin
2 tbsp light soy
1 tbsp sesame oil
1 tbsp cornstarch
1 egg white
black pepper
Toppings and other Ingredients:
4 eggs
50mls soy (soy eggs)
40mls mirin (soy eggs)
katsubushi (optional)
spring onion
aonori (optional)
udon noodles for 4 (Recipe here)
oil for frying